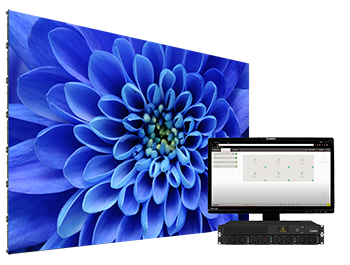 Planar® WallDirector™ Video Controller (VC) is a family of compact and scalable video processors designed to drive Planar video walls using the powerful web-based Planar® WallDirector™ Software management application.
Planar WallDirector VC is available in three models designed to meet the needs of different organizations' use cases. The 1U rack mount device captures multiple 4K inputs and drives the video wall at native resolution while providing signal extension over CAT or fiber connections. The Planar WallDirector VC is designed to work in conjunction with the Planar® Remote Power Supply, and the two mission-critical devices are managed, controlled and monitored within the same Planar® WallDirector™ Software framework.
Control of the Planar WallDirector VC is accomplished using the web-based WallDirector Software or through a comprehensive set of serial commands supporting RS232 or network connections. Planar WallDirector VC is also compatible with leading automation and control systems, allowing it to be managed as part of a larger room system.
Scalable by Design
Planar WallDirector VC models can be cascaded together with up to 18 Controllers to support larger video walls and higher resolutions. Planar WallDirector Software manages Planar WallDirector VC groups as if they are one system rather than multiple separate units. Additionally, Full HD or 4K sources can be shared across the video controllers and video walls via a DisplayPort 1.2 link that acts as a bus extension for any source rather than a limited loop out for a single input.
Advanced Video Wall Processing
Planar WallDirector VC models offer multiple options to display sources on the video wall. With Planar® Big Picture Plus™ Video Wall Processing, sources can be scaled across the entire video wall or any section of the video wall. Planar Big Picture Plus Processing allows for ultra-high resolution content up to 4K to spread over multiple displays at native resolution or scaled down to a smaller section of the wall.
Solving a range of video wall genlock and synchronization challenges, Planar® WallSync™ uses Smart Genlock to automatically ensure perfectly synchronized video playback without manual configuration. For installations requiring more complex video wall processing, the Planar WallDirector VC is compatible with industry leading video wall processors and matrix switchers