When image experience matters
Planar products represent best-in-class image performance with solutions tailored to the unique needs of each application.  Built for the most demanding environments and to customer's exacting standards, Planar offers unmatched performance, durability, and value across our broad product offering.  Configuration flexibility, serviceability, and reliability make Planar the benchmark for specialty, digital displays and systems.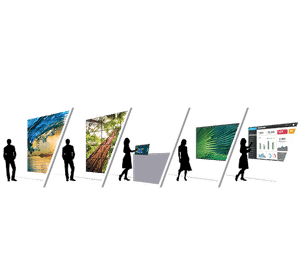 No matter the application, Planar display solutions shine with industry-leading features and performance to improve the visual experience. From digital signage to corporate solutions to control room settings, Planar's digital displays get the job done.
Broad product portfolio provides the right solution
From small format touchscreen displays for kiosks to massive video walls and everything in between, Planar's broad product offering means the right solution for each application.  Video processing, media player solutions, and mounting accessories make Planar a one-source option for display solutions.
Deep expertise on display
Nearly 30 years of flat panel display experience, pioneering leadership in rear projection displays, and a deep understanding of customer applications is on display at Planar.  Serviceability and reliability are designed into every product.
Commitment to customer service
Planar's commitment to customer satisfaction is demonstrated before, during, and after the installation with exceptional products and service.  Best-in-class warranties and service offerings create additional peace of mind and keep customers returning to Planar for all their display needs.
Tailor-made solutions
Planar offers configurable, modular, and option-rich products to satisfy unique requirements.  Build walls of any size.  Color match the display to the wall or brand colors.  Embed open frame monitors into a custom fixture enclosure.  Utilize mounting, processing, or professional services for the perfect installation. Planar's flexibility starts at meeting project requirements and opens up a world of creative possibilities.