Desktop & Touch Screen Monitors for Any Application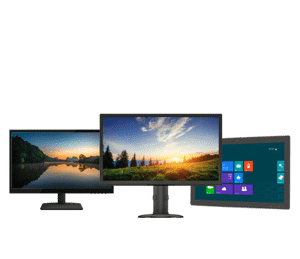 Planar desktop monitors are sure to dazzle with unbeatable image quality and high performance. Planar Touch Screen monitors are perfect for a variety of high-traffic environments and provide the ultimate touch experience on the desktop.
Desktop Monitors
When you want a sleeker way of looking at things, Planar flat-panel LCD desktop monitors will delight your eyes. With nearly 30 years of experience in development of award-winning displays, each Planar desktop monitor features the fastest graphics and most vibrant colors - all in a slim profile that is nothing less than bevel-edge beautiful.
Touch Screen Monitors
Durable and dependable, Planar Touch Screen Monitors have what it takes to perform in demanding point-of-sale (POS), point-of-purchase, and public environments. With decades of experience in rugged and extreme display application experience, Planar brings this expertise to touch screen monitors, making them the most dependable and well-performing on the market.
For additional information about different touch technology options, see Planar's Touch Technology page.