Planar® ERO-OLED™ (Extended Ruggedness and Optics™) technology utilizes protective glass bonded to the front surface of an OLED display using a proprietary process that creates a highly durable display surface that can withstand rigors of high-traffic environments.
This added durability makes the display ideal for usage in high-traffic applications. Planar ERO-OLED also improves perceived contrast by more than 300 percent, giving viewers the highest quality visual experience and making content more readable and impactful, even in bright public venues.
Improved the Clarity and Durability
Planar ERO-OLED technology is achieved by optical bonding, which is the process of laminating cover glass to the front of the OLED display panel. A bonding agent is inserted between the cover glass and the OLED display panel. The assembly is cured in a process that affixes the cover glass / OLED display panel stack together while solidifying the bonding agent.
Why include the ERO process when manufacturing transparent OLED displays?
Protection - OLEDs have plastic surfaces that are not vandal or weatherproof. To protect your display investment, OLED installations should have a cover glass or polycarbonate lens to protect the OLED.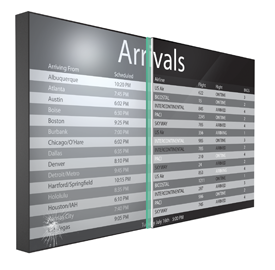 Left: Display without Planar ERO protection
Right: Display featuring Planar ERO technology
Clarity & Viewability - Optical bonding eliminates the internal reflection between the OLED and the cover glass because the bonding process creates a single index of refraction. Reducing internally reflected light loss increases display contrast and viewability. Improved display contrast enables the display to be more readily seen in bright ambient conditions.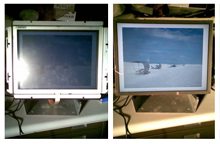 Left: Display without Planar ERO protection 
Right: Display with Planar ERO Technology shows greater legibility
Ruggedness - Optical bonding is an effective means of improving resistance to impact and scratching.
Less Parallax Error - Due to the closeness of the OLED to the glass surface with Planar ERO-OLED, the parallax error is non-existent.