Industry's First Flat Panel LED Video Wall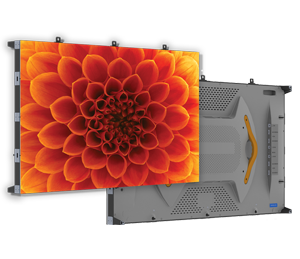 Planar® TWA Series is a line of fine pitch LED video walls available in 0.9, 1.2 and 1.8 millimeters pitches. Planar TWA Series is architected to support the highest pixel density and delivers benefits unique to its "flat panel" design including a 16:9 form factor optimized for the most popular high resolution standards, ease of installation and service, and outstanding flatness and uniformity. The Planar TWA Series models feature all the benefits of the Planar TWA Series' unique design while delivering power efficiency and improved optical performance.
For an interactive LED touch solution, Planar® LED MultiTouch is a completely seamless interactive LED video wall solution for select Planar TWA Series models. For high-traffic environments, Planar ERO-LED technology is available for select Planar TWA Series models.
Unique By Design
With design principles gained from Planar's learnings from the world's largest install base of fine pitch LED video walls, the Planar TWA Series is the first LED video wall solution to feature an innovative "flat panel" design. With a slim 54" cabinet and the finest pixel pitches, Planar TWA Series LED video walls deliver the pixel density and form-factor to match LCD and Rear Projection video walls, but with a truly seamless video wall configuration of any size.
Planar TWA Series displays are self-contained displays with standard HDMI inputs and looping, along with optional redundant configurations. The larger 54" cabinet means more of the video wall is factory-aligned, easing installation time and costs with fewer displays to align and seams to perfect at installation. Larger displays mean fewer displays are needed to create a video wall, reducing potential points-of-service. With a 16:9 form factor and exact compatibility with the most widely-used resolutions, Planar TWA Series LED video wall displays make content development and video wall processing easier out-of-the-box.
Leading Image Quality
Planar TWA Series LED video walls deliver a crisp, high contrast image using the highest quality black LEDs, black solder mask and Planar® MicroGrid Shader™, enabling the deepest level of black. Wide viewing angles deliver excellent off-axis uniformity while advanced calibration provides maximum full color and brightness uniformity across even the largest video walls with no visible seams.
Designed for 24x7 Operation
Every Planar TWA Series LED video wall display is designed for long-duty cycles, long life and is available with a redundant video and power option to ensure continuous operation for demanding operations.
Enhanced Power Efficiency
Planar TWA Series delivers advanced power efficiency through Planar® DriveSense™, a proprietary driver, controller and LED module design. Planar DriveSense helps to extend the life of the product by providing highly uniform color and brightness while reducing heat emission, climate control requirements and power consumption.
The Planar TWA Series models incorporate power-efficiency with the industry-leading design of the Planar TW Series, resulting in a stunning LED video wall display with reduced power utilization by as much 35%. The Planar TWA Series provides additional image enhancements to further optimize visual experience through a wider color gamut and broader viewing angles.
Added Protection with Enhanced Visual Appearance
Planar® ERO-LED™ is a proprietary protective coating applied exclusively to best-in-class Planar® LED display products to deliver protection and durability in high-traffic environments at a reasonable cost. Unlocking new applications for fine pitch LED displays, Planar ERO-LED enhances the visual performance of an LED video wall with significantly increased contrast in ambient light and improved off-axis performance.
Enable Interactivity
When touch capabilities are desired, Planar TWA Series video wall displays can be optimized for interactivity with a custom touch system and Planar ERO-LED. Touch displays are often limited to 16:9 dimensions, but the custom touch solution opens the door to a wider variety of touch video wall sizes and shapes. The custom solution offers 32-point touch and the protection of Planar ERO-LED.