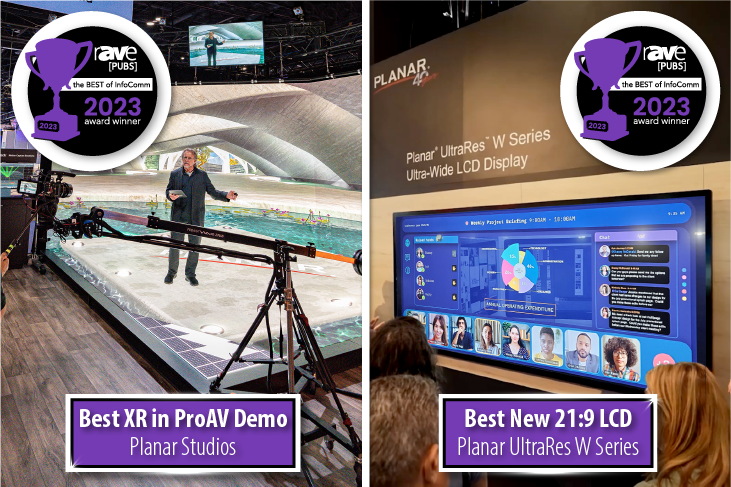 Planar Wins Two rAVe Best of InfoComm 2023 Awards
Industry leader's cutting-edge solutions named best of the best for Unified Communications & Collaboration and Extended Reality
Planar is the proud recipient of two Best of InfoComm 2023 Awards from rAVe. The program celebrates the best of everything the publication saw at the show, including visits to every booth and recording more than 1,560 videos on the trade show floor.
After viewing Planar's extensive collection of visualization solutions, which included the debut of three new LED solutions and one new LCD display, rAVe voted the Planar® UltraRes™ W Series Best New 21:9 LCD for Unified Communications and Collaboration.
In the Emerging Tech category, Planar's extended reality (XR) stage, which featured Planar® CarbonLight™ VX Series and OptiTrack™ Motion Capture, was voted Best XR in ProAV Demo.
"We remain committed to enhancing our portfolio of display solutions supporting modern high-productivity workspaces and the production of incredibly realistic on-camera and in-camera content," said Steve Seminario, vice president of product marketing at Planar. "It's a privilege to have the new Planar UltraRes W Series and our eye-catching XR stage demonstration celebrated as the best of the best at InfoComm 2023, and we're grateful to rAVe for the recognition."
This recognition marks Planar's second award for the Planar UltraRes W Series, which was launched in May and won a Best of Show Award at InfoComm 2023 from AV Technology. The Planar® UltraRes™ L Series and Planar® DirectLight® Pro Series were also named Best of Show winners by Digital Signage magazine and Sound & Video Contractor, recognizing three of Planar's newest solutions as the best in professional AV.
The new Planar UltraRes W Series line of 105-inch ultra-wide format 5K LCD displays is optimized for next-generation collaboration. The solution offers customers an ultra-wide format 21:9 display ideally sized to suit the most popular unified communications and video collaboration platforms including Microsoft Teams®. Planar UltraRes W Series features 24x7 reliability, remote monitoring, multi-source viewing and is available with interactive touch technology.
The Planar CarbonLight VX Series is a line of carbon fiber-framed indoor LED video wall and flooring displays featuring unrivaled image quality and deployment versatility to revolutionize the production of realistic on-camera and in-camera content. Now featuring an improved scan ratio, Planar® CarbonLight™ CLI VX Series LED video wall displays provide greater flexibility in how video walls adapt to different cameras and effects. Supporting hanging wall-mounted, free-standing and curved installations, the displays are available in 1.9 and 2.6 millimeter pixel pitches with models including Brompton and Colorlight controllers. With Planar® CarbonLight™ CLF VX Series LED flooring, customers can create a high resolution, continuous canvas to virtually expand physical environments. The square (500x500 millimeters), thin LED flooring displays feature carbon fiber frames with layered wear-proof masking to support up to 1,102 pounds per display, facilitating heavy loads.
In addition to appearing in Planar's award-winning XR stage demonstration, OptiTrack motion capture, which delivers precision, accuracy, ease of use, reliability and polished integration with on-set tools, was featured in a reactive projection mapping demonstration from 7thSense. The presentation won rAVe's InfoComm 2023 Award for Best New Tech Demo in the category of Best of Show.
Planar was also a two-time rAVe Best of InfoComm Award winner in 2022. The Planar® DirectLight® Ultra™ Series MicroLED Video Wall was voted best new LED video wall product while Planar® UC Complete™ was named best new video product in the overall InfoComm 2022 winner category.
For more information about the award-wining products showcased at InfoComm 2023, visit www.planar.com and view Planar's InfoComm 2023 highlights video.