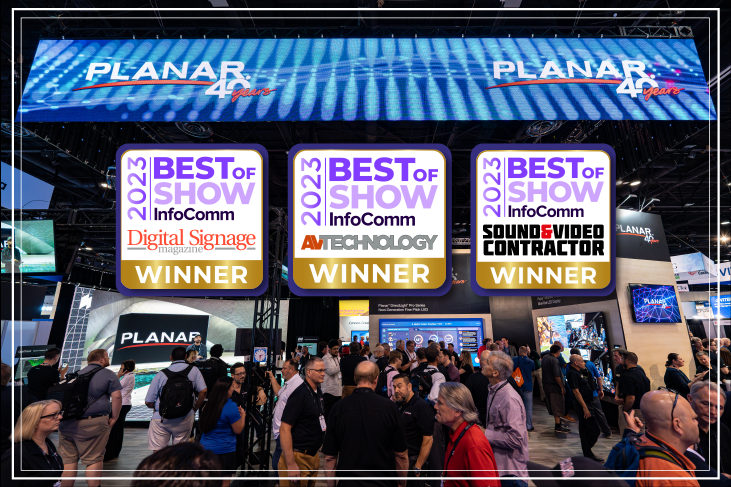 Planar Honored with Three InfoComm 2023 Best of Show Awards
New portfolio of display solutions celebrated as the best in professional AV by three industry-leading publications
Planar is pleased to announce that the company was presented with three Best of Show Awards at InfoComm 2023. The company demonstrated its new and diverse portfolio of targeted display solutions at the show, receiving recognition from Sound & Video Contractor, Digital Signage and AV Technology for the leading-edge Planar® DirectLight® Pro Series, Planar® UltraRes™ L Series and Planar® UltraRes™ W Series.
Presented by Future US, the 2023 Best of Show Awards at InfoComm honor new, outstanding products exhibited at the show. Products were evaluated on site by a panel of expert ProAV judges who selected winners based on innovation, features and ease of use.
"We were thrilled to showcase a handful of useful new product lines at this year's show, including fast-to-deploy all-in-one LED displays, advance and versatile fine pitch LED video walls and ultra-wide format LCD displays for today's modern hybrid workforce," said Steve Seminario, vice president of product marketing at Planar. "It's a real honor to have three of these solutions recognized as the best in ProAV today."
Awarded Best of Show by Sound & Video Contractor, the Planar DirectLight Pro Series fine pixel pitch LED platform raises the bar on versatility and lifetime value. Featuring a high bandwidth video transport and 1,000-nit brightness in constant operation, the solution delivers high brightness, vibrant colors and greater image detail even in higher ambient light environments. Planar DirectLight Pro Series is customizable with 0.9, 1.2, 1.5 and 1.8 millimeter pixel pitches, and available in popular Planar® Complete™ display configurations, including 109-inch, 137-inch,164-inch, 198-inch and 219-inch. In addition to efficient video wall deployment, customers benefit from complete product coverage and peace of mind with the Planar® EverCare™ Lifetime Limited Warranty.
The Planar UltraRes L Series made its debut at InfoComm 2023, introducing a seamless, easy-to-use, all-in-one display solution with integrated video and audio electronics, 20-point IR touch technology, on-board processing, an ultra slim bezel and 24x7 reliability. The new LED display, which pairs Planar® UltraRes™ Series best-in-class features with fine pixel pitch LED technology, was voted an outstanding product for AV/IT end users and integrators by Digital Signage. With multiple inputs supporting simultaneous viewing of up to four content sources, a wall mount for permanent installation or a rolling floor stand for mobility, Planar UltraRes L Series offers flexibility for environments ranging from corporate to education and more.
Launched in May as a line of 105-inch ultra-wide format 5K LCD displays optimized for next-generation collaboration, the Planar UltraRes W Series provides customers with an ultra-wide format 21:9 display ideally sized to suit the most popular unified communications and video collaboration platforms including Microsoft Teams®. The displays, which were awarded Best of Show by AV Technology, also feature 24x7 reliability, remote monitoring, multi-source viewing and are available with interactive touch technology.
With nominated entries for the Best of Show Awards at InfoComm 2023 surpassing pre-2020 numbers, this year's judging panel was larger than ever before. This includes CTS-certified technology managers, engineers, integrators, and consultants.
The new Planar DirectLight Pro Series, Planar UltraRes L Series and Planar UltraRes W Series are available now through Planar's global network of authorized resellers. For product information, visit www.planar.com and view Planar's InfoComm 2023 highlights video.