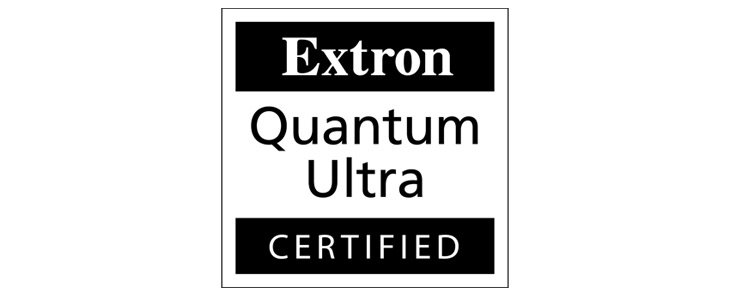 Planar Video Walls Attain Extron Quantum Ultra Certification
Certification efforts establish Planar as the first in the industry to provide Quantum Ultra Certified displays, including award-winning LED and LCD video wall systems
Planar, a global leader in visualization products, today announced the completion of successful certification efforts with Extron. Planar supported Extron in completing rigorous compatibility testing between Quantum Ultra and the award-winning Planar® DirectLight® X LED Video Wall System and Clarity® Matrix® G3 LCD Video Wall System.
Extron's new Quantum Ultra Certified Program ensures certified video walls and displays have passed the company's comprehensive tests for compatible feature support and stability, EDID (Extended Display Identification Data) management and overall interoperability. Extron worked closely with Planar to test, validate and deliver the optimum presentation of source content. Display devices that pass the extensive testing program are identified as Quantum Ultra Certified.
"Our customers have brought Extron and Planar together for years to deliver mission-critical and secure video delivery and display solutions, said Executive Vice President of Sales, Marketing and Pro Services Adam Schmidt. "Teaming up with Extron was a natural step for us and provides customers the peace of mind that comes from extensive compatibility testing and vendor backing."
Extron's ultra-high bandwidth 4K video wall processor is an ideal companion to high resolution Clarity Matrix G3 LCD and Planar DirectLight X LCD LED video walls. Complete Extron Quantum Ultra Certification testing included tests of video performance, display identification handshake accuracy, data content protection compatibility and overall interoperability. The testing also resulted in Extron Certified Ethernet control drivers for Clarity Matrix G3 and Planar DirectLight X video wall systems that can be found in Extron's driver database. This testing ensures compatibility with Extron's IPLink Pro product line.
"We are incredibly excited to have completed this certification effort with Planar," says Casey Hall, Vice President of Worldwide Sales and Marketing at Extron. "Quantum Ultra customers demand the highest performance and complete compatibility between processors and displays, so we appreciated working with a display vendor who is as committed to those attributes as we are."
For more information, visit www.planar.com, or visit www.extron.com/quantumultra.