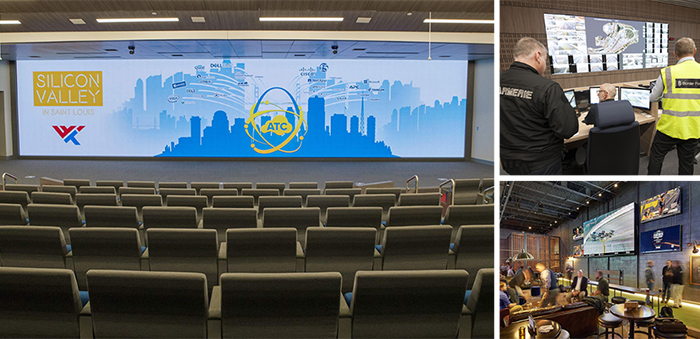 Leyard Broadens No. 1 Market Position in LED Display
Company secures lead in global market position for narrow pixel pitch LED and entire LED video display categories
PORTLAND, Ore., Aug. 15, 2018 – Leyard, a global leader in visualization products, earned the No. 1 market share position in the $4.5 billion LED video display market, and the No. 1 position in the fastest growing $1.6 billion narrow pixel pitch LED video wall segment, according to two reports by Futuresource Consulting. The analyses, which compared the 2017 performance of all major video wall brands, confirmed Leyard's No. 1 position, in addition to the company's increasing share and growth in the highly competitive market.
Leyard was the market share leader in the narrow pixel pitch LED video display market in 2017, following years of leadership and share dominance in this category, which the company pioneered. Leyard also captured the top position in the broader LED display market that includes all pixel pitch sizes, including indoor and outdoor products, covering a wide range of applications and customer segments.
"We are extremely proud to lead the global LED video display industry and to have continued to build on past success," said Zach Zhang, CEO of Leyard International. "Our global organization remains committed to driving innovation in the category and to supporting our customers all over the world. We look forward to celebrating future successes as Leyard continues to build solutions designed for a growing number of display applications."
These reports follow major video wall product announcements from the company. This includes the launch of the Leyard® DirectLight® X LED Video Wall System that brings advanced video processing and intelligent management and control software to the award-winning ultra-fine pitch LED video wall line. The Clarity® Matrix® G3 LCD Video Wall System builds on the accomplishments of the award-winning Clarity Matrix architecture, combining the industry's thinnest profile ultra-narrow bezel LCDs with industry-leading improvements to video processing and off-board electronics. The company also released Leyard® TVF Series, a family of fine pitch LED video wall displays featuring front serviceability and a creative stackable design eliminating cabinet-to-cabinet cabling. Further, the launch of the Leyard® VersaLight™ Series introduced a versatile family of modular LED displays available in pixel pitches ranging from 2.5 to 8 millimeters and designed with flexibility to support a wide range of indoor and outdoor applications.
"The LED display market continues to experience tremendous growth worldwide," said Chris McIntyre-Brown, associate director at Futuresource Consulting. "As the category evolves, we expect to see new trends expand across both indoor and outdoor display technologies in a wide range of applications."
Futuresource announced its findings in two reports: the 2018 Futuresource Video Wall Display Solutions Report and the Futuresource Global LED Display Market Report. The Futuresource Video Wall Display Solutions Report for 2018 covered narrow pixel pitch LED, narrow bezel LCD and rear-projection solutions while the Futuresource Global LED Display Market Report for 2018 reviewed narrow pixel pitch LED solutions, as well as rental, standard and large indoor and outdoor LED display technologies. According to the Futuresource Video Wall Report, the overall video wall market stands at $6.4 billion and grew 47 percent from 2016 to 2017. Planar, a Leyard Company, was also named the leader in the Americas Control Room segment (34 percent market share) and the Americas Corporate Vertical (35 percent market share) for narrow bezel LCD video wall solutions.