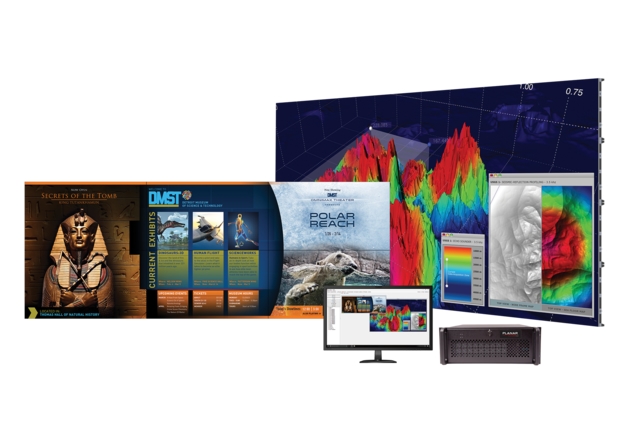 Introducing the Latest Generation of Clarity VCS Video Wall Processor
Clarity VCS now supports Windows® 10 with VCS™ Control Software and can be easily configured to drive any combination of Leyard and Planar video walls
Leyard and Planar are happy to announce the next-generation Clarity® Visual Control Station™ (VCS™) video wall processor. Clarity VCS now supports Windows® 10 with VCS™ Control Software, includes a simplified installation process and can be easily configured to drive any combination of Leyard and Planar video walls for both 4K and Full HD resolution content.
Next-Generation Clarity VCS Features: 
Windows® 10–LTSB-based VCS Control Software and reliable SSD drives for Standard or Enterprise Editions
Network-centric collaboration tools and user-friendly graphical user interface
Extensive control of the software's user access permissions with the integrated user rights management system
Expanded connection options including HDMI and DVI capture with HDCP 1.4 support for 4K and Full HD sources
Simplified installation process and multi-video wall support on all versions
Through expanded connection options including 4K Display Port and IP Capture, the Clarity VCS video wall processor offers even more flexibility with HDCP 1.4 support to drive videos walls of up to 32 high-resolution displays. By adding one or more expansion chassis, Clarity VCS can easily support an increased number of high resolution displays and sources. Clarity VCS includes VCS Graphics DP4+ output cards, each with the ability to drive four displays at up to Full HD resolution (1920 x 1080) or two displays at up to 4K resolution (3840 x 2160).
VCS Control Software is available in Standard and Enterprise editions that feature enhancements with network-centric collaboration, web interface, user rights management and IP capture. The latest VCS Control Software advancements allow users to take full advantage of the Enterprise edition, including the ability for users to share their computer screen with each other and/or with a video wall. IP capture capability allows the capture of H.264 networked cameras and sources to be decoded and displayed on the video wall. This functionality can be easily controlled with the Clarity VCS user rights management to prevent unauthorized users gaining access to sensitive video information. The software is also manageable on any local or network-connected desktop using Windows® 10 LTSB OS and linked to Clarity VCS.
The next-generation Clarity VCS is available now through Leyard and Planar's worldwide network of authorized resellers.