Video Art Installations Foster Immersive Experiences and Stronger Connections
Today's leading-edge display technologies offer much more than digital signage. As integrated technologies have progressed and the visual performance and adaptability of display systems have improved, video walls are now being employed as compelling mediums for displaying works of video art and creating artistic immersive environments.
By integrating original content, interactive software and responsive interfaces, as well as film, animation and storytelling, video art installations act as platforms for creating dynamic and engaging presentations.
"Designers are increasingly looking at video walls as flexible, digital canvases that offer boundless configurability," said Jeremy Sternhagen, technical marketing manager with Planar. "LED systems provide the biggest advantage in this regard with seamless image scalability and a nearly infinite number of canvas dimensions and orientations. And, as costs for video wall systems become more competitive, designers are opening their imaginations and not viewing technology as a barrier, but rather a tool."
A platform for social impact
In the heart of New York City at a busy corner of Times Square, 12 ground-level windows of the New York Port Authority Bus Terminal have been transformed into a large interactive video wall installation that serves as a public platform to display cultural content, create social impact and deliver works of responsive art to mass audiences. The installation, called COOLTURE IMPACT, is engineered with motion-responsive technology that allows people to make the video art installation come alive with their own movements. A wave of the hand is translated onto the display as a creative rendering that captures the person's gestures.
COOLTURE IMPACT is designed with an interactive framework software system developed by NoirFlux and a ZED 3D depth and motion sensing camera from Stereolabs. Specific responses to COOLTURE IMPACT's featured artwork programming are presented in real-time through Planar® TVH Series fine pitch LED video walls with a 2.5 millimeter pixel pitch (TVH2.5) from Planar.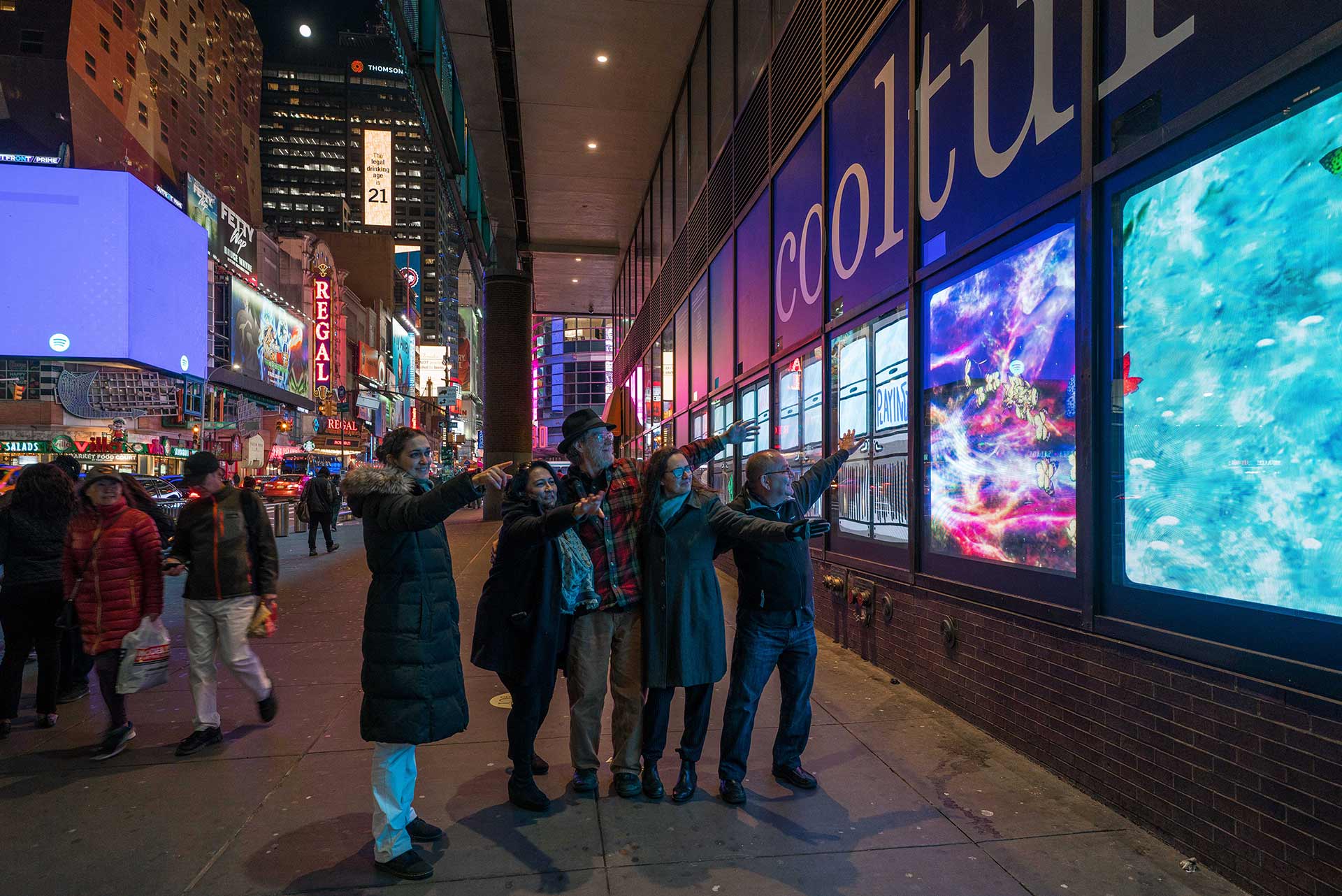 "Unique video wall projects like COOLTURE IMPACT that infuse technological and cultural elements can create deeper connections with the audience—a bond that is rarely achieved with mainstream digital signage solutions," said Ana Calvo de Luis, founder and managing director at Coolture, a firm specializing in cultural and branding events in emblematic spaces and the driving force behind the project. "The public has gotten used to the large digital signs that surround us in our daily interactions. Digital surfaces present a tremendous amount of information and tend to bombard us with all kinds of advertising. We are super connected, but that type of intense connectivity can certainly numb the audience into apathy and disinterest."
What sets a video art installation apart is the genuine experience that can be inspired with the audience. "In addition to triggering emotions, this digital art canvas with an interactive component presents the opportunity to develop a dialogue with the audience," said Calvo de Luis. "It's a new form of communication, one that creates engagement."
Digital art projects bring together a multidisciplinary group of artists and professionals for collaboration. To create COOLTURE IMPACT, produced by non-profit Cultural Semiotic Alliance, Calvo de Luis assembled a team of video artists, filmmakers, interactive designers, software developers and engineers.
COOLTURE IMPACT functions as a platform for different presentations of dynamic, artistic content. The first featured presentation, called "The Now," offers a journey into magical worlds, hidden spaces and participatory environments. Created by Laia Cabrera & Co., an award-winning team of film, animators and visual artists, in collaboration with immersive interactive artists NoirFlux and Karan Parikh, "The Now" holds animated stories that are waiting to be told. With their motions, people can visually engage the various storylines, moving narratives forward through interaction.
The space in front of the Port Authority Bus Terminal was an ideal setting for the project, Calvo de Luis noted, because of the sheer amount of activity—more than 250,000 commuters and up to 200,000 potential tourists pass by the area each day. "This is a very busy and raw urban location. The project represents a way to bring positive light to the area," she said.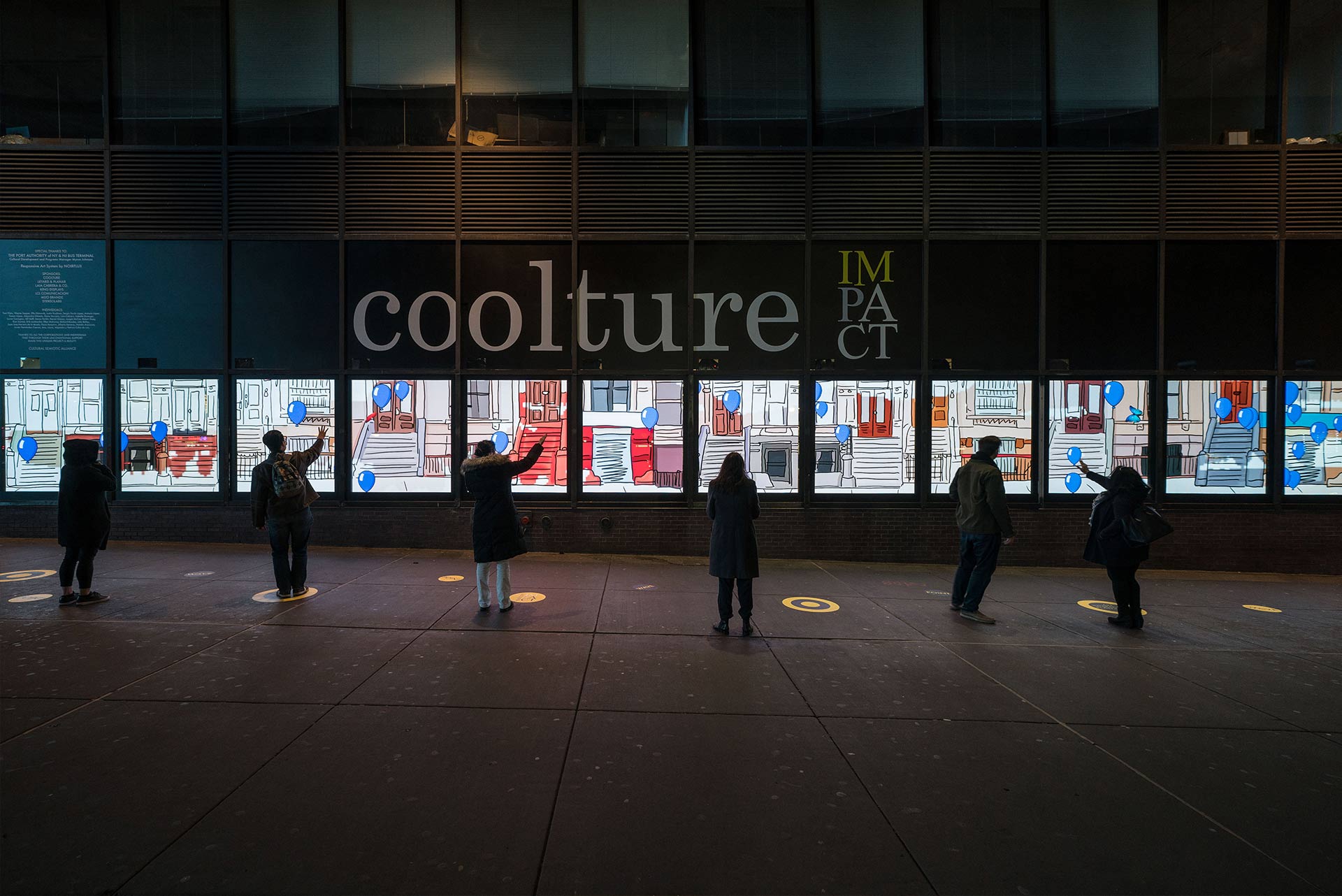 The positive impact of the project has been substantial. "We can proudly say that the Port Authority, visitors to the site and especially neighbors in the area all speak highly of the installation," Calvo de Luis said. "The project also received 13 minutes of coverage on national TV, with 20 million viewers. And, after being placed on Google Maps, we had over 43,500 searches in three months, and over 62,500 in the last trimester."
To create a compelling video art installation and provide around-the-clock operation in a public space, a high-quality video wall was essential. "The Planar video wall has the brightness for visibility during the day and at night the installation looks simply incredible," she said. "As we continue to explore the boundaries of technology, cultural display, social interaction and branding content, we see many more opportunities for creating these unique kinds of interactive platforms. Art is the language and technology is the medium for communicating it."
Creative placemaking
Another example of how digital wall technology and video artwork can combine in a beneficial and impactful way is a 60-foot-long, seven-foot high video wall installation at the Baker Center in downtown Minneapolis. Installed in the lobby of the commercial office and retail complex as part of a $25 million facility renovation, the installation features a Clarity® Matrix® LCD Video Wall System in a 15x3 configuration that is dedicated to video artwork.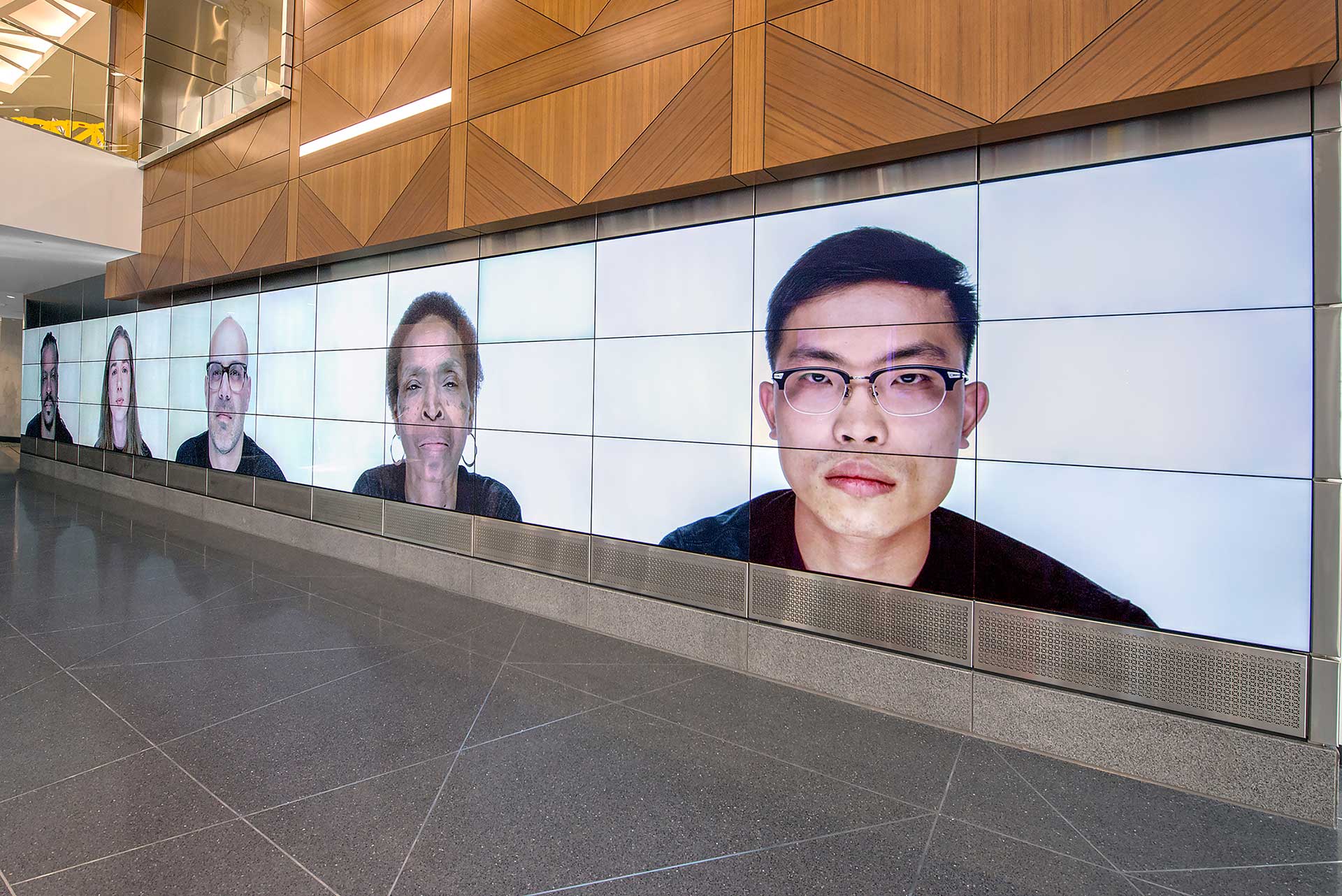 During the planning phase of the video wall, the design team toured high-end media wall installations in New York City to develop a strategy for how the installation could be best utilized. Hans Okerstrom, general manager of the Baker Center and director of property management for the Minneapolis office of Transwestern, the Baker Center's property management group, said the tour enabled them to realize that a video wall at the Baker Center needed to be more than a media advertising billboard.
"Instead, we wanted an installation that could be utilized as a digital art canvas for enriching the lobby environment and providing outreach to the public," Okerstrom said.
This approach is akin to 'creative placemaking,' which leverages arts, culture and creativity to serve a community's interest while building character and quality of place, according to Paul Krumrich, president of audio-visual designer and integrator Spye, which managed all aspects of the media wall project.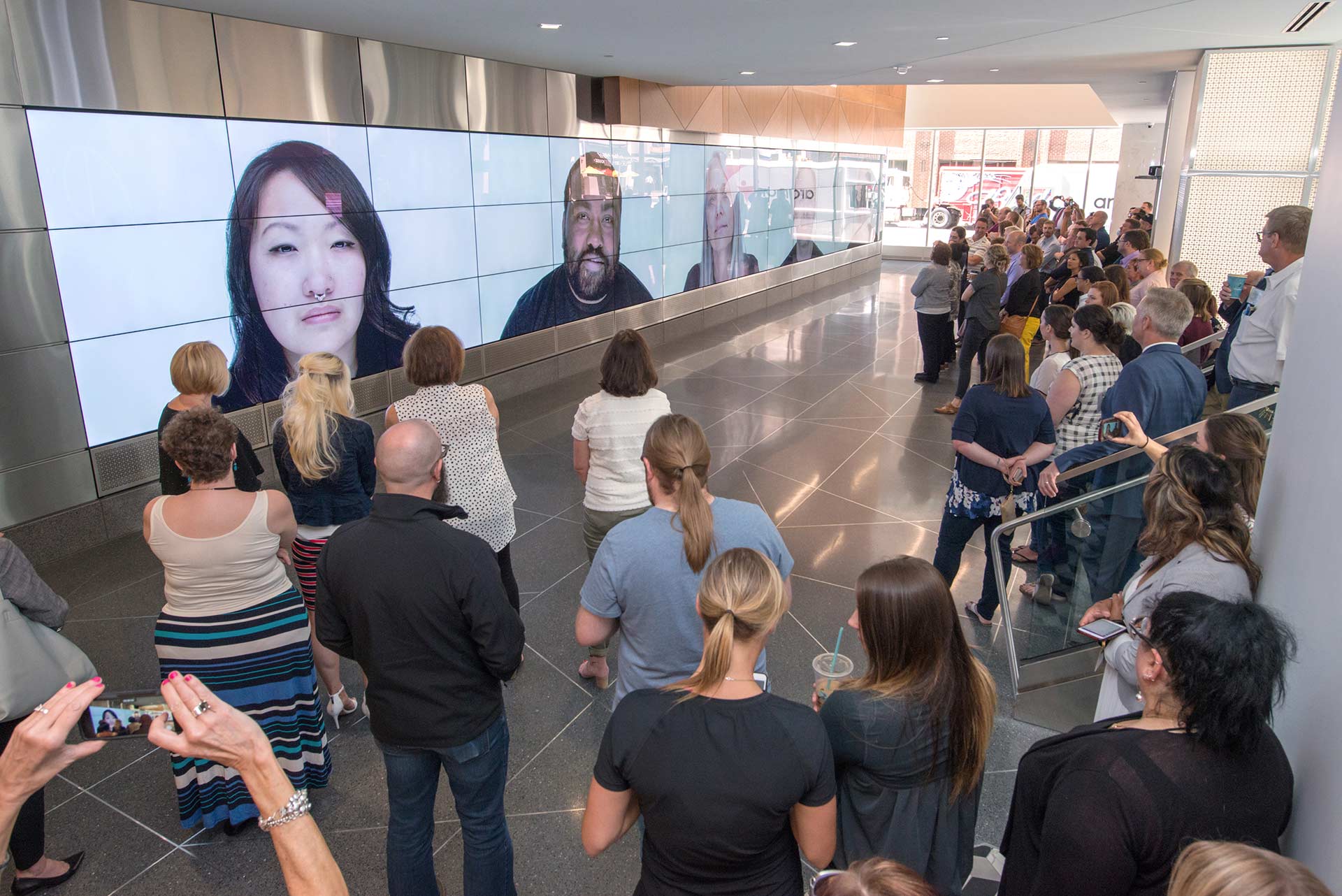 Spye, which maintains an internal creative division, produced a video art concept to show for the unveiling of the new video wall. The video portraiture, called "Faces," highlights the cultural diversity of Minneapolis and features up-close footage of residents from a variety of ethnic backgrounds who react to different stimuli. Planar technology proved to be instrumental for supporting the intended effect of the digital artwork, with the clarity of the video wall allowing the intimate sense of each person's personality to come through, Krumrich said.
Since dedicating the new media wall to video art, further content opportunities have begun to emerge through promising collaborations with Minneapolis's art community. "Treating the media wall as a public art canvas has been very beneficial in terms of forging connections with the city's art institutes and galleries," Okerstrom said. "We see tremendous potential for developing programs to feature digital artwork and really celebrate the creative talent we have here locally."