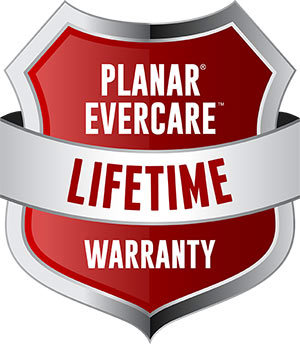 Planar® EverCare™ Lifetime Limited Warranty is designed to deliver total assurance for our customers while reducing their lifetime cost of ownership. It demonstrates Planar's profound confidence in our products and our Service Organization's ability to deliver. Planar EverCare covers the following LED display solutions:
Lifetime Total Coverage
The Planar Evercare Lifetime Limited Warranty is comprehensive, covering the product as long as the end customer continues to own and use it in a fixed location. It covers the entire product from controller to sub-pixel, including every component in between. The Planar EverCare Lifetime Warranty is subject to terms & conditions.
Delivering Superior Service
Planar has been designing, building deploying and supporting display products in Hillsboro, Oregon for nearly 40 years. During that time we have built a professional services and a systems engineering organization that spans North America and is backed up by engineering, manufacturing and service specialists in our Oregon factory and headquarters location. Our confidence in our products, deep expertise within our team and mission to serve our customers, allow us to offer and deliver this exceptional warranty.
Register
Lifetime is a long time, so we need to know where your video wall is installed. Please register your Planar display solution within 60 days of installation so we can best serve you and your video wall.

Planar EverCare Lifetime Limited Warranty covers select video walls that are owned and deployed in North America and were purchased after 10/1/2020.