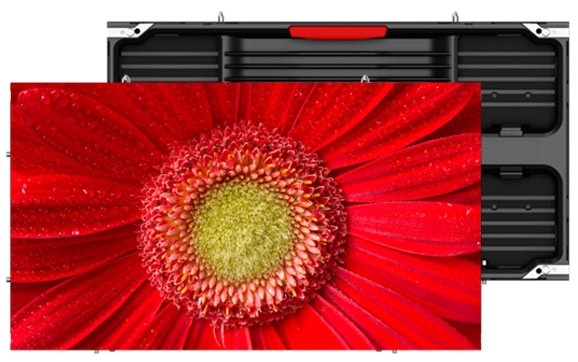 Planar® MGP Series fine pixel pitch LED video wall displays offer organizations a seamless, high resolution visual experience, at a value similar to a tiled LCD video wall, ideal for traditionally budget-conscious markets like house of worship, education and mid-sized business. The video wall displays are available in 1.2, 1.5, 1.8 and 2.5 millimeter pixel pitches.
A Seamless Alternative
Tiled LCD video walls have long delivered an affordable large canvas with high resolution that works well in many applications. However, many viewers struggle to see past the bezels—even when they're narrower than 1mm—which can disrupt on-screen content and tarnish the visual experience. Planar MGP Series' attractive price point lets organizations upgrade from legacy tiled LCD technology to a large, seamless LED canvas that offers similar resolution and brighter images, without the bezels.
The Right Resolutions
The Planar MGP Series cabinets feature a 16:9 aspect ratio that enables each pixel pitch to achieve popular resolutions including Full HD and 4K. The displays can also be configured to form video walls of other shapes, for a wider range of applications. With fine pixel pitches, the video walls excel in environments with viewing distances as close as 7 feet (2.1m).
Thin Is In
Planar MGP Series' 27" cabinets feature front installation and serviceability, enabling users to mount them directly to a wall. With a thin mounted profile of less than four inches, the video wall footprint meets the requirements for Americans with Disabilities Act (ADA) compliance, making it a viable option for installation in more and smaller environments than other video wall solutions.
Planar MGP Complete: Off-the-Shelf Video Wall Displays
If creating a video wall seems like too much, consider a pre-packaged Planar® MGP Complete™ Video Wall display. It reduces the time, complexity and cost of designing and installing a video wall because we've packaged everything in one complete solution. Simply select the Full HD video wall size that best suits the environment and application, and receive the ideal LED display cabinets, video controller, cables, spare modules and wall mounts, all included. Available in 108", 136", 163" and 217" diagonal sizes.
Industry Awards