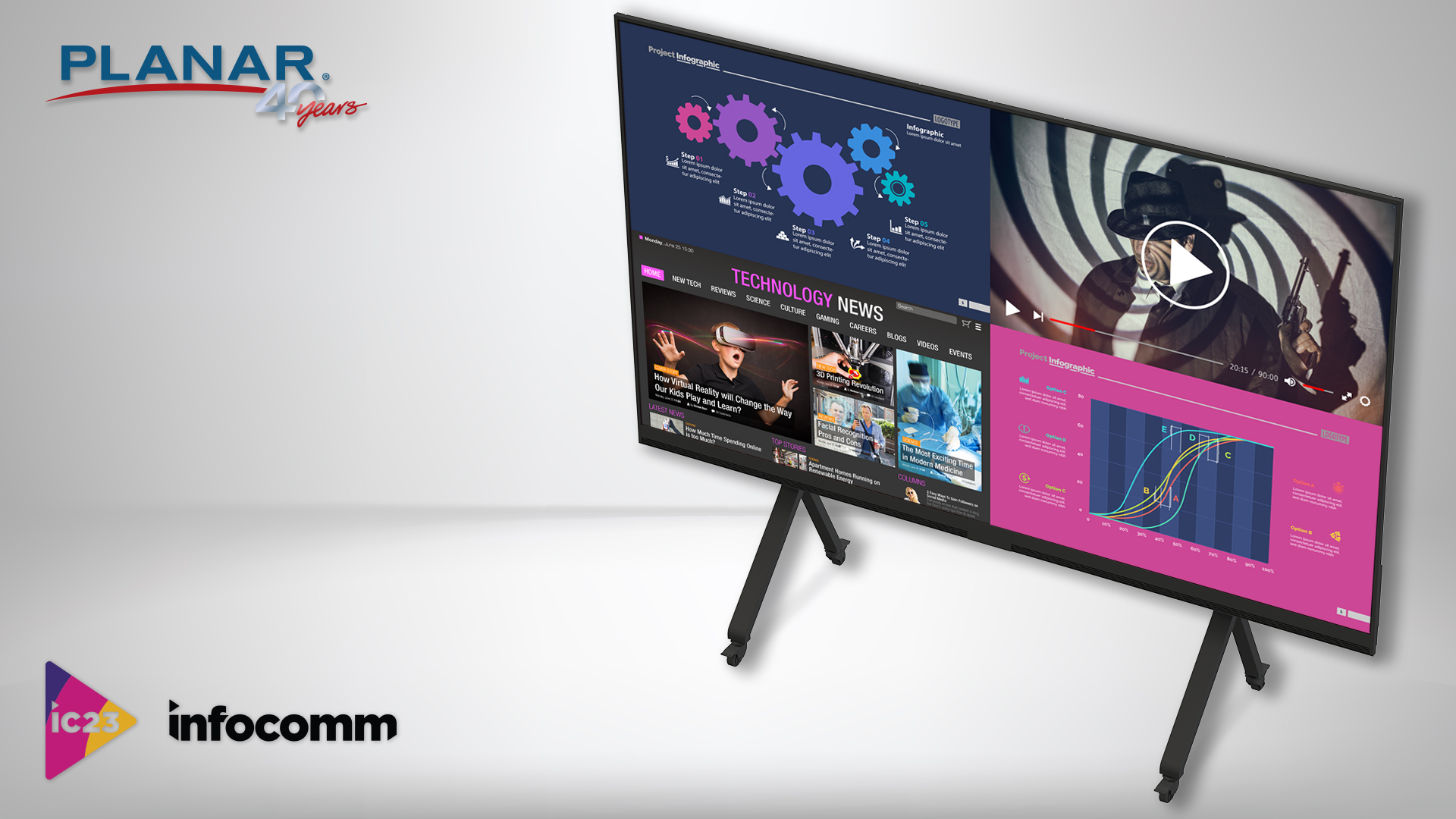 Planar Rolls Out Most Diverse Portfolio of Targeted Display Solutions at InfoComm 2023
From state-of-the-art fine pitch LED to leading-edge LCD, the industry leader showcases an extensive collection of visualization solutions tailored to a wide variety of application needs, including the new Planar UltraRes L Series All-in-One LED Display
Today, Planar announced plans to demonstrate the company's most diverse portfolio of display technology for next-level visual experiences at InfoComm 2023. This includes a range of modern LED and LCD visualization solutions that are aimed at a wide range of applications including video collaboration and meeting rooms, lobbies and atriums, on-camera and in-camera production, and outdoor high resolution digital signage and entertainment.
Planar will introduce the Planar® UltraRes™ L Series display at InfoComm 2023, an all-in-one LED display combining Planar® UltraRes™ Series best-in-class features with fine pixel pitch LED technology. The Planar UltraRes L Series introduces a seamless, easy-to-use display solution featuring integrated video and audio electronics, 20-point IR touch technology, on-board processing, an ultra slim bezel and 24x7 reliability. Measuring 136 inches and available in Full HD resolution, the new display offers flexibility with a wall mount for permanent installation or a rolling floor stand for mobility, making the Planar UltraRes L Series all-in-one LED display well-suited for environments spanning corporate, education and beyond.
The new solution also features multiple inputs to support simultaneous viewing of up to four content sources. With front service installation and simplified maintenance, Planar UltraRes L Series can be quickly assembled with only two people and powered using a single 110V cable.
At InfoComm 2023, Planar will also showcase the company's most versatile selection of LED and LCD display solutions that are designed for ease-of-use and to be tailored to different application needs. This includes LED video wall platforms with higher brightness and high bandwidth video transport, outdoor LED video wall displays featuring the finest pixel pitches, LED display solutions optimized for on-camera broadcast and in-camera virtual production (VP) and extended reality (XR).
"Our customers continue to push high resolution displays into more application areas with specific performance requirements," said Steve Seminario, vice president of product marketing at Planar. "Our new product lineup at InfoComm 2023 meets these indoor and outdoor requirements while providing versatility to accommodate future customer innovation."
State-of-the-Art, Fine Pitch LED for Indoor and Outdoor Use
InfoComm 2023 attendees will see the following trailblazing LED video wall solutions from Planar:
The recently-announced Planar® DirectLight® Pro Series LED platform raises the bar on versatility and lifetime value. Leveraging key advantages of Planar's highest-selling LED platforms, the ground-up designed LED video wall uses a high bandwidth video transport and delivers high brightness, outstanding image performance and a range of popular pixel pitches down to sub-1milimeter. This includes models in 0.9, 1.2, 1.5 and 1.8 millimeter pixel pitches and 1,000-nit brightness in constant operation, providing vibrant colors and greater image detail even in higher ambient light environments. Also available in popular Planar® Complete™ display configurations, including 109-inch, 137-inch,164-inch, 198-inch and 219-inch, Planar DirectLight Pro Series is designed to be deployed efficiently in custom video wall dimensions and resolutions through the use of two cabinet sizes and a 5G video architecture. The Planar® EverCare™ Lifetime Limited Warranty is included, offering customers complete confidence in their LED video wall purchase while reducing lifetime cost-of-ownership.
In May, Planar announced the addition of a 1.2 millimeter pixel pitch to the company's award-winning Planar® Luminate™ Ultra Series line of outdoor LED video wall displays. The newest addition to the series delivers the finest outdoor pixel pitch by using MicroLED technology to enable a 1.2 millimeter pixel pitch while also achieving superior performance in an outdoor-rated LED video wall display. MicroLED technology enhances the image with increased black levels and delivers 150-degree visibility while a proprietary coating ensures outdoor ruggedness and enhanced visual performance in high ambient light outdoor environments.
The Planar® DirectLight® Ultra™ Series is a line of premium fine pitch MicroLED video wall displays presenting several display technology advancements that, in combination, deliver big performance. Available in 0.6, 0.7, 0.9 and 1.2 millimeter pixel pitches, Planar
DirectLight Ultra Series features models with MicroLEDs, off-board power supply, proprietary alignment technology and built-in processing to deliver always-on, high resolution display experiences for unmatched visual performance for close viewing distances and the most refined applications. The Planar EverCare Lifetime Limited Warranty is also included, offering customers complete confidence in their LED video wall purchase while reducing lifetime cost-of-ownership.

Must-See XR Stage Delivering Striking On-Camera and In-Camera Visual Properties
At InfoComm 2023 Planar also will present a stunning XR stage with sister company and industry leader OptiTrack. The stage will demonstrate how customers can use VP and XR to revolutionize content creation in corporate applications and beyond, highlighting OptiTrack motion capture technology and fine pitch LED display solutions designed for on-camera and in-camera environments:
Award-winning Planar® CarbonLight™ CLI VX Series LED video wall displays feature unrivaled image quality and versatility to revolutionize the production of realistic on-camera and in-camera content. Featuring an improved scan ratio, the series provides greater flexibility in how video walls adapt to different cameras and effects. The lightweight LED display supports hanging, wall-mounted, free-standing and curved installations, is available in 1.9 and 2.6 millimeter pixel pitches and includes models with Brompton and Colorlight controllers.
Cutting-edge Planar® CarbonLight™ CLF VX Series LED flooring features a 2.6 millimeter pixel pitch that can be used to create a high resolution, continuous canvas, virtually expanding physical environments. The square (500x500 millimeters), thin LED flooring displays feature carbon fiber frames with layered wear-proof masking to support up to 1,102 pounds per display, facilitating heavy loads.
OptiTrack™ Motion Capture delivers precision, accuracy, ease of use, reliability and polished integration with on-set tools. With high speed and wide field-of-view motion tracking cameras, active tracking components, passive tracking markers and advanced motion capture software, OptiTrack remains the choice for the world's premier volumes.
Ultra-Wide Format LCD Displays for Unified Communications
The new Planar UltraRes W Series is a line of 105-inch ultra-wide format 5K LCD displays optimized for next-generation collaboration for today's modern hybrid workforce. For more than 10 years, Planar® UltraRes™ Series commercial-grade displays have been successfully installed in secure conference rooms around the world. The Planar UltraRes W Series provides customers with an ultra-wide format 21:9 display ideally sized to suit the most popular unified communications and video collaboration platforms including Microsoft Teams®. Planar UltraRes W Series features 24x7 reliability, remote monitoring, multi-source viewing and is available with interactive touch technology.
InfoComm 2023 attendees can view Planar's portfolio of new display technologies powering next-level visual experiences for an even wider range of applications at Booth #2243. For more information, visit www.planar.com.
---
Planar®, DirectLight®, DirectLight® Ultra™ and UltraRes™ are trademarks of Planar. Microsoft and Microsoft Teams® are trademarks of the Microsoft group of companies.