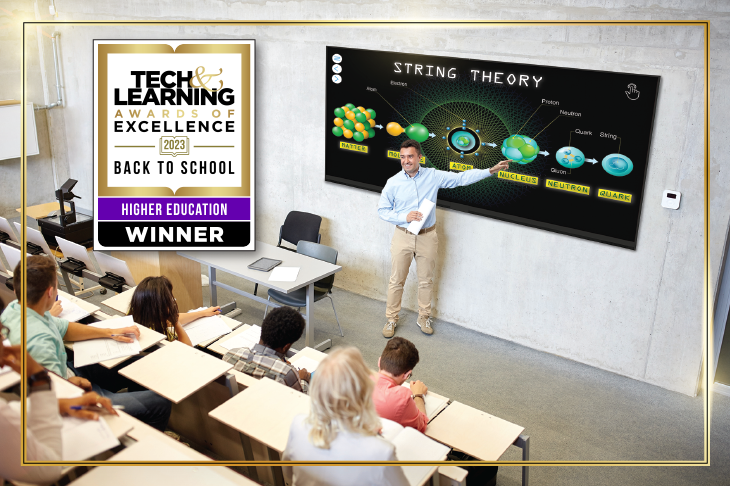 Planar All-in-One LED Display Wins Tech & Learning Award of Excellence
Solution pairing fine pixel pitch LED with best-in-class processing and ease-of use is recognized as one of the best tools for schools
Planar announced that the Planar® UltraRes™ L Series was honored with a 2023 Tech & Learning Award of Excellence. The all-in-one LED display solution was named one of the best tools for back to school in the higher education category.
The new Planar UltraRes L Series introduces a seamless, easy-to-use display solution designed to withstand extended or continuous operation while delivering exceptional image performance. Available with rolling floor stand and wall mount options, Planar UltraRes L Series supports mobility and permanent installations in meeting rooms, classrooms and more. This is ideal for universities who are looking to add a visual platform long term or easily move it from space to space.
"In just a few months, we've received tremendous interest in the new Planar UltraRes L Series," said Robert Detwiler, senior director of product management and training at Planar. "This is especially true in the education space as customers continue to look for flexible, user-friendly solutions that can support applications that change by the day or even by the hour. This new pre-configured display means learning environments can deploy a video wall in a matter of hours to present in a classroom, lecture hall or to greet visitors in a fixed location or as a mobile resource."
With front service installation and simplified maintenance, Planar UltraRes L Series supports quick assembly with only two people and power from only one 110V cable.
This year's Tech & Learning Awards of Excellence judges named Planar UltraRes L Series a great solution for helping professors show the correlation of content. This is made possible by multiple inputs supporting simultaneous viewing of up to four content sources.
Introduced in June, the easy-to-use LED display solution is available in Full HD and measures 136 inches. Users also benefit from integrated video and audio electronics, 20-point IR touch, on-board processing, 24x7 reliability and an ultra slim bezel.
The Tech & Learning Awards of Excellence program helps education leaders find the products and solutions that will support work in any learning environment.
For more information about the all-in-one Planar UltraRes L Series, visit www.planar.com/UltraResL.