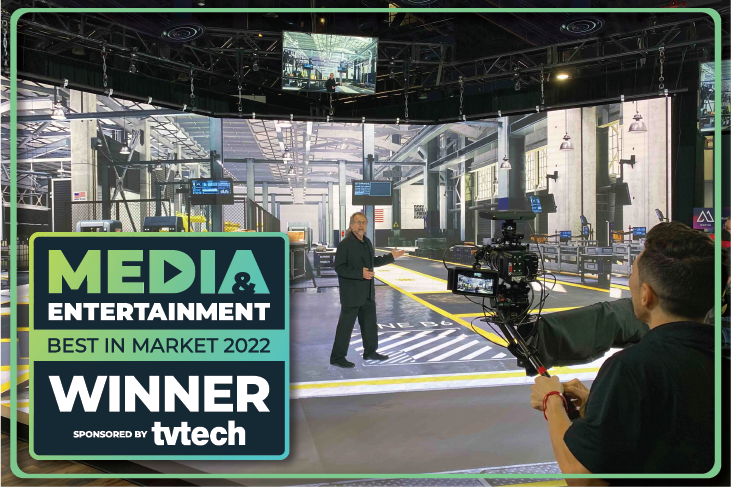 Planar Venue Pro VX Series Awarded 2022 Media & Entertainment Best in Market
State-of-the-art family of indoor fine pixel pitch LED video wall displays delivering exceptional in-camera visual performance is honored by TV Tech
Planar, a global leader in visualization products, is excited to announce that the leading-edge Planar® Venue™ Pro VX Series is the recipient of a 2022 Media & Entertainment Best in Market Award from TV Tech. Designed to maximize in camera and on-camera performance, the family of indoor fine pitch LED video wall displays was recognized by a panel of industry experts who evaluated products for their innovation, feature set, cost efficiency and performance in serving the media and entertainment industry.
Introduced in September 2022 as a cost-effective solution supporting virtual production (VP), extended reality (XR) and broadcast, the Planar Venue Pro VX Series features HDR-ready content, a wide color gamut, including up to DCI-P3 color space, and compatibility with a wide range of cameras to deliver unmatched visual performance and deployment versatility for lifelike recorded, streamed or broadcast video content.
"Today's media and entertainment professionals rely on new and innovative ways to engage audiences and create memorable viewing experiences," said Steve Seminario, vice president of product marketing at Planar. "As the latest addition to our portfolio of visualization solutions designed to support VP and XR, the Planar Venue Pro VX Series represents our ongoing dedication to bolster support for customers as well as revolutionize the production of incredibly realistic content with fine pitch LED. We're grateful to TV Tech for this recognition."
The Media & Entertainment Best in Market Awards are presented by TV Tech, Next TV, Radio World and TVBEurope. TV Tech's list of winners celebrates outstanding products from 2022 that span display technology, cameras, media analyzers, cloud platforms and more. TV Tech is the trusted industry authority on current and evolving technologies and products for technical and management professionals across all aspects of broadcast, cable and streaming.
The Planar Venue Pro VX Series supports hanging, stacked or wall-mounted installations and combines high performing scan and refresh rates with high brightness and narrow pixel pitches, including models with 1.9 and 2.5 millimeter pixel pitches. Designed to reduce the complexity of setup and teardown, the series is well-suited for LED XR stages in markets as diverse as film and video production, broadcast, corporate, rental and staging, and live events.
For more information about the Planar Venue Pro VX Series, visit www.planar.com/VenueProVX.