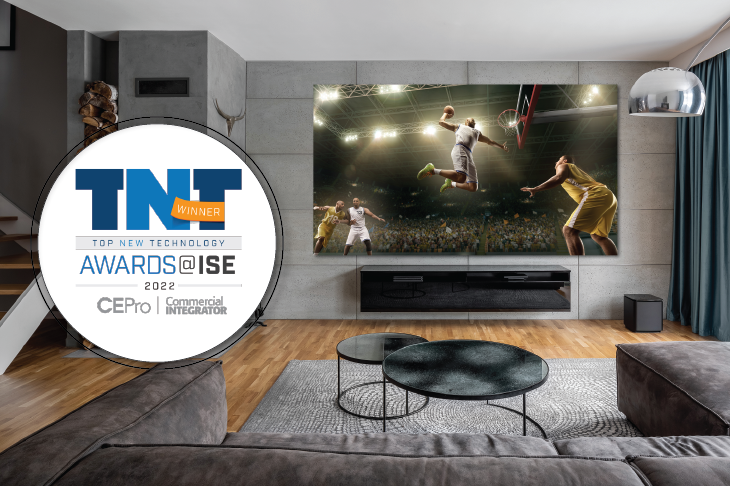 Planar Luxe MicroLED Presented with 2022 Top New Technology Award
Premium MicroLED displays delivering unparalleled visual experiences in luxury environments celebrated as a new and outstanding product by CE Pro
Planar, a global leader in visualization products, was announced a 2022 Top New Technology (TNT) Award winner by CE Pro. Recognized as one of the new and outstanding products or services in today's residential segment, Planar Luxe MicroLED was named winner of the flat panel TV/Ultra HD category.
Featuring high-brightness MicroLED technology, deep blacks and superior contrast, the award-winning Planar Luxe MicroLED delivers unparalleled viewing experiences in uses spanning digital artwork, movies, sports and events, gaming, eSports, streaming, multi-window viewing and video conferencing.
"We are proud to have the popular Planar Luxe MicroLED displays recognized as an outstanding product that will assist diverse integration firms in addressing a wide range of applications," said Executive Vice President Adam Schmidt. "Delivering industry-leading visual impact and ultimate flexibility to complement interior décor, Planar Luxe MicroLED is an elite solution designed to enrich any space. This trailblazing family of displays continues to turn heads and we're grateful for this recognition from CE Pro."
In addition to delivering outstanding, seamless video performance, the leading-edge solution seamlessly integrates with architectural elements. Plus, with Planar Elite Installation and Commissioning, a service performed by Planar Elite Technical Services, Planar Luxe MicroLED can be fine-tuned to ensure imagery looks its best for customers in each unique environment.
The TNT Awards honor top innovation in the electronics industry. This includes cutting-edge solutions that will lead to impressive projects and satisfied customers. Planar was also named a TNT Award winner by Commercial Integrator in 2021 and was recognized with best video wall hardware.
Planar Luxe MicroLED displays deliver the highest resolutions, are HDR-ready and available in 4K and 8K resolutions. The premium solution includes the display, wall mount, powerful video controller with remote processing, remote control, display trim and cables to provide everything customers need, in addition to offering a selection of sizes to choose from: 4K 108-inch, 136-inch, 163-inch and 8K 217-inch.
For more information about Planar Luxe MicroLED, visit www.planar.com/luxuryliving.