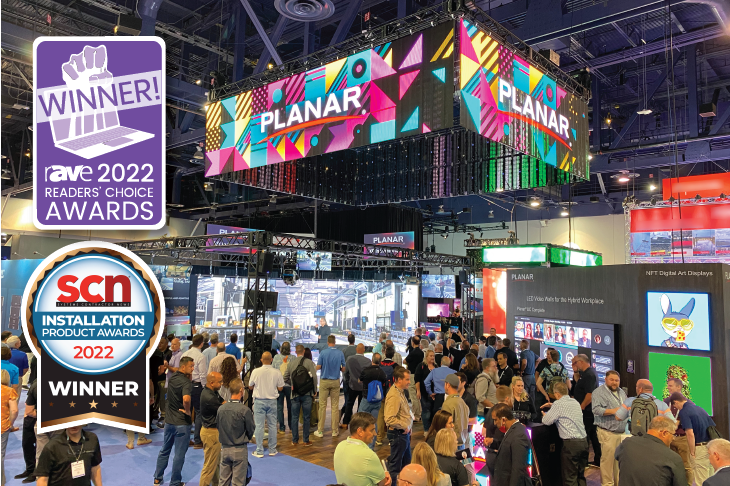 Planar Named SCN 2022 Installation Product Award & 2022 rAVe Readers' Choice Award Winner at InfoComm 2022
Industry leader is voted most innovative video display and favorite video wall brand by readers of Systems Contractor News and rAVe
Planar announced today that the company was voted a 2022 Installation Product Award winner by readers of Systems Contractor News (SCN). The premium Planar® DirectLight® Ultra™ Series MicroLED Video Wall was recognized as most innovative video display. Planar was also voted favorite video wall brand in rAVe's 2022 Readers' Choice Awards.
SCN's Installation Product Awards highlight the most innovative commercial AV products of 2021 and 2022, along with recognizing manufacturers who continue to set the bar higher for their ProAV customers. Winning products were announced during a ceremony in Las Vegas during InfoComm 2022.
The company was also voted favorite video wall brand in rAVe's 11th annual Readers' Choice Awards, celebrating Planar as one of the best in AV for 2022. The recognition follows Planar's win in rAVe's 10th annual Readers' Choice Awards. Readers selected the Planar DirectLight Ultra Series as favorite video wall product for 2021.
"It's an honor to be recognized as most innovative video display and favorite video wall brand by readers of SCN and rAVe," said Steve Seminario, vice president of product marketing at Planar. "Both are trusted sources of ProAV industry news and we couldn't be prouder of the recognition."
Planar DirectLight Ultra Series MicroLED video walls offer always-on, high-performance, high-resolution display experiences with the finest pixel pitches from 0.6 to 1.2 millimeters for mission-critical and the most refined applications. The series delivers better blacks, higher dynamic range and enhanced dark content performance, and with Planar® ActivAlign™ proprietary self-adjusting alignment technology, high visual performance is maintained over time.
For more information about the award-winning Planar DirectLight Ultra Series and Planar's portfolio of industry-leading display solutions, visit www.planar.com.