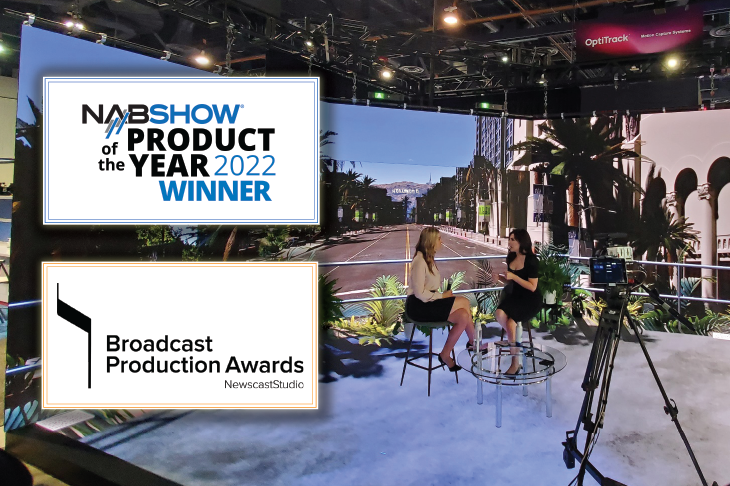 Planar CarbonLight CLI VX Series Presented with Two Broadcast Industry Awards
NAB and NewscastStudio name cutting-edge line of LED displays one of today's best broadcast production solutions
Planar, a global leader in visualization technology, is proud to announce two broadcast industry award wins for the revolutionary Planar® CarbonLight™ CLI VX Series. The next-generation line of LED displays was honored with a 2022 NAB Show Product of the Year Award by the National Association of Broadcasters (NAB) Show as well as a 2021 Broadcast Production Award by NewscastStudio.
Planar CarbonLight CLI VX Series features unrivaled image quality and versatility to revolutionize the production of realistic on-camera and in-camera content. Available in 1.9 and 2.6 millimeter pixel pitches and featuring models with Brompton and Colorlight controllers, the series supports hanging, wall-mounted, free-standing and curved LED video wall installations to beautifully integrate with broadcast as well as virtual production (VP) and extended reality (XR) studios.
Celebrating the most significant and promising new products and technologies exhibited for the first time at the 2022 NAB Show, the 2022 NAB Show Product of the Year Awards recognized Planar CarbonLight CLI VX Series as one of three winners in the digital signage and display systems category. Recipients were selected by a panel of industry experts and announced live at the show. Winning solutions are considered innovative breakthroughs that will change the way the media and entertainment industry creates, connects and capitalizes content.
Introduced in June 2021 as part of the Planar Studios initiative, the Planar CarbonLight CLI VX Series bolsters Planar's selection of cutting-edge LED display products that deliver the performance and capabilities today's broadcast, VP and XR professionals demand.
The 13th annual NewscastStudio Broadcast Production Awards pay tribute to the best in creative production and technical achievement across news, sports and entertainment. Planar CarbonLight CLI VX Series ranked among the best new products or services for production in 2021.
"In addition to featuring unmatched deployment versatility and superior, high resolution in-person, on-camera and in-camera visual performance, Planar CarbonLight CLI VX Series incorporates feedback we received from leading VP industry experts during the development process," said Steve Seminario, vice president of product marketing at Planar. "This means we're presenting customers with a fine-tuned solution that addresses common production needs and delivers the incredibly lifelike content visual storytellers require to engage audiences and transport them to remote settings. It's an honor to receive not one, but two prestigious broadcast industry awards for this state-of-the-art LED display solution."
Planar CarbonLight CLI VX Series features improved thermal management and uniformity, precise yet flexible color management and a wide color gamut for greater color compatibility. Customers also benefit from smooth motion and compatibility with a variety of camera settings as a result of the solution's LED refresh rate of 3840 Hz and frame rates ranging from 24 – 144 Hz.
For more information about the Planar CarbonLight CLI VX Series, visit www.planar.com/CarbonLight-VX.