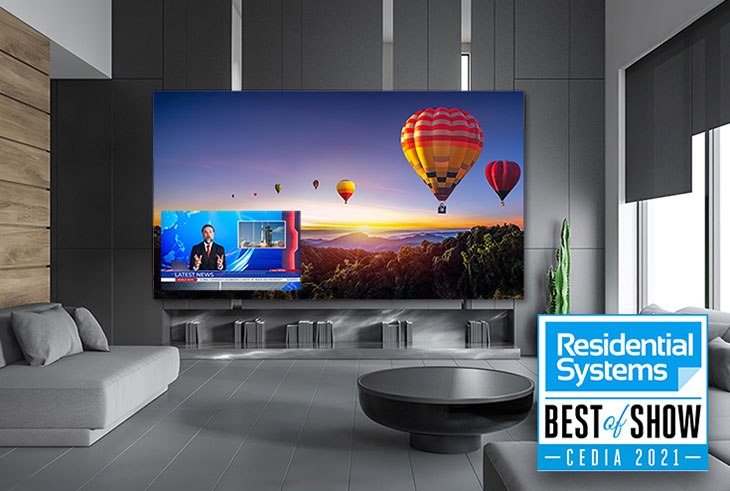 New Planar Luxe MicroLED Awarded 2021 CEDIA Best of Show
The premium line of professional-grade, ultra-fine pitch MicroLED displays is celebrated as one of the most unique and innovative products by Residential Systems
Planar, a global leader in visualization products, is pleased to announce that the company was honored with a 2021 CEDIA Best of Show Award. Residential Systems named the new Planar® Luxe MicroLED one of the most unique and innovative products available today, evaluating the product through the lens of the residential integrator.
Announced last month with the release of Planar Lifestyle Displays, Planar Luxe MicroLED delivers outstanding, seamless video performance, while providing customers with a complete package that is aimed at effortlessly enriching luxury spaces. In addition to seamlessly integrating with architectural elements and complementing interior décor, the leading-edge displays are available in 4K and 8K resolutions and feature high-contrast, high-brightness MicroLED technology for world-class viewing experiences in uses ranging from digital artwork, movies, sports and events to gaming, eSports, streaming, multi-window viewing and video conferencing.
"Planar is the global leader in fine pixel pitch LED and the new Planar Luxe MicroLED is an extension of our ongoing commitment to deliver groundbreaking technologies and unrivaled viewing experiences," said Executive Vice President Adam Schmidt. "While still in its infancy, MicroLED is fast becoming a highly-sought after technology and we're grateful to be recognized by Residential Systems for our trailblazing efforts. We'll have exciting developments to share as the technology advances and look forward to seeing what extraordinary visions we can help bring to life for customers in luxury spaces."
Planar Luxe MicroLED also includes Planar Elite Technical Services, a new level of Planar service offering that employs specially qualified and trained professionals who are held to the highest standards of performance and professional conduct, exhibit impeccable cleanliness, have proven themselves in the field and received the highest level of technical training.
The Planar Elite Technical Services offering performs Planar Elite Installation and Commissioning, a new service that maximizes on-site efficiency and customer satisfaction. This includes fine tuning displays to ensure imagery looks its best in each unique environment.
Planar Luxe MicroLED displays deliver the highest resolutions, are HDR-ready and feature high brightness, deep blacks and superior contrast for unparalleled visual performance. They are available in 4K 108-inch, 136-inch, 163-inch and 8K 217-inch sizes, and include the display, wall mount, powerful video controller with remote processing, remote control, display trim and cables.
The Residential Systems 2021 CEDIA Best of Show Awards honored the best custom installation and home entertainment technologies, including televisions and displays, projectors, video processors, movie servers, speakers and more. Residential Systems is the leading brand serving the custom installation industry.
For more information about the new Planar Luxe MicroLED, visit www.planar.com/luxuryliving.