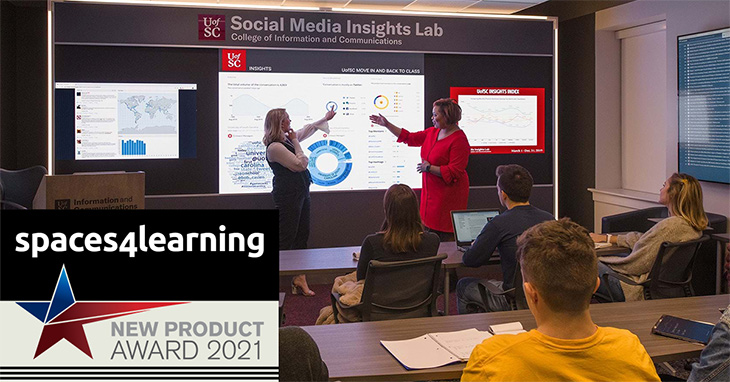 Planar Named 2021 Spaces4Learning New Product Award Winner
Global leader in visualization technology receives two platinum awards for display innovations designed to enhance the learning environment
Planar, a global leader in visualization products, is pleased to announce that the company has received two Spaces4Learning New Product Awards. Planar® MGP Series fine pitch LED video wall displays were named a platinum award winner in the technology category for AV equipment and digital signage, while Planar® HB Series Huddle Board large format LCD displays were voted a platinum award winner in the technology category for remote learning.
"Planar is proud to have the Planar MGP Series and Planar HB Series Huddle Board both recognized as leading innovations in today's education community," said Steve Seminario, vice president of product development at Planar. "From supporting recruitment efforts and enhanced student retention to fostering more dynamic learning environments, Planar remains committed to helping transform the way students learn and education facilities engage with students. Accolades such as these from Spaces4Learning further motivate us to innovate and deliver next-generation display solutions that power impactful learning experiences for years to come."
Planar MGP Series fine pitch LED video wall displays introduce affordable solutions that are suitable for replacing legacy display technology. The family makes fine pitch LED an accessible alternative to formerly projection or tiled LCD environments including classrooms and lecture halls as well as retail settings, houses of worship and digital signage applications. Planar MGP Series is available in 1.2, 1.5 and 1.8 millimeter pixel pitches and features a 27-inch diagonal, 16:9 cabinet that is designed to support full front-service, wall-mounted installation.
Planar MGP Series also includes Planar® MGP Complete™, a line of pre-packaged LED video wall displays offered in 108-inch, 136-inch and 163-inch diagonal Full HD video wall sizes that are designed to reduce time and complexity of video wall design and installation. Planar MGP Complete is designed for customers who want to experience the many advantages of LED technology, including seamless images, vivid colors, long-life performance and low-cost maintenance, but are also looking for a cost-effective solution.
Optimized for quick and efficient collaboration, Planar HB Series Huddle Board features a highly responsive touch performance to recognize up to 20 simultaneous touch points from multiple users and an included stylus to accurately capture even the smallest of characters. Available in 75-inch and 86-inch sizes, the line of large format LCD displays features 4K resolution and 350-nit brightness to ensure everyone can clearly see even the most detailed on-screen content. The series is also compatible with industry-leading collaboration solutions, supports third-party devices and includes an integrated Android® operating system complete with whiteboard software to create a one-stop collaboration solution for users. With embedded tools tailored to in-room and remote unified communication, Planar HB Series is ideal for classrooms, study group spaces and design centers as well as conference rooms and home offices for today's hybrid learning and work climate.
Now in its seventh year, Spaces4Learning's New Product Awards honor the outstanding product development achievements of manufacturers and suppliers providing products that are designed to enhance teaching and learning as well as protect the health and safety of students, faculty and staff in K–12 and higher education. As platinum New Product Award winners, Planar MGP Series and Planar HB Series are considered particularly noteworthy in their ability to enhance the learning environment in higher education. 2021 New Product Award winners were selected by a panel of industry judges. Spaces4Learning is a leading publication for education institutions, the architectural community, service providers and others interested in creating high-quality facilities.
For more information about Planar MGP Series or Planar HB Series, visit www.planar.com/mgp or www.planar.com/hb.