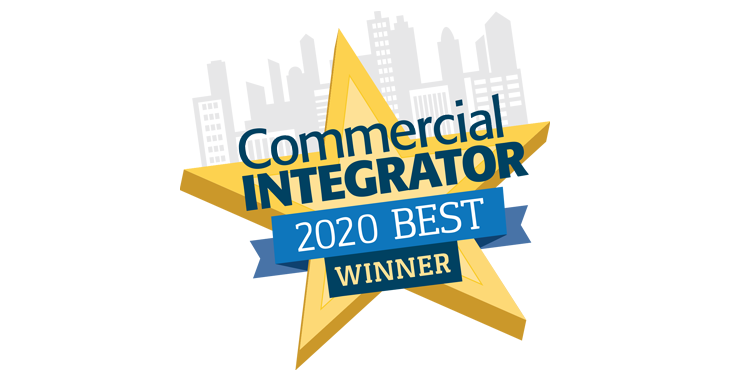 Planar LookThru Transparent OLED Display Proud Recipient of 2020 BEST Award
The next-generation display is recognized as the best video wall solution of the year by Commercial Integrator
Planar, global leader in visualization products, is pleased to announce that the company has been honored with Commercial Integrator's 2020 BEST (Best Electronics System Technologies) Award, an annual award honoring outstanding AV products and services that are impacting the commercial integration industry every day. The next-generation Planar® LookThru™ Transparent OLED Display was named best video wall solution within the audio video products category.
The new Planar LookThru display leverages the latest in transparent organic light-emitting diode (OLED) technology to provide a self-emitting transparent display for truly see-through installations without the need for backlighting or enclosures.
"It is a tremendous honor to receive Commercial Integrator's BEST Award for the Planar LookThru display," said Steve Seminario, vice president of product development at Planar. "Following remarkable response from our customers, we've remained committed to offering a transparent display solution that will support their next-level application needs and it's wonderful to be recognized for playing a part in advancing today's industry."
The next-generation Planar LookThru builds on the frameless glass design of the original version, enabling customers to overlay digital content and imagery over actual objects to create unique, eye-catching installations. Suitable both as a standalone product and for tiled installations, the 55-inch display is ideal for a wide range of applications including retail merchandising, corporate displays, museum exhibits, award and trophy cases, and tradeshow exhibits.
Following the cancellation of multiple industry events in response to the COVID-19 pandemic, Commercial Integrator's BEST Awards offer integrators a valuable opportunity to learn about today's top-ranking AV products.
This year's entries were individually judged by a panel of industry editorial leaders, with each member providing a score in three categories for each audio video product submitted. The Planar LookThru display was recognized as the winning video wall solution due to its product design, technological innovation and functional features, as well as the value it offers to commercial integrators.
For more information about the Planar LookThru, visit www.planar.com/LookThru or visit our Case Studies to see how customers are deploying this eye-catching technology to create eye-catching installations.