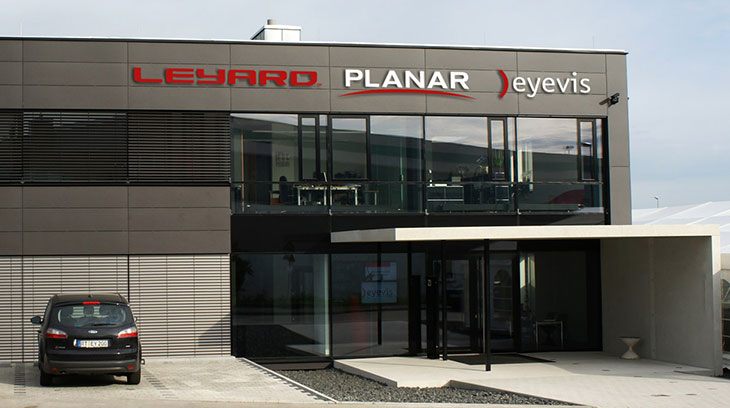 Leyard To Open EMEA Headquarters and Showroom in Germany, along with New Showrooms in Dubai and Moscow
Leyard EMEA headquarters and showroom in Reutlingen, Germany and new showrooms in Dubai and Moscow provide enhanced customer engagement
Reutlingen, Germany, 02, July, 2019 – Today, Leyard, a global leader in visualization products, announced it relocated its EMEA headquarters and showroom to Reutlingen, Germany, formerly eyevis' headquarters, and opened new showrooms in Dubai and Moscow.
"The Leyard EMEA headquarters and showroom benefits from Reutlingen as a leading economic region not only in Germany but also Europe, and coincides with the full integration of eyevis and Teracue into our brand companies, which includes Planar," said Thorsten Lipp, chief operating officer and acting CEO, Leyard EMEA. "Our combined expertise in manufacturing, marketing, sales and customer service allows us to innovate and deliver solutions that meet the diverse and growing needs of any European customer."
The new Leyard EMEA headquarters previously served as headquarters for eyevis and includes 5000 meters of space used for administration, production, testing, assembly, customer service, and a showroom. Leyard maintains showrooms across EMEA, including new showrooms in Moscow and Dubai. Each showroom is strategically designed for Leyard to be in close proximity to its customers, allowing the company to both build long-term relationships and provide spaces for customer meetings, events and trainings, and demonstrations of Leyard's portfolio of groundbreaking and award-winning display solutions. Showrooms in Moscow and Dubai are now open, and the 500 square meter Reutlingen showroom will open for operation in the summer of 2019 and an official grand opening is planned for autumn 2019. These showrooms add to Leyard's existing showrooms in Paris, Rome and Prešov, Slovakia.
Leyard EMEA also maintains a 3,119 square meter (33,500 square feet) factory in Prešov, which enables the company to serve its global customer base, providing unrivaled quality of its digital displays and video walls, especially those who prefer to purchase digital display solutions built in the European Union (EU). Leyard products are available through the company's worldwide network of authorized resellers.