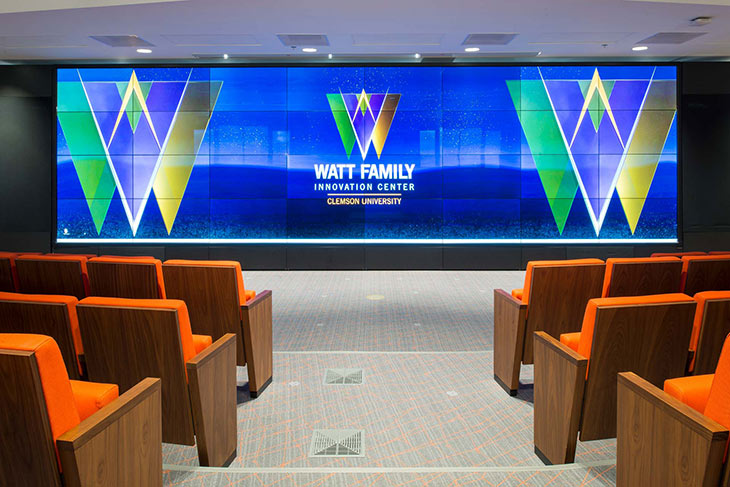 Planar and Hypersign Partner to Create Unique Offering for Resellers, Customers
At the suggestion of a customer, the strategic partnership combines the companies' display technology and visual communications offerings to provide a one-of-a-kind offering for digital signage, wayfinding and meeting room collaboration
NEW YORK, N.Y., October 15, 2019 – Today, Planar, global leaders in visualization products, announced a strategic partnership with Hypersign, representing the best-in-class display manufacturer with the best-in-class visual communications provider. Focused on North America with plans to expand to global markets, this unique offering will be sold through integration and distribution channel partners.
Developed in response to a customer recommendation after an installation at Clemson University, this partnership empowers both companies to serve the channel with strong distribution relationships and broad coverage of resellers. Combining Planar's established base of AV Reseller Partners and Hypersign's leading customer renewal rate in the industry will result in a second to none customer experience and new sales opportunities for their partner resellers.
"Planar has always had strong relationships with our customer base and having a customer like Clemson request this industry partnership is reflective of that," said Executive Vice President of Sales, Marketing and Pro Services Adam Schmidt. "Hypersign has a strong customer base in higher education and healthcare. The combined efforts of this partnership will result in increased opportunities across key markets including government, retail, healthcare and education."
In addition, the companies' partnership provides customers in digital signage applications across a wide range of solutions with a simplified ability to access and own the combined Planar and Hypersign products. It also presents the opportunity to offer an end-to-end visual communications solution that has been tested and proven.
"Many display manufacturers have attempted to integrate either their own CMS or create an ecosystem with partner CMS companies with marginal success," said Founder of Hypersign Neil Willis. "By combining Planar and Hypersign technologies, we've created a stable and consistently performing product that stakeholders can rely on."
Statements from Clemson
"The newly built Watt Family Innovation Center was equipped with multiple Planar LCD and LED video walls," said Todd Marek, executive director Watt Family Innovation Center Clemson University. "When we began to combine our use of Hypersign software with Planar displays, we saw a powerful solution that was easy to use and made a huge impact on students and staff."
"I find the Planar and Hypersign combined solution innovative and am excited how it expands our ability to brand our building for visitors and events through our digital signage, sometimes at a moment's notice," Susan Reeves, Operations & Support Manager for the Watt Center at Clemson University.
The new partnership will be on display this week during New York Digital Signage Week at Planar's Video Wallapalooza 2019 New York Event on October 16.