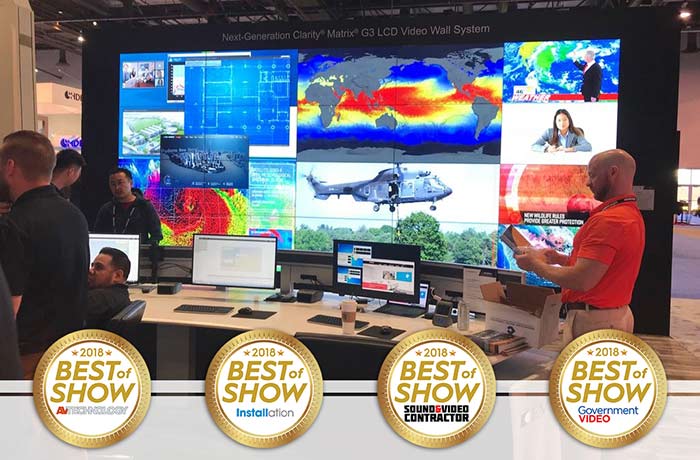 Leyard and Planar Win Six Distinguished ProAV Industry Awards at InfoComm 2018
The global leaders in visualization products were honored with four Best of Show awards as well as a Readers' Choice Award and an AVIXA 'Women in AV' award
Leyard and Planar, global leaders in visualization products, received six of the professional audio visual industry's most prestigious technology honors at InfoComm 2018 in Las Vegas. NewBay Media awarded the Clarity® Matrix® G3 LCD Video Wall System 'Best of Show' winner for InfoComm 2018 presented by Sound & Video Contractor, AV Technology, Government Video and Installation. rAVe awarded Leyard® CarbonLight™ LED Displays 'Readers' Choice' winner for favorite rental or staging product. In addition, the Audiovisual and Integrated Experience Association (AVIXA) honored Samantha (Sam) Phenix, vice president, Research and Development at Leyard and Planar, with a 2018 'Women in AV' award.
"We are also thrilled to accept not one but four 'Best of Show' awards and a rAVe 'Readers' Choice' award for Clarity Matrix G3 and Leyard CarbonLight, respectively," said Phenix. "This recognition demonstrates our ongoing commitment to industry innovation, paying tribute to the video processing, installation and visual performance improvements we offer in our flagship LCD and LED display solutions."
"I am incredibly honored to be selected for the AVIXA 'Women in AV' award this year," continued Phenix. "I've dedicated my career to advancing the state of the art in business and technology, and am passionate about ensuring opportunities for women to advance in these fields."
The Clarity Matrix G3 LCD Video Wall System combines the industry's thinnest profile ultra-narrow bezel LCD with industry-leading improvements to video processing, installation, management and off-board electronics, to deliver a next-generation video wall solution. Building on success of the award-winning Clarity Matrix architecture, Clarity Matrix G3 features the new Leyard® Video Controller that includes Planar® Big Picture Plus™ video wall processing, Leyard® Wall Director™ Software for simplified video wall installation, monitoring and management, as well as Leyard® WallSync™ for precisely synchronized video playback and gunlock across Clarity Matrix video walls.
This year's 'Best of Show' judging panel was composed of six AV professionals, including CTS-certified technology managers and AV/IT engineers. Judges selected honorees based on the number of points awarded after evaluating each product's innovation, ease of installation and maintenance, performance against category standard, value and ROI, among other criteria.
Leyard CarbonLight LED Displays are a comprehensive line of LED display solutions specifically designed for rental, staging and fixed-flexible installations. Composed of five product lines, Leyard CarbonLight LED Displays are designed to meet the requirements of a wide range of applications. Featuring a patented carbon fiber construction, the displays are lightweight, thin and strong, and are fast and flexible to install, making Leyard CarbonLight ideal for the most unique and challenging environments.
The 2018 rAVe Readers' Choice Awards were determined by nominations from more than 92,000 members of the AV community. The awards represent the best-of-the-best in AV products, companies and technologies.
The AVIXA annual awards recognize outstanding AV professionals for their contributions, leadership, and commitment to excellence. The Women in AV award specifically recognizes women who are achieving rewarding and successful careers in the audiovisual and information communications industries. Sam is credited for display technology innovations across multiple demanding vertical markets. She was recognized as an Industry Innovator by NewBay Media in 2017.
InfoComm is the largest professional audiovisual trade show in North America. Each year, approximately 45,000 attendees gather to view the latest products in audio, display, digital signage, security and more. Leyard and Planar showcased their widest array of new video wall solutions and displays at InfoComm 2018.