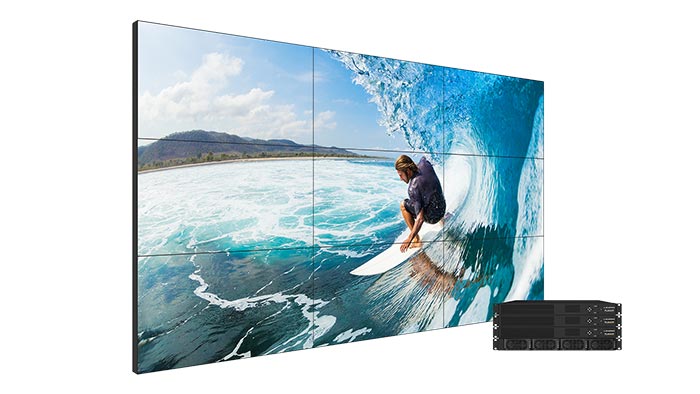 Leyard and Planar Announce Fully Integrated Video Wall Synchronization
Leyard WallSync for the Clarity Matrix G3 Video Wall System ensures perfectly synchronized video playback without manual configuration
Leyard and Planar, global leaders in visualization products, today announced Leyard® WallSync™, a set of technologies integrated into the Clarity® Matrix® G3 Video Wall System, which address a range of common video synchronization needs and make it simple to deliver perfect video playback across entire video walls without manual configuration.
Leyard WallSync solves many of the common video synchronization challenges in applications ranging from simple digital signage to sophisticated broadcast implementations. It incorporates a Smart Genlock feature that automatically ensures perfectly synchronized video playback, even in dynamic environments—and that can be synchronized to both connected video sources and external "house syncs."
"With Leyard WallSync, video tearing and synchronization challenges are a thing of the past," said Steve Seminario, vice president of product management at Leyard and Planar. "And while Leyard WallSync is fully configurable for more sophisticated uses, for the majority of customers, the default configuration will just work—delivering perfect video playback across the entire video wall every time."
Flawlessly Synchronized Video Playback
For a number of video wall applications including digital signage, control room, collaboration and broadcast, there is a desire for precise display-to-display synchronization that eliminates distracting tearing artifacts or that ensures precise synchronization with an external device such as a video camera. These artifacts can been seen on very small video walls and are amplified on larger video walls, and represent not just one technology challenge, but several.
Leyard WallSync addresses these challenges by automatically synchronizing any directly attached video source across the entire video wall, regardless of size. It incorporates synchronization hardware that allows multiple Leyard Video Controllers to be synchronized together and for the video wall to be genlocked to an external house sync or a directly attached video source. Leyard WallSync also incorporates technology that solves a distracting video wall "tearing" artifact commonly seen on video walls displaying content that incorporates fast horizontal pans or in video wall applications where windows are rapidly moved across the video wall.
Intelligent Integration with Clarity Matrix G3
Leyard WallSync is fully integrated with the Clarity Matrix G3 LCD Video Wall System so that it can work intelligently with other Clarity Matrix G3 features. Its Smart Genlock feature works in coordination with Planar® Big Picture Plus™ video scaling to automatically and dynamically sync to any attached video source that has been selected to be scaled across the video wall. For more sophisticated uses, Leyard WallSync features are accessed via Leyard® WallDirector™ Software, a powerful, web-based interface that simplifies video wall installation, operation and monitoring. The result is a system that works the way customers expect it to while allowing for customization of individual settings.
Leyard and Planar will showcase Leyard WallSync at InfoComm 2018 from June 6-8 in Las Vegas. Leyard and Planar display solutions are available through the companies' global network of authorized resellers.