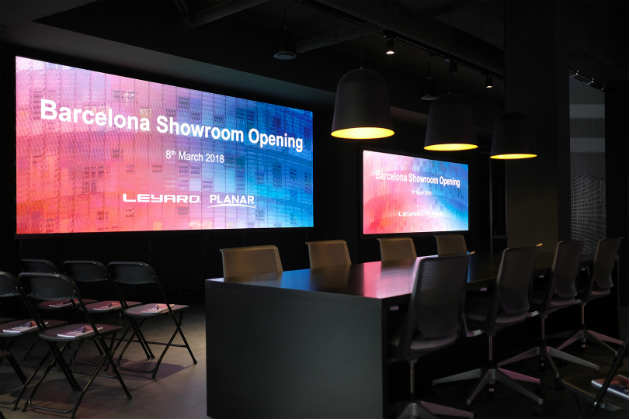 Leyard and Planar Open Showroom in Barcelona
The companies also opened a new manufacturing plant in Slovakia to meet the growing demand for its display solutions throughout Europe
Leyard and Planar, global leaders in visualization products, announced they have opened a new showroom in Barcelona, Spain, and a new manufacturing facility in Slovakia.
Through Leyard's acquisition of Planar in late 2015, the combined company is unique in its ability to leverage core LED and LCD technology and an extensive supply chain as the worldwide leader in fine pitch LED while designing, manufacturing, servicing and marketing LED products to meet the needs of European markets. Leyard and Planar are bringing products to partners and customers in Europe, the Middle East and Africa with the opening of the new showroom in Barcelona.
"Europe is a critical market for us and the new facilities will bring the latest in LED and LCD display solutions even closer to our European, Middle Eastern and African customers while enabling us to extend high quality LED manufacturing into a key region of the world," said Marco Bruines, CEO of Leyard Europe. 
Barcelona Product Showroom and Slovakia Manufacturing Facility
The new Leyard and Planar Barcelona showroom includes more than 500 square meters (5,382 square feet) designed to reflect the current Leyard and Planar product offerings. The showroom features demonstration areas that enable visitors to see groundbreaking LED video walls, award-winning LCD display solutions and other advanced display technology. It offers open office space, making it perfect for sales trainings, events and customer meetings. The new showroom will also serve as a flexible working space for the European sales and marketing team.
The new 3,000 square meter (33,500 square foot) manufacturing factory near Prešov, Slovakia, enables Leyard and Planar to meet the growing demand for their LED display solutions from European customers, especially those who prefer to purchase display solutions from within the European Union. The new factory supplements Leyard and Planar's existing manufacturing facilities in Oregon, USA, Shenzhen and Beijing in China.
Located on a 10,000 square meter (2.5 acre) parcel of land in an industrial park in the town of Záborské near Prešov, the new facility consists of a factory, office space and conference rooms.
The opening of these facilities comes on the heels of the Global LED Display Market Report by Futuresource Consulting, which, for the second consecutive year, ranked Leyard as the global market leader in narrow pixel pitch LED displays. The new showroom and manufacturing facility demonstrate the companies' commitment to maintaining their global market leader position by providing the most innovative LED display technology.
Leyard and Planar will host a special grand opening event and reception on Thursday, 8 March for customers and partners at the Barcelona showroom. Guests will have the opportunity to tour the Barcelona showroom, hear from key executives and view the company's latest digital display solutions.
Growth of the Local Sales Teams
Leyard and Planar are growing their European sales organization to include dedicated business development managers for broadcast, rental and staging and control room markets, and additional sales team members to support local markets within EMEA. These new hires come on the heels of the appointment of Chris Van Elslander, vice president of sales, and the creation of the Leyard and Planar EMEA Product Marketing team, led by Christian Orcin.
For more information about Leyard and Planar's global showrooms, visit www.planar.com/showrooms.