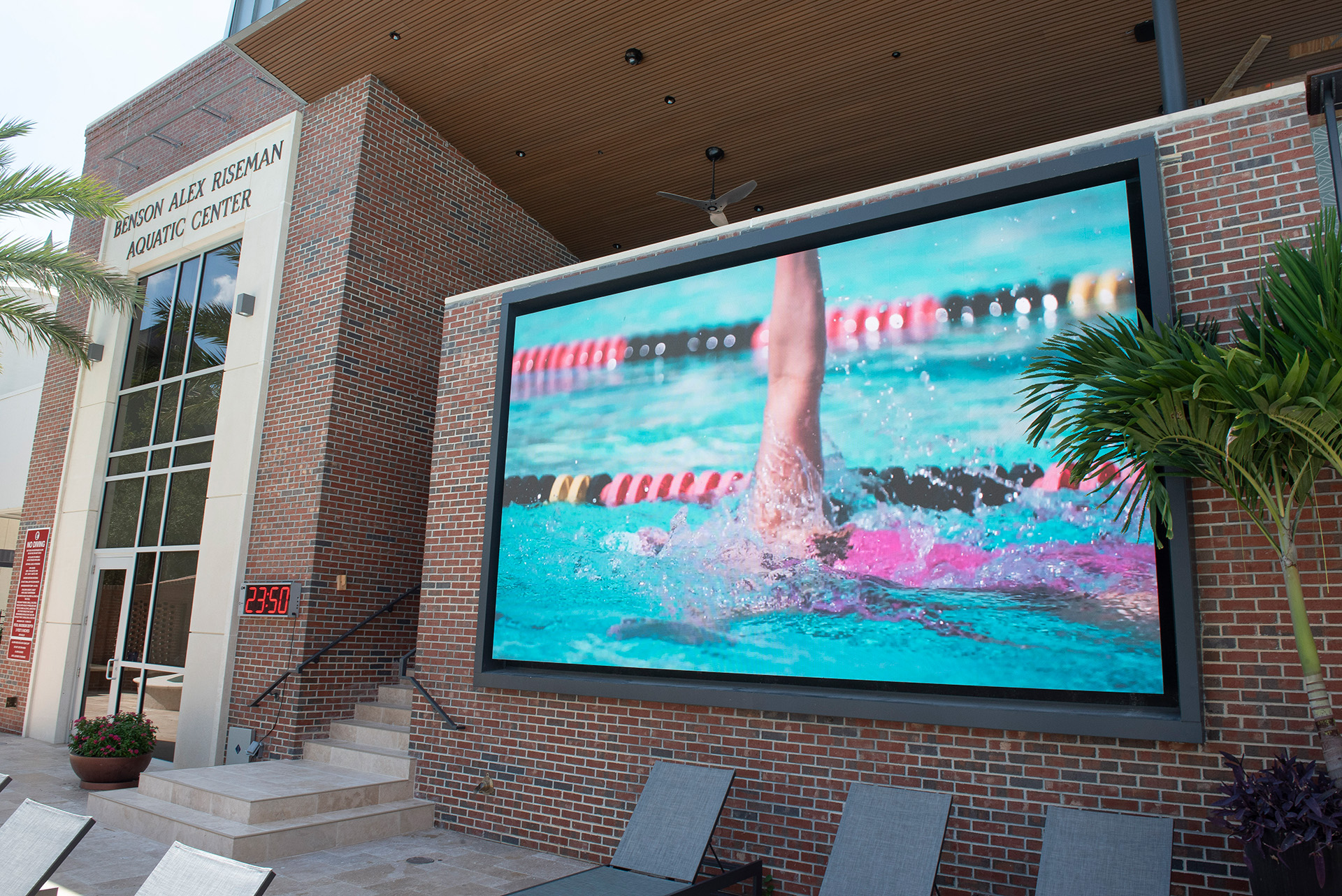 Illuminating Outdoor Viewing Experiences
Historically, enjoying a movie in the park, observing a restaurant's menu or even navigating an outdoor mall's digital directory in direct sunlight can hinder visibility. Today, it's possible to bring the same level of image detail that's typically experienced indoors to an outdoor setting. And with protective coatings delivering increased ruggedness and weather protection, users can rest assured that they can find a solution that will shine no matter the weather conditions. To create pleasant and memorable viewing experiences outside, today's companies should consider high bright, fine pitch outdoor LED solutions that allow for increased visual contrast and help combat glare.
Imagine being the coach of a collegiate swim team whose home meets take place in an outdoor pool in the middle of the day when the sun is brightest. Competitors need to see the clock and stats in crisp detail and at the same time, spectators want to watch instant replays and see the action unfold without impaired visibility.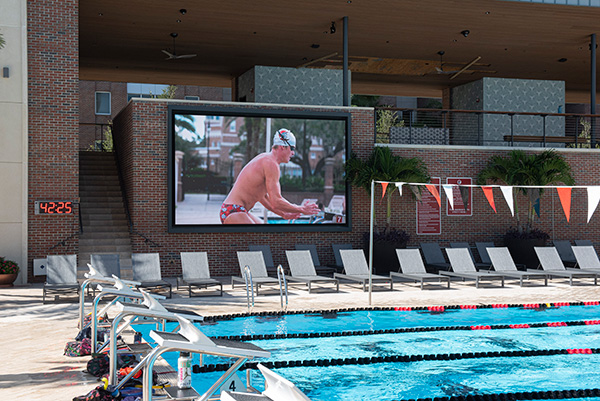 For the University of Tampa (UT), a 5,000-nit brightness 16-foot by 10-foot Planar LED Video Wall with a 3.9 millimeter pixel pitch was the perfect addition to their expanded Benson Alex Riseman Fitness and Recreation Center.
Originally exploring a digital scoreboard, the university preferred the versatility Planar's video wall, which also provides a platform for digital signage, student communications and events such as movie nights. In addition to displaying a name and score during swim meets, the video wall presented an opportunity to showcase videos and bios of each athlete to create more impactful viewing experiences for fans. Now, UT benefits from an LED solution that is not only bright, crisp and easily visible from multiple angles, but one that may also play into their recruiting efforts in the near future.
Something Unique
Futuresource's 2022 Global LED Display Report confirmed a 26.4 percent growth to $2.80 billion for global outdoor sales in 2021 and predicted a 24.5 percent growth for the market to $43.49 billion for 2022. This can be attributed to a spike in outdoor gatherings resulting from the pandemic. In fact, Futuresource reports that some members of the public prefer to attend outdoor venues such as zoos, museums and gardens.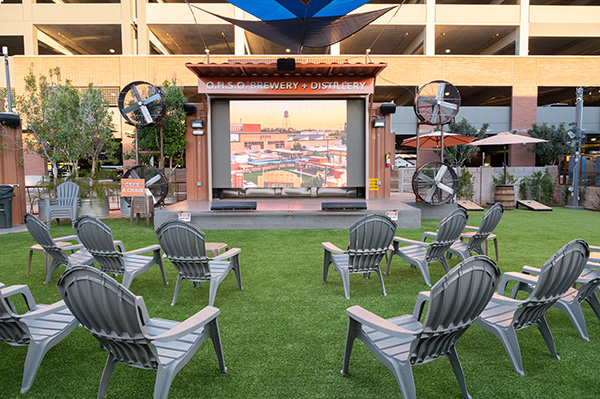 The open-air location of O.H.S.O. Brewery in Gilbert, Arizona dubbed "The Park" provides a different atmosphere than most brewhouses, offering amenities like a dog park, a giant playground for adults kids and dogs, and VIP cabanas. Like a more traditional indoor facility there's also a full bar, games and sports and movie viewing on a big screen, only O.H.S.O offers it under the stars or the sun. The venue shows video and digital signage content on a 15-foot-wide and nearly 9-foot-high Planar® Luminate™ Pro Series outdoor LED video wall. The 4.8 millimeter pixel pitch video wall has quickly become the centerpiece of the space due to its size and 5,000-nit brightness that clearly delivers sports and movies to anyone in "The Park," even in direct Arizona sunshine. It is robust with an IP65 protection rating, a critical feature for high-traffic, outdoor areas with extreme weather, energetic dogs and flying cornhole beanbags.
First Impressions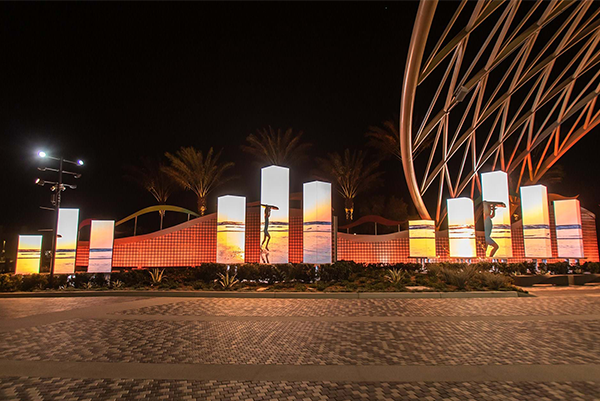 For a more dynamic valet entrance experience, premier destination Morongo Casino Resort & Spa in Southern California turned to custom Planar outdoor LED columns, which were paired with moving elements, to create a dramatic presentation with illumination, color and video. The artistic piece is composed of a sculpture with metal flapper-panel walls that respond to wind currents, simulating rolling waves and a total of 14 freestanding Planar LED columns placed in four groupings in front. The columns can run content independently or as part of a larger set, adding energy and excitement to the guest arrival. Planar's LED pillars not only perform very well in the desert temperature conditions, but achieve high brightness levels and near-seamless edges on 90-degree corners to impress day or night.
Get Closer
For up-close outdoor viewing, fine pixel pitch LED video walls are the answer. The newest addition to our portfolio of outdoor fine pitch LED display solutions, the Planar® Luminate™ Ultra Series features 1.2, 1.5 and 1.9 millimeter pixel pitches for comfortable viewing from as close as 7 feet. It has 3,500-nit brightness and nearly 140-degree visibility.
The LED video wall displays feature coated LEDs to deliver ruggedness and exceptional image detail in high-ambient light environments, regardless of weather conditions, dust and water.
Explore our portfolio of outdoor LED solutions to illuminate your outdoor viewing experience today. Featuring fine pitch, lightweight, versatile, high bright solutions and innovative features to support durability, quick installation and simplified maintenance, we have something for every outdoor application.