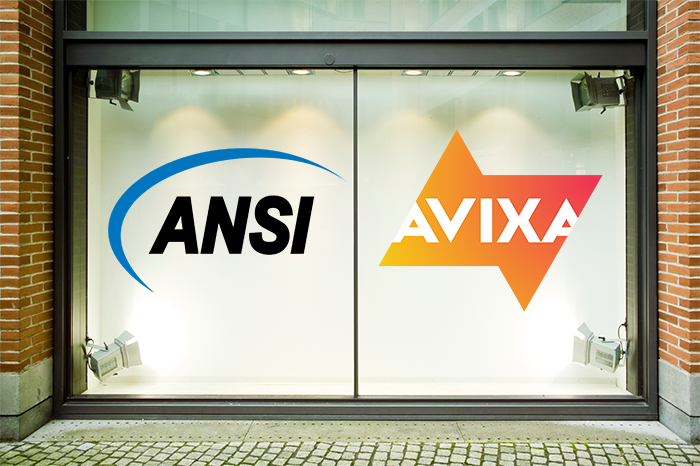 Incorporating AVIXA & ANSI Audio Visual Standards Into Your Projects
Current building designs include more complex audio visual technology than ever before, and this increases the burden on designers to elevate their IQ in AV. There can be large repercussions to AV design problems or specifying the wrong technology. Fortunately, tremendous resources are available and a great deal of work has been done to develop standards to guide the AV design process.
The American National Standards Institute (ANSI) facilitates voluntary consensus standards and conformity assessment systems to assure the safety and health of consumers and the protection of the environment. ANSI oversees the creation, promulgation and use of thousands of norms and guidelines that impact business in nearly every sector, including AV.
AVIXA (formerly InfoComm) is the leading resource for AV performance standards. The AVIXA Standards Committee along with over 700 volunteers support development of these standards. According to AVIXA, "These standards support technology design and procedures that focus on reliability, competency and success. This collection will help you access new markets, reduce cost, decrease project complexity, be more productive, and reduce risk."
There are several published AV standards that architects and consultants should be aware of and utilize in the design process. The list includes such topics as AV-specific architectural drawing symbols, guidelines for systems design and coordination processes, AV systems energy management, and standards for display size and projected image system contrast ratio. There are numerous active task groups developing new standards for topics such as AV rack design, AV network security, and videoconferencing lighting.
AVIXA also offers resources such as AV best practices, BIM parameters, documentation samples, and various AV / IT handbooks. They even offer quizzes on standards to keep you sharp. The AVIXA ANSI Standards are available for purchase, and discounts are available to AVIXA members.
As AVIXA members, Planar encourages designers to familiarize themselves with the AVIXA ANSI Standards and put them into practice. They represent ANSI's essential requirements for openness, balance, consensus and due process, so you know you can rely on them. Using these standards is also good for your bottom line. Using these standards is also good for your bottom line and boost business. 
AVIXA ANSI Standards – Useful Links:
Benefits of AV Standards Video