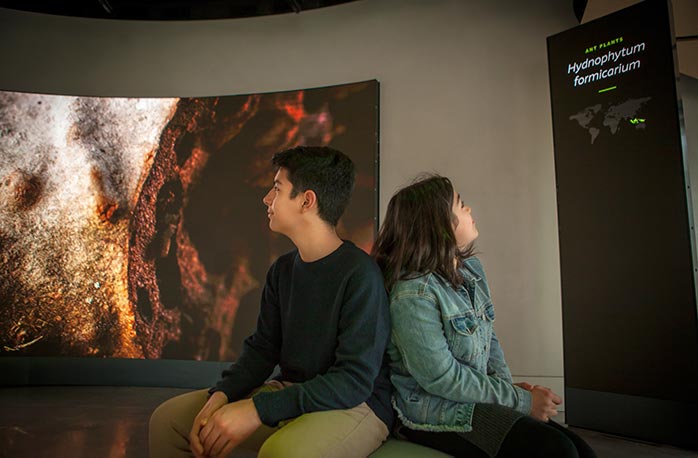 Featured Case Study: Amazon Understory at The Spheres
Tech Giant creates groundbreaking nature installation in new headquarters
Amazon is now the third most valuable company in the world, and as comes with the territory of being a disruptor with a lot of money, they're doing some very interesting things with their newest corporate headquarters addition; The Spheres. Aptly named, the building is essentially three inter-connecting spheres, but the catch is they house over 40,000 plants from all over the world.
Clearly needing a way to exhibit this radical new space, Amazon teamed up with local Seattle companies to design a corporate visitor center called Understory. Understory is a free, public space where people can come and learn about the science, engineering, and plants behind The Spheres.
The central media installation in Understory is comprised of a large, 18 foot by 10 foot LED Video Wall, surrounded by 11 three foot by 10 foot LED Columns; all of which are made up of Planar® CarbonLight™ CLA Series LED. CarbonLight CLA Series is a line of fine pitch LED which supports curved installations in concave, convex, or wave formations. These LED Video Walls provide a markedly immersive 360-degree experience for guests who are eager to learn more about The Spheres.
In addition to the Video Walls, five modular exhibits around Understory feature Planar® PT3290PW 32-inch touch screen monitors alongside a physical interactive to teach guests about additional topics related to Amazon, The Spheres, and Understory.
See more pictures and read the full Amazon Understory at The Spheres Installation Profile.