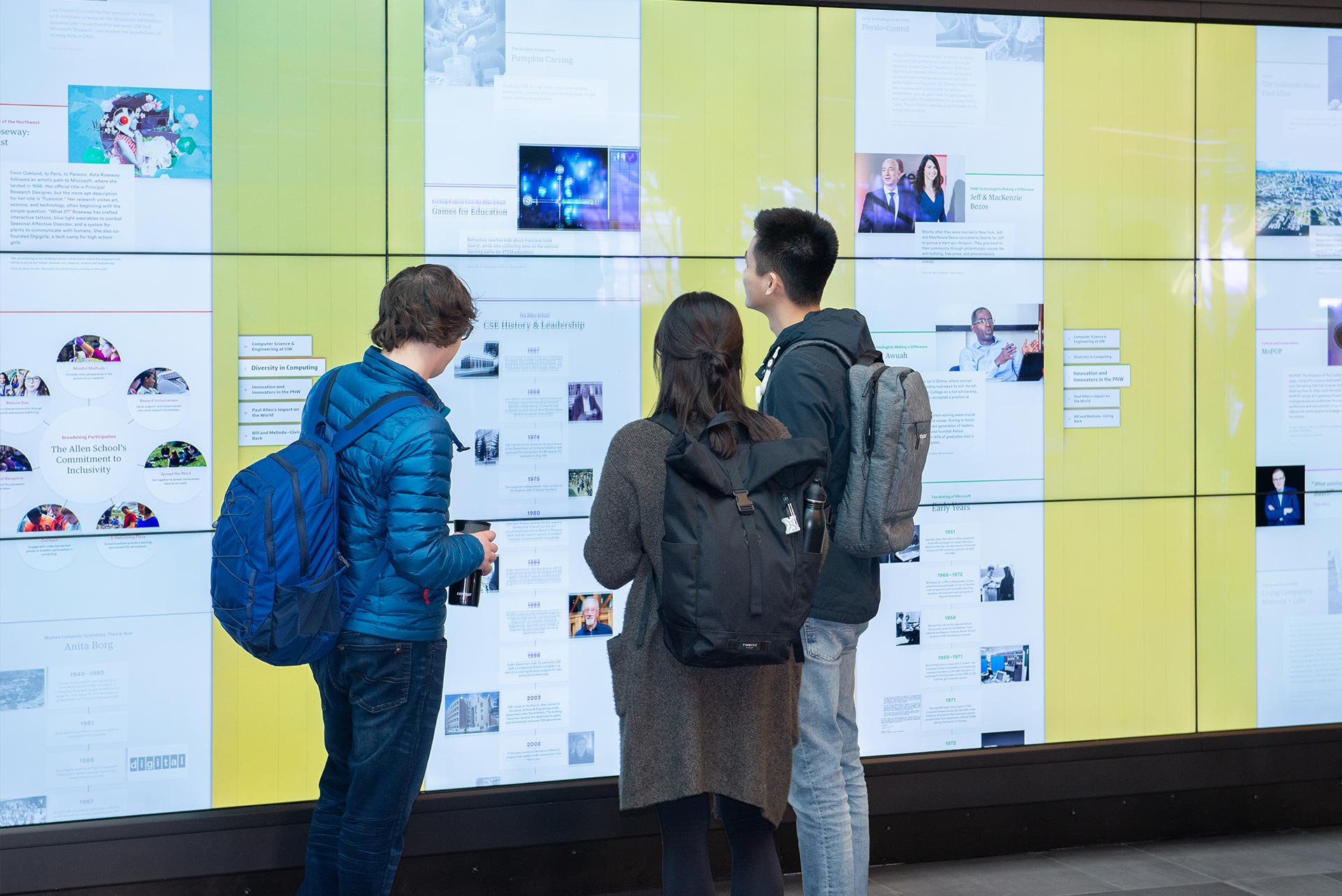 Reaching the 21st Century Student with Display Technology
Every year, colleges, universities and trade schools face the challenge of recruiting a new class of students. This means finding creative and effective ways to connect with a new batch of college-aged learners, who may think differently than those who came before. As prospective students look for the right institution to invest in for their future, universities must increase their appeal to meet enrollment goals. 
Younger generations entering college have grown up in a digital world. To better reach these increasingly tech-savvy students, more universities are turning to the tools that these young people already understand. An expanding approach includes the use of upgraded display technologies that excite the 21st century learner. Such solutions can help institutions of higher learning grow credibility with recruits by demonstrating that it is on the leading edge of technology trends.
The use of digital solutions to reach the 21st century student extends to other areas beyond the recruitment space. Leading-edge display technologies are also being used on higher education campuses to improve the student experience and enhance learning in the classroom.   
Making a lasting first impression
As a component of college recruitment strategies, interactive video wall installations are being employed in welcome and visitor's centers to impress prospective students making campus visits.
In Troy, Alabama, Troy University completed a $2 million renovation of its Adams Administration Building, creating a technology-driven welcome center to appeal to a younger generation of technically inclined students. The cornerstone of Troy's approach is an eye-catching 24-foot-long, 4.5-foot-high Clarity® Matrix® MultiTouch LCD Video Wall—an interactive, digital solution to captivate visitors and student recruits.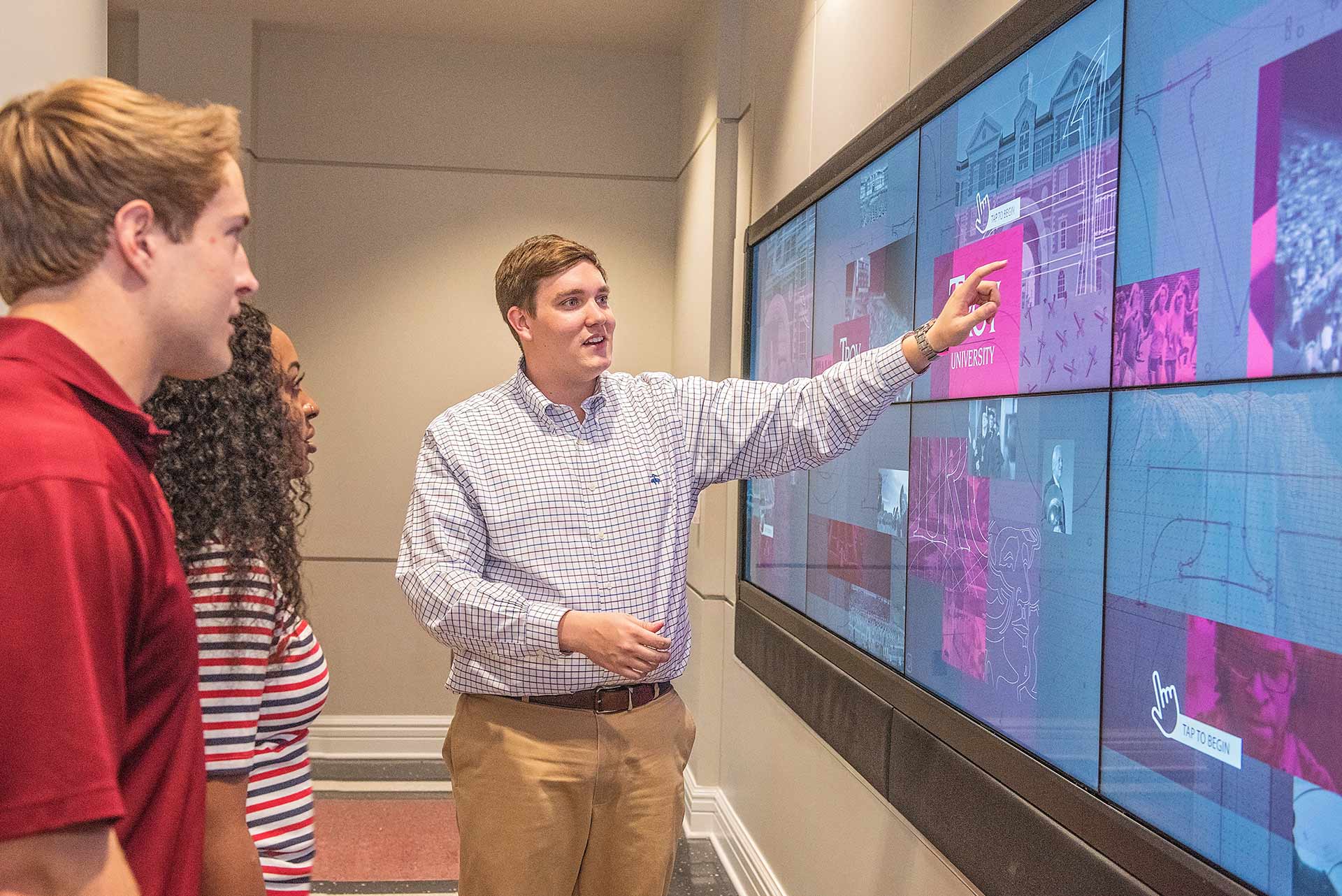 The Clarity Matrix MultiTouch serves the dual purpose of creating a "wow factor" in the new welcome center and fulfilling the strategic benefit of increasing enrollment, according to Dendy Moseley, associate director of enrollment management at Troy University. "Students are consumers and we want to grab their attention immediately," he said. "Upon walking in and seeing the video wall, they instantly become immersed in the visitor experience we want them to have."
The video wall displays event and promotional information but shifts into interactive mode when the surface is touched, allowing prospective or new students to simultaneously explore content about the university including its history, athletic and academic programs, student life and more.
To further connect with students, Troy also uses the video wall with social media. Visitors can select a mode that allows them to take a 'selfie' photo with a Troy-themed backdrop and tag their pictures on Twitter, Instagram and other social media platforms. 
"We want every visitor to realize that Troy University can be a great fit and the video wall really allows potential new students to connect with the campus and the people," Mosely said. "The quality experience provided by the video wall sets the tone for the quality of our institution."
Similarly, at Oklahoma State University's Spears School of Business a nearly 12-foot-long, 7-foot-high Planar® TWA Series LED video wall greets lobby visitors and provides bezel-less digital signage and multimedia for gatherings and events. A second installation included a Planar® CarbonLight™ CLA Series LED video wall that is custom designed in a ribbon configuration as a stock ticker—adding a Wall Street aesthetic fitting with the school's business environment.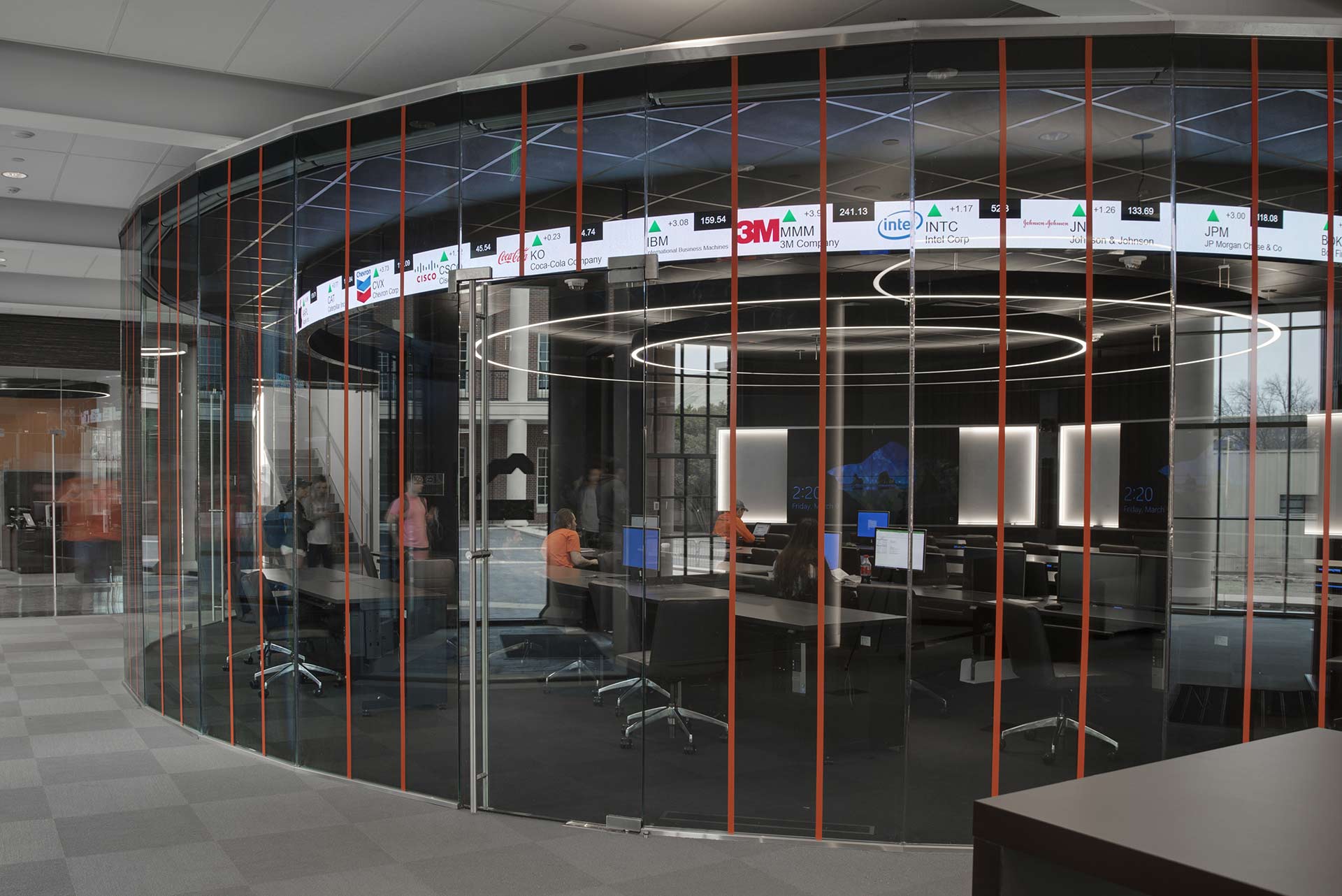 Elevating the student experience
Around the world, more campus facility renovations and new structures are being built with the student experience in mind. State-of-the-art designs feature auditoriums, student lounges and flexible spaces to encourage collaboration and group learning. Enhanced technology upgrades are also being added, including video walls and custom display installations.
One very unique custom installation was recently completed in a newly built modern facility at the Queensland University of Technology (QUT) in Brisbane, Australia. Suspended over two floors in a large open atrium is the center attraction of QUT's new Education Precinct building—a giant 16.4-foot diameter LED globe composed of 1040 individual panels and 12.7 million individual LED lights. Built by Linso, a Leyard company, the Sphere is a first-of-its-kind installation that offers QUT's Faculty of Education a cutting-edge research tool to advance teacher training.
The Sphere—which is complemented by a Planar TWA Series LED MultiTouch video wall—allows the Faculty of Education to infuse technology and innovation into their teaching to better prepare graduates who will be teaching in the classrooms of tomorrow.
"The reason for the Sphere is that we need to inspire and engage our emerging teachers, including researchers and others who are helping realize new digital work," said QUT Visualisation and eResearch Manager Gavin Winter. "The design and technical configuration of the Sphere provide a high-impact resource for teaching, engagement and showcasing QUT's research. From school children up to business and government, we want to offer opportunities to collaborate and develop content applications of all kinds in a loosely curated setting."

Photo Credit QUT
Another example includes a 16-foot-long, 9-foot-high Clarity Matrix LCD Video Wall System that was installed in the atrium of the new Martin D. Jenkins Behavioral and Social Sciences Center on the Baltimore, Maryland campus of Morgan State University. A component of the Center's numerous high-tech designs which are intended to support the school's focus on the 21st century learner, the Clarity Matrix video wall fits within a building-wide strategy that encourages communication and collaboration. 
Creston AirMedia equipment was integrated with the Clarity Matrix so that students can connect through a wireless application to display and share content—enabling a collaborative experience. The flexibility of the Clarity Matrix also enables faculty to use the display to support overflow viewing for a lecture hall located nearby on the atrium floor.
"Today's students are digital learners—they've had electronic devices in their hands since they were small, and this is how they tend to communicate and learn," said Julie Wilson, Morgan State University design and construction project manager. "The atrium video wall gives us the flexibility to convey information and important messages to students, but also allows for students to communicate among themselves."
Boosting classroom learning
As versatile technologies, digital displays have proven effective in the classroom as interactive tools to enhance learning. In Toronto, Ontario, the Lassonde School of Engineering at York University is using a Clarity Matrix MultiTouch LCD Video Wall to create an interactive virtual classroom and a collaborative learning environment. 
Lassonde's 'future classroom' concept is based on the vision of Professor Spiros Pagiatakis, associate dean for research & graduate studies at the Lassonde School of Engineering, along with faculty who understand the influence that technology and collaboration can have on improving higher education.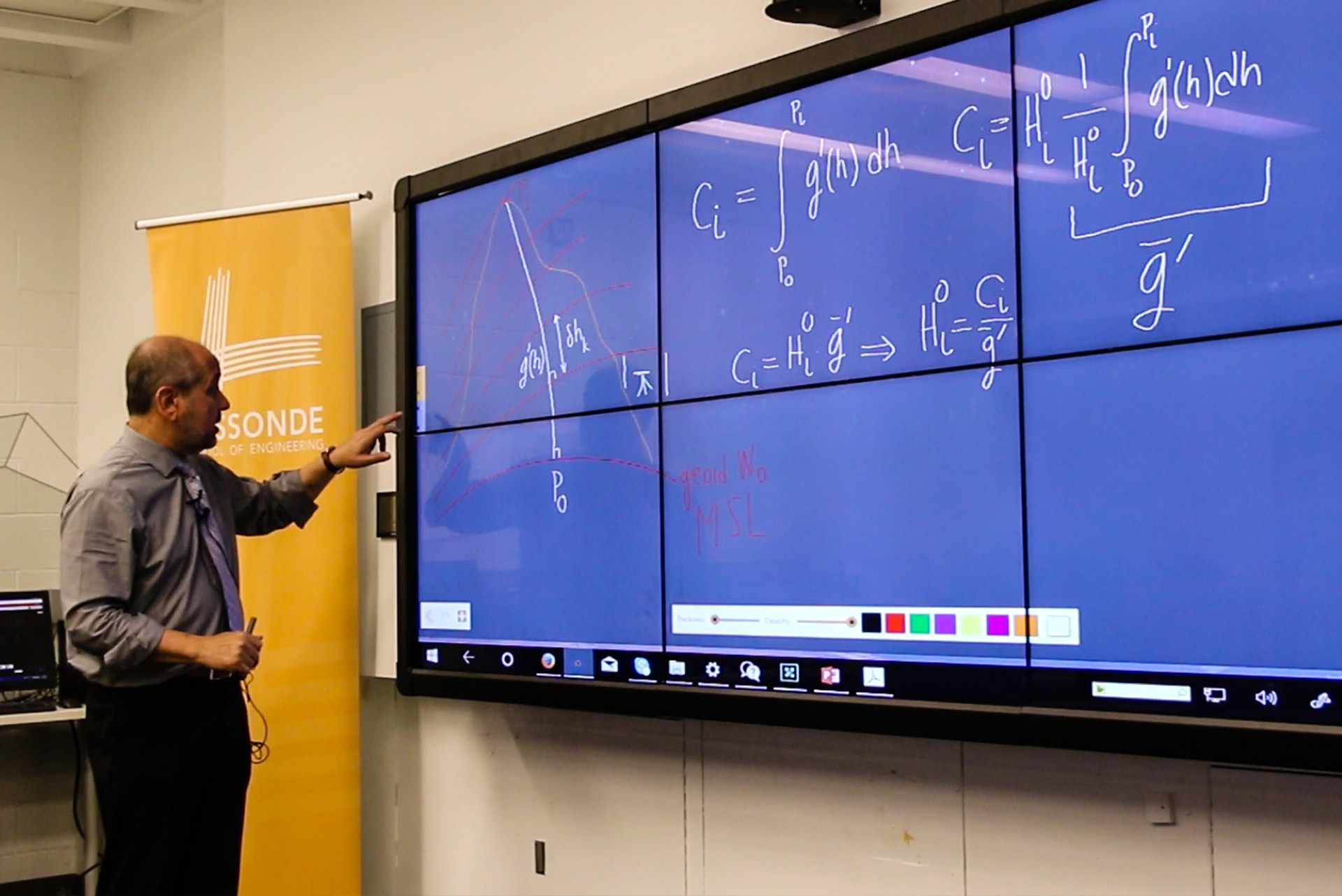 The Clarity Matrix MultiTouch provides a range of advanced capabilities to Professor Pagiatakis's class, allowing students to edit Word documents or pdf files in real time, connect to web pages, or enlarge or reduce the size of a presentation. Students can also seamlessly move between different mediums, such as blackboards, whiteboards, PowerPoints and video presentations.
With built in video conferencing, students from anywhere in the world can tune in to lectures—enabling a virtual classroom. "We can have guest speakers from around the world and because of the technology it feels like the person is right in front of us," Pagiatakis said.
Breaking ground with the virtual classroom has both changed the way that concepts are delivered to students and how students participate in their learning, according to Pagiatakis. "We have to adapt to how the younger generation approaches learning," he said. "Understanding that the impact of technology will be profound for these students and their careers gives purpose to our work."