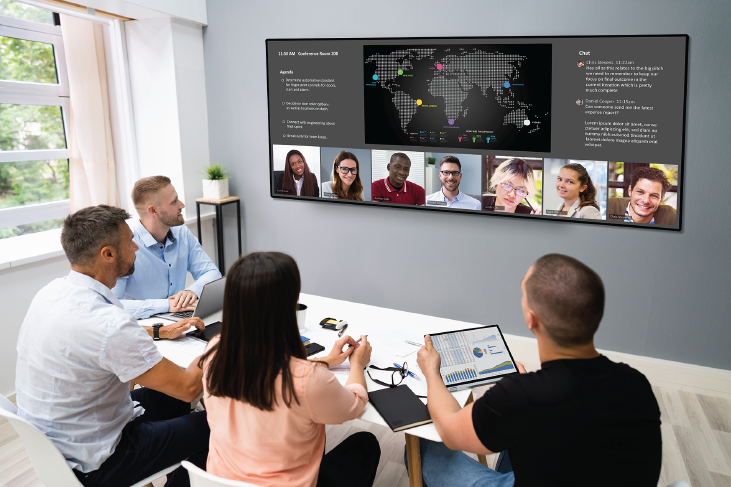 Planar Showcases 5K LCD Addition to the Award Winning Planar UltraRes Series Family
Showcasing at InfoComm 2023, the company announces the105-inch ultra-wide format Planar UltraRes W Series for customers needing TAA-compliant displays for unified collaboration
Planar, a global leader in visualization technology, announced the launch of the Planar® UltraRes™ W Series 105-inch ultra-wide format LCD display, optimized for next-generation collaboration for today's modern hybrid workforce.
For more than 10 years, Planar® UltraRes™ Series commercial-grade displays have been successfully installed in secure conference rooms around the world. The Planar UltraRes W Series provides customers with a secure, 105-inch ultra-wide format display that is ideally sized to suit the most popular unified communications and video collaboration platforms including Microsoft Teams®. Planar UltraRes W Series also features brighter, wider color gamut panels with local dimming.
Available in 105-inch size, Planar UltraRes W Series combines a wide color gamut 5K HDR display with a commercial grade 24x7 fanless industrial design. The Planar UltraRes W Series is available in both non-touch and optically bonded 50-point projected capacitive touch technology.
"The demand for more flexible work arrangements is driving the demand to reconfigure meetings spaces, accommodating in-person and remote participants," said Steve Seminario, vice president of product marketing at Planar. "This hybrid meeting reality requires an expanded digital canvas to support participants seeing individual video feeds, interacting in team chat and engaging in the actual meeting content which is enhanced by the 21:9, 5102x2160 resolution Planar UltraRes W Series."
Developed in response to customers' request for Trade Agreement Act (TAA) compliant 21:9 displays for unified collaboration across numerous geographies, the Planar UltraRes W Series provides a super-fast touch experience, ideal for fast paced collaboration. Planar UltraRes W Series LCD displays are backed by the benefits of Planar, a US-based display manufacturer with 40 years of proven reliability, and local pre- and post-sales support.
Planar UltraRes W Series will be shipping in August 2023 and is available to order now through Planar's global network of authorized resellers. For more information visit www.planar.com/UltraResW or visit Planar Booth #2243 at InfoComm 2023.
Planar® and UltraRes™ are trademarks of Planar. Microsoft and Microsoft Teams® are trademarks of the Microsoft group of companies.