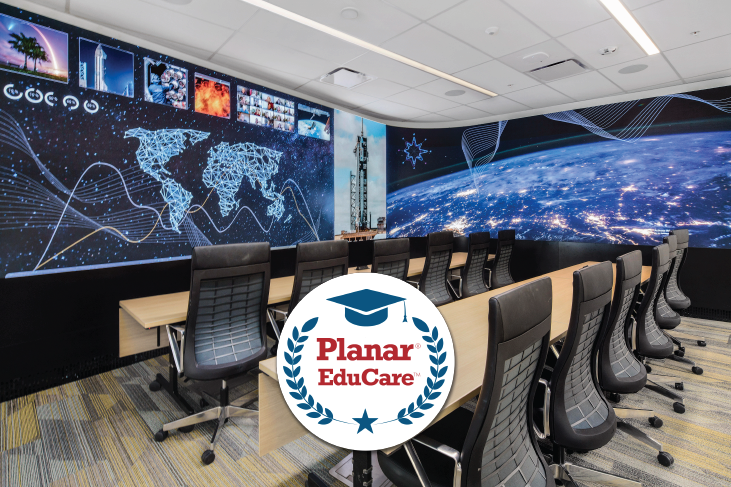 New Planar EduCare Program Bolsters Display Technology Investment for Education Customers
Following recent higher education industry award wins and 40 years of delivering award-winning visualization solutions for academic environments, the industry leader introduces a program tailored to the needs of learning institutions
Today, Planar, a global leader in visualization technology, announced the launch of the Planar® EduCare™ Program, a program specially designed to address the challenges learning institutions face most frequently such as budget constraints and a lack of technical support and training. Available to K-12 schools, colleges and universities in the U.S. and Canada, the new program offers benefits that bolster customers' investment, keeping displays viable for years to come. This includes exclusive pricing, technical pre-sales support, priority post-sales technical support and access to private training courses via Planar Academy.
The new program is backed by Planar's decades of experience deploying state-of-the-art display technology for customers in education. This spans installations in lecture halls, meeting rooms, student centers, rooftop terraces, athletic and performing arts facilities, and more. With the Planar EduCare Program, customers get first-hand access to Planar technical expertise, ensuring schools get the highly-trained technology and product knowledge they need to identify the best display solutions for their project needs.
"From large, attention-grabbing video walls to interactive displays and desktop monitors, education facilities have been turning to Planar's award-winning display innovations to power next-level teaching, learning and recruitment experiences for decades," said Executive Vice President Adam Schmidt. "Planar has long designed and developed solutions to help meet customers' individual needs and Planar EduCare strengthens this commitment. This program allows us to deliver one-on-one attention to customers in education, one of our most successful markets, to create incredibly personalized projects and experiences that will inspire other organizations for years to come."
Planar EduCare is available with all Planar display technology products. Registered program customers will receive the following:
Exclusive Pricing: With special pricing discounts on every Planar display solution, Planar EduCare helps budgets stretch finances further.
Technical Pre-Sales Support: Even before purchase, Planar EduCare customers receive first-hand access to Planar technical expertise. These highly-trained product experts assist education institutions in designing one-of-a-kind video wall configurations or other installations that address their needs and deliver impact.
Priority Support: Planar display solutions thrive in the most demanding applications. In the event technical support is needed, Planar EduCare customers can rest assured that dedicated technical support resources are available for strong and continuous operation.
Planar Academy Training: Private training from Planar Academy instructors is aimed at helping universities and schools get the most out of their display investment as well as discover new and innovative ways to use the technology. Instruction covers everything from video wall content development and color adjustment to the basics of virtual production.
"From rooftop terraces, classrooms and huddle spaces to auditoriums and executive boardrooms for the Dean, Clemson University continues to work with Planar and incorporate the industry leader's state-of-the-art display solutions into our facilities to deliver immersive and unmatched educational experiences for students and staff," said Paul Borick, project manager for capital projects at Clemson University. "With the new Planar EduCare Program, learning institutions will benefit from the support and product proficiency they need to make their dreams a reality."
The introduction of Planar EduCare follow's Planar's recent award from Campus Technology, one of higher education's top information sources providing in-depth coverage on the technologies and implementations influencing colleges and universities across the nation. The new Planar® Luminate™ Ultra Series LED video wall display was named a 2022 New Product Award winner in the video wall category.
Campus Technology's New Product Awards honor the outstanding product development achievements of manufacturers and suppliers whose products or services are considered to be particularly noteworthy in the transformation of education technology. Delivering ruggedness and exceptional image detail for high-ambient light environments, Planar Luminate Ultra Series LED video walls are designed to support comfortable viewing from as close as eight feet and features 1.5 and 1.9 millimeter pixel pitches, up to 3,500-nit brightness and nearly 140-degree visibility with limited interference, even in direct sunlight.
Planar's 2022 recognition marks the company's second New Product Award for the third consecutive year. The Planar® MPG Series was named a video wall category winner in 2021. The Campus Technology New Product Award program debuted in 2020.
Planar was also named a Tech & Learning Awards of Excellence Best of 2022 winner. The dedicated resource to help K-20 administrators and educators use technology to enhance the student experience and drive innovative learning recognized the Planar MGP Series as one of the very best products in EdTech from 2022.The program celebrates educational technology that has excelled in supporting teachers, students and educational professionals in the classroom, for professional development or general management of education resources and learning. Tech & Learning's panel of expert judges selected the Planar MGP Series for its ease of use, value, versatility and utility, awarding the product in the category of higher education.
The award-winning Planar MGP Series makes fine pitch LED an accessible alternative to formerly projection or tiled LCD environments such as classrooms, lecture halls and student centers as well as retail settings, houses of worship and other digital signage applications. The series is available in 1.2, 1.5, 1.8 and 2.5 millimeter pixel pitches and features a 27-inch diagonal, 16:9 cabinet that is designed to support full front-service, wall-mounted installation.
For more information about the Planar EduCare Program or to register, visit www.planar.com/EduCare.