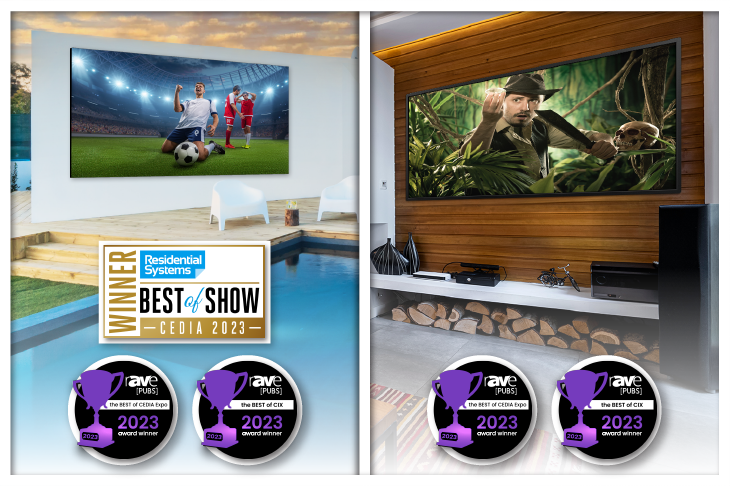 Planar Named Three-Time Award Winner at CEDIA and Commercial Integrator Expo 2023
The popular outdoor Planar Luminate Ultra Series and ultra-wide format Planar UltraRes W Series are honored by Residential Systems and rAVe
Planar today announced three new award wins for the industry-leading Planar® Luminate™ Ultra Series and Planar® UltraRes™ W Series. At CEDIA and Commercial Integrator Expo 2023, the popular Planar Luminate Ultra Series was awarded Best of Show by Residential Systems, celebrating its value, impact and uniqueness in today's residential market. The solution was also named Best New Outdoor Display for rAVe's 2023 Best of CEDIA Expo Awards. The award program, which celebrates the best of the best seen at this year's show, also recognized the Planar UltraRes W Series with Best New LCD Display.
Planar Luminate Ultra Series fine pitch outdoor LED video wall displays are designed to bring to outdoor environments the same level of image detail historically reserved for indoor spaces. With the release of a 1.2 millimeter model in May, the solution delivers the finest outdoor pixel pitch available today by using MicroLED technology to enhance the image with increased black levels and 160-degree visibility.
"The Planar Luminate Ultra Series demonstrates our continued focus to enable a wider range of installation options for customers," said Robert Detwiler, senior director of product management and training at Planar. "With industry-leading visual performance and ruggedness, the solution unlocks new possibilities for outdoor applications. It was great to share the new 1.2 millimeter model with this year's CEDIA and Commercial Integrator Expo attendees, and we're honored to have it recognized by both Residential Systems and rAVe."
The award-winning solution also offers models in 1.5 and 1.9 millimeter pixel pitches and features up to 3,500-nit brightness, supporting comfortable viewing from as close as seven feet and ensuring visibility even in direct sunlight. With an IP65 Ingress Protection Rating customers also benefit from protective treatments designed to withstand weather conditions, dust and water, in addition to a protective coating that delivers added assurance and ruggedness.
Planar UltraRes W Series 105-inch ultra-wide format 5K LCD displays are optimized for next-generation collaboration. The solution offers customers an ultra-wide format 21:9 display ideally sized to suit the most popular unified communications and video collaboration platforms including Microsoft Teams®. Planar UltraRes W Series features 24x7 reliability, remote monitoring, multi-source viewing and is available with interactive touch technology.
This year marks Planar's third consecutive CEDIA Best of Show award win with Residential Systems. Residential Systems' 2023 CEDIA Best of Show awards were judged through the lens of the residential integrator.
Planar Luminate Ultra Series also won Best New Outdoor Display from rAVe in 2022 and Planar UltraRes W Series was named Best New 21:9 LCD Display in June for the publication's 2023 Best of InfoComm Awards.
For more information about the award-winning Planar Luminate Ultra Series or Planar UltraRes W Series, visit www.planar.com.
Planar® and UltraRes™ are trademarks of Planar. Microsoft and Microsoft Teams® are trademarks of the Microsoft group of companies.