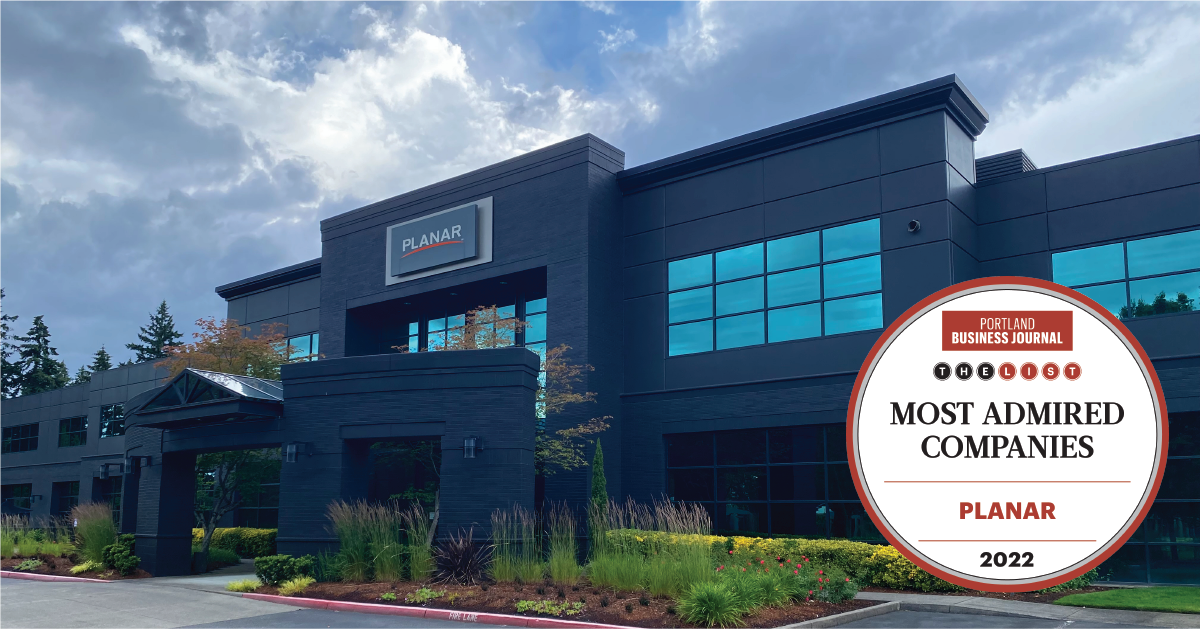 Planar Named One of Oregon's Most Admired Companies
Global market leader in display technology celebrated as a technology company that regional executives admire the most
Planar, a global leader in visualization products, is honored to announce that the company was selected for Portland Business Journal (PBJ)'s 2022 list of Oregon's Most Admired Companies. Recognized as one of the most admired companies in Oregon and southwest Washington by regional executives, Planar ranked No.14 in the technology category.
2022 PBJ Oregon's Most Admired Companies honorees were determined by votes from local CEO-level executives. Approximately 270 executives responded to the survey, naming their first, second and third selection for the most admired company across 10 industry categories. Any business with a substantial presence in Oregon and southwest Washington was eligible for consideration.
Launched in 2004, the PBJ Oregon's Most Admired Companies program aims to recognize the region's top businesses and the many benefits they and their employees deliver to the state.
"It is a tremendous privilege to be considered one of Oregon's Most Admired Technology Companies," said Executive Vice President Adam Schmidt. "In 2022, we introduced a variety of groundbreaking technologies and delivered jaw-dropping installations, in addition to participating in some of the world's largest events. As a global leader in the proAV space and a Portland-area company recognized for pioneering cutting-edge, highly-visible projects for the world's most impactful organizations, we're proud to have our efforts recognized by local executives."
With more than 4,500 companies nominated this year, Oregon's Most Admired Companies is one of the PBJ's most coveted awards.
"Planar display technology is found in marquee installations all over the world and Planar's local manufacturing operations and employee-centric company culture are widely-admired throughout North America, especially in the Pacific Northwest," said Stephanie Hines, executive vice president & general counsel at Planar. "In 2023, we'll uphold our reputation as a company who offers unwavering customer support, unmatched professional product expertise, competitive benefits and unparalleled stability as we work diligently to bring new, leading-edge visualization solutions into the hands of our customers."
For more information about Planar's Hillsboro, Ore., manufacturing operations and award-winning visualization products, visit www.planar.com.