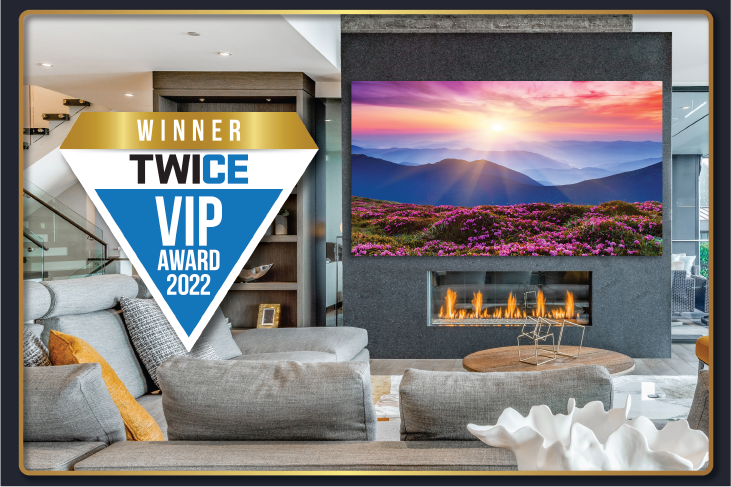 Popular Planar Luxe MicroLED Video Wall Voted 2022 TWICE VIP Award Winner
Industry-leading luxury living displays celebrated by technology and consumer electronics industry readers, praising the premium solution's features, design and value
Planar, a global leader in visualization products, is the proud recipient of a 2022 TWICE VIP Award, a program recognizing the best features, design and value that new products are bringing to today's consumers. Readers of TWICE, a leading outlet offering perspective and analysis in the ever changing and fast paced environment of consumer technology, named the premium Planar® Luxe MicroLED Video Wall the winner of TVs 100 inches and larger in the TV and video category.
Planar Luxe MicroLED professional-grade, ultra-fine pitch MicroLED displays support luxury living, offering 4K and 8K resolutions and high-contrast, high-brightness MicroLED technology to deliver outstanding, seamless video performance. The displays are available in 4K 108-inch, 136-inch, 163-inch and 8K 217-inch sizes and offer customers a complete package that is aimed at effortless enriching luxury spaces. This includes the display, wall mount, powerful video controller with remote processing, remote control, display trim and cables.
"With the debut of Planar Luxe MicroLED, we set out to provide our customers with a video wall solution that offered stunning image performance and unrivaled service and support," said Executive Vice President Adam Schmidt. "This award-winning solution features innovative technology designed to deliver outstanding visual performance, while reducing the need for repeated maintenance. We're proud to have our products embraced and celebrated by the consumer electronics community."
Designed for ease and accuracy of installation on-site, Planar Luxe MicroLED seamlessly integrates with architectural elements. The displays include the unrivaled Planar® EverCare™ Lifetime Limited Warranty, providing customers complete product coverage. Planar Luxe MicroLED also comes with Planar Elite Technical Services, a new level of Planar service offering that employs specially qualified and trained professionals. Performing Planar Elite Installation and Commissioning, the offering fine tunes displays to ensure imagery looks its best in each unique environment, while maximizing on-site efficiency and customer satisfaction, and minimizing disruption.
This year's TWICE VIP Awards received more than 70 entries across 46 categories, including nominations for products spanning the latest TVs, projectors, outdoor and major appliances, and more.
Planar Luxe MicroLED displays implement technology that reduces light blockage and ambient light reflection, resulting in better blacks, higher dynamic range and enhanced dark content performance. Planar® ActivAlign™, a proprietary self-adjusting alignment technology, also helps combat issues such as vibration and thermal expansion, which can cause LED modules to shift and disrupt the seamless visual experience.
This recognition follows previous awards with other industry-leading residential publications and organizations, including a 2022 Top New Technology Award from CE Pro, a 2022 Smart Home Mark of Excellence Award from the Smart Home Division of the Consumer Technology Association and 2022 Picks and 2021 CEDIA Best of Show Awards, both from Residential Systems.
Planar will demonstrate Planar Luxe MicroLED at CEDIA 2022 in Dallas, September 29 through October 1 in Booth #15003. For more information about Planar Luxe MicroLED, visit www.planar.com/LuxeMicroLED.