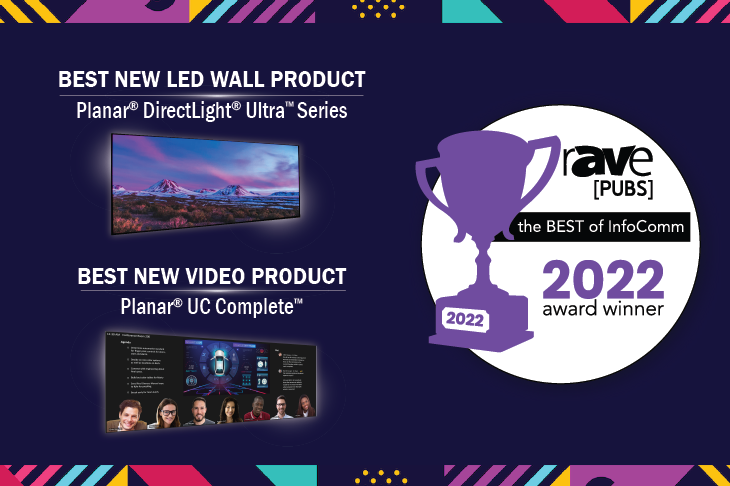 Planar Celebrates Two Best of
InfoComm 2022 Awards from rAVe
New Planar UC Complete seamless, wide-view LED video wall displays and crowd-pleasing Planar DirectLight Ultra Series MicroLED video wall recognized as the best-of-the-best
Planar, a global leader in visualization technology, is the proud recipient of two Best of InfoComm 2022 Awards from rAVe, which honor the best of everything the publication saw at the June event. In the overall InfoComm 2022 winner category, Planar® UC Complete™ was named best new video product, while the premium Planar® DirectLight® Ultra™ Series MicroLED Video Wall was voted best new LED video wall product.

"It's always a pleasure to catch up with rAVe in person and give them a first-hand look at the pioneering display solutions we're developing in response to evolving industry demand," said Steve Seminario, vice president of product marketing at Planar. "At InfoComm 2022, we presented new and popular visualization technologies designed for next-generation workplace experiences. This includes Planar UC Complete and Planar DirectLight Ultra Series, which we're delighted to have rank among the best products seen by rAVe at the show."

Unveiled at InfoComm 2022, the Planar UC Complete family of seamless, wide-view LED video wall displays is designed for video conferencing, unified communications (UC) and hybrid meeting rooms. Featuring 21:9 and 32:9 aspect ratio configurations and pixel pitches from 0.9 to 1.5 millimeters, Planar UC Complete displays enable life-sized high-resolution video conferencing windows and document sharing when used in conjunction with today's most popular meeting room solutions such as front row for Microsoft Teams® Rooms. The series includes two 151-inch and two 205-inch models with 21:9 aspect ratios as well as one 198-inch model with a 32:9 aspect ratio, each of which offers everything customers need in one complete package for hassle-free deployment.

The Planar DirectLight Ultra Series presents several display technology advancements that, in combination, deliver big performance, including the finest MicroLED pixel pitches, proprietary alignment technology and always-on, high resolution display experiences. The series is available in 0.6, 0.7, 0.9 and 1.2 millimeter pixel pitches, making it ideal for close viewing distances, high-precision visual images and mission-critical applications. Plus, with technology that reduces light blockage and ambient light reflection, the award-winning Planar DirectLight Ultra Series delivers better blacks, higher dynamic range and enhanced dark content performance.

The unprecedented Planar® EverCare™ Lifetime Limited Warranty also comes standard with both Planar UC Complete and Planar DirectLight Ultra Series, offering customers complete product coverage from controller to sub-pixel and everything in between.
rAVe Best of InfoComm 2022 Awards winners were chosen after the publication captured photos and video footage of new and returning products in every booth at this year's show. Planar's Best of InfoComm 2022 Award wins follow the company being named favorite video wall brand in rAVe's 2022 Readers' Choice Awards. rAVe readers also voted Planar DirectLight Ultra Series favorite video wall product in 2021.

For more information about the new Planar UC Complete and award-winning Planar DirectLight Ultra Series, visit www.planar.com.