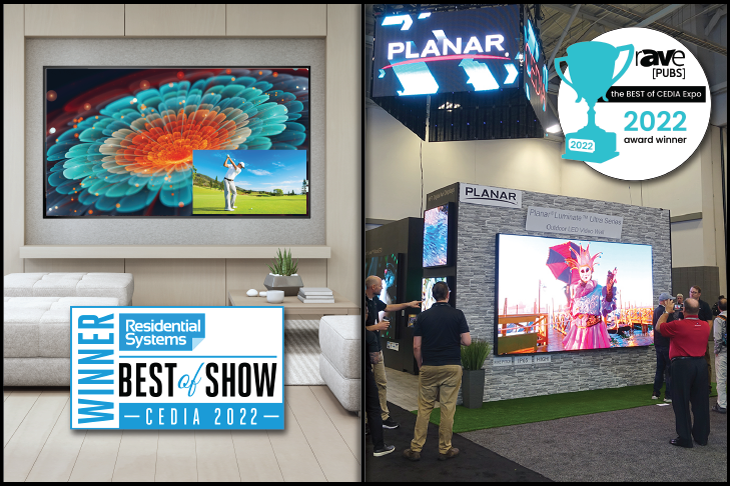 Planar Takes Home Two Best of Show Awards at CEDIA 2022
The industry-leading Planar Luxe UltraRes X 100 and new Planar Luminate Ultra Series are celebrated as two of the best products at this year's show by Residential Systems and rAVe
Planar, a global leader in visualization products, is proud to share that the industry-leading Planar® Luxe UltraRes™ X 100 was presented with a 2022 CEDIA Best of Show award by Residential Systems, recognizing it as a product leading the way in residential technology. The recently-unveiled Planar® Luminate™ Ultra Series was also named the 2022 rAVe Best of CEDIA Expo Award winner for the best new outdoor display category.
"CEDIA 2022 marked Planar's in-person return to the show and this was matched with our largest presence and broadest portfolio of solutions supporting luxury environments to-date," said Steve Seminario, vice president of product marketing at Planar. "It was exciting to showcase all new indoor and outdoor displays and video walls in a range of sizes and aspect ratios, and we are honored to be recognized by not one but two highly respected publications in the industry today."
Residential Systems' annual Best of Show awards at CEDIA are judged through the lens of the residential integrator, evaluating products by value, impact and how unique they are to the market. This includes review of submitted award entries as well as on-site product assessment at the show.
The Planar Luxe UltraRes X 100 is a 100-inch LCD display featuring 700-nit brightness, a wide color gamut perfect for High Dynamic Range content and advanced video capabilities. The product's release introduced a global first: a 100-inch commercial-grade, 24x7 LCD display that allows users to showcase 4K HDR content with high brightness and a slim installation profile that is compliant with the American's with Disabilities Act (ADA).
Planar Luxe UltraRes X 100 delivers superior image performance and allows users to view multiple sources simultaneously in picture-in-picture, dual, triple or quad layouts as a result of built-in Planar® MediaPlex™ Plus processing. This makes the solution well suited for luxury environments spanning media rooms, studios and workspaces as well as hospitality and entertainment venues.
This recognition follows Planar's CEDIA Best of Show award from Residential Systems in 2021, which named the premium Planar® Luxe MicroLED one of the industry's most unique and innovative products.
The rAVe Best of CEDIA Expo Awards are determined by booth visits from rAVe reporters, paying tribute to the best products on display at the show.
The Planar Luminate Ultra Series was unveiled at this year's show, introducing a fine pitch, high bright outdoor LED video wall designed to support comfortable viewing from as close as eight feet. With up to 3,500-nit brightness, 1.5 and 1.9 millimeter pixel pitches and the ability to create a video wall of nearly any size, the solution is well-suited for applications ranging from poolside cinema, entertainment and hospitality to transportation signage, retail exteriors and other large venue facilities.
The newest addition to Planar's portfolio of outdoor fine pitch LED display solutions also incorporates protective treatments designed to withstand weather conditions, dust and water. In addition to an IP65 Ingress Protection Rating, Planar Luminate Ultra Series displays include a protective coating that fills the gaps between LEDs. This not only strengthens ruggedness, durability and weather protection, but also increases visual contrast for deeper black levels.
For more information about the Planar Luxe UltraRes X 100 or the Planar Luminate Ultra Series, visit www.planar.com/luxuryliving or www.planar.com/LuminateUltra.