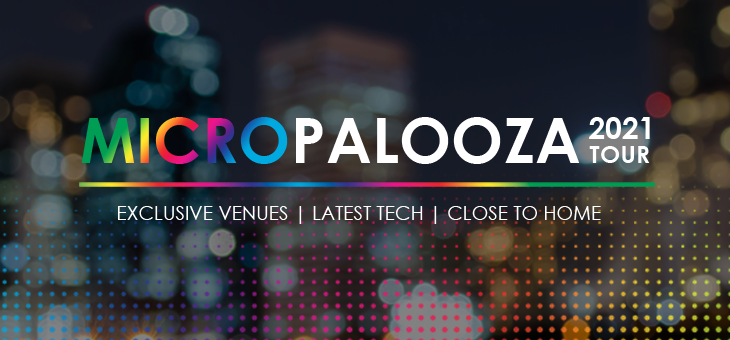 Planar Announces MicroPalooza 2021 Showroom Tour Series
US showroom tour to showcase company's newest industry-leading display solutions, including the premium Planar DirectLight Ultra Series featuring cutting-edge MicroLED technology
PORTLAND, Ore., Oct. 19, 2021 – Planar, a global leader in visualization technology, today announced the MicroPalooza 2021 Tour, a six-city US product tour presenting the company's newest industry-leading display solutions. Running November through mid-December, the showroom event series brings the company's recently released leading-edge LED and LCD display solutions, headlined by the premium Planar® DirectLight® Ultra™ Series with MicroLED technology, on the road, starting in Denver and ending in Los Angeles.
As a new variation of the company's successful Video Wallapalooza Roadshow Series, the MicroPalooza 2021 Tour features a special focus on MicroLED technology and reinforces the industry leader's dedication to connecting with customers in person, in lieu of attending industry tradeshows this fall.
"We could not be more excited to bring our newest, groundbreaking display innovations on the road and in front of Planar's customers and partners," said Executive Vice President Adam Schmidt. "We've introduced an impressive lineup of state-of-the-art visualization technologies over the last several months and with the MicroPalooza 2021 Tour, we're giving attendees a first-hand look at our industry-leading products and capabilities. Like many, we value in-person connection and are excited to resume these interactions, and further explore how we can support organizations with these game-changing display solutions."
In addition to providing guided showroom walkthroughs and demonstrating Planar's newest display products, the MicroPalooza 2021 Tour will present a series of educational sessions, including Unveiling MicroLED and Planar DirectLight Ultra Series which will educate attendees on the advancing technology. This includes the differences compared to standard LED technology. The session will also provide an overview of Planar's premium line of fine pitch LED video wall displays, which include models with MicroLEDs and deliver always-on, high resolution display experiences for unmatched visual performance.
The MicroPalooza 2021 Tour will also present a session titled, Virtual Production (VP) and Extended Reality (XR) Fundamental Training, which will discuss the rising popularity of virtual studios and the role LED display technology plays. Available at select showroom locations, the session will also introduce attendees to Planar's display products that are designed to support the explosive markets.
In addition to Planar DirectLight Ultra Series, MicroPalooza 2021 Tour attendees will have first-hand experience with Planar® MGP Series and Planar® UltraRes™ X Series. The Planar® CarbonLight™ CLI VX Series and Planar Lifestyle Displays will also be exhibited at select locations.
Other products attendees may experience include, the award-winning Planar® TVF Series, Planar® LookThru™ Transparent OLED Display and Clarity® Matrix® G3 LCD Video Wall System, as well as Planar 4K LCD display lines.
The MicroPalooza 2021 Tour will visit Planar's showrooms in six US locations:
Denver, Colorado – November 3 - 4
Washington, D.C. – November 16 - 17
Chicago, Illinois – November 17 - 18
New York City, New York – December 2
Fort Lauderdale, Florida – December 8 - 9
Orange County, California – December 14 - 15
For complete details on locations or to secure your spot for the MicroPalooza 2021 Tour, visit www.planar.com/MicroPalooza2021. Additional information about Planar's groundbreaking display solutions is available at www.planar.com/products.