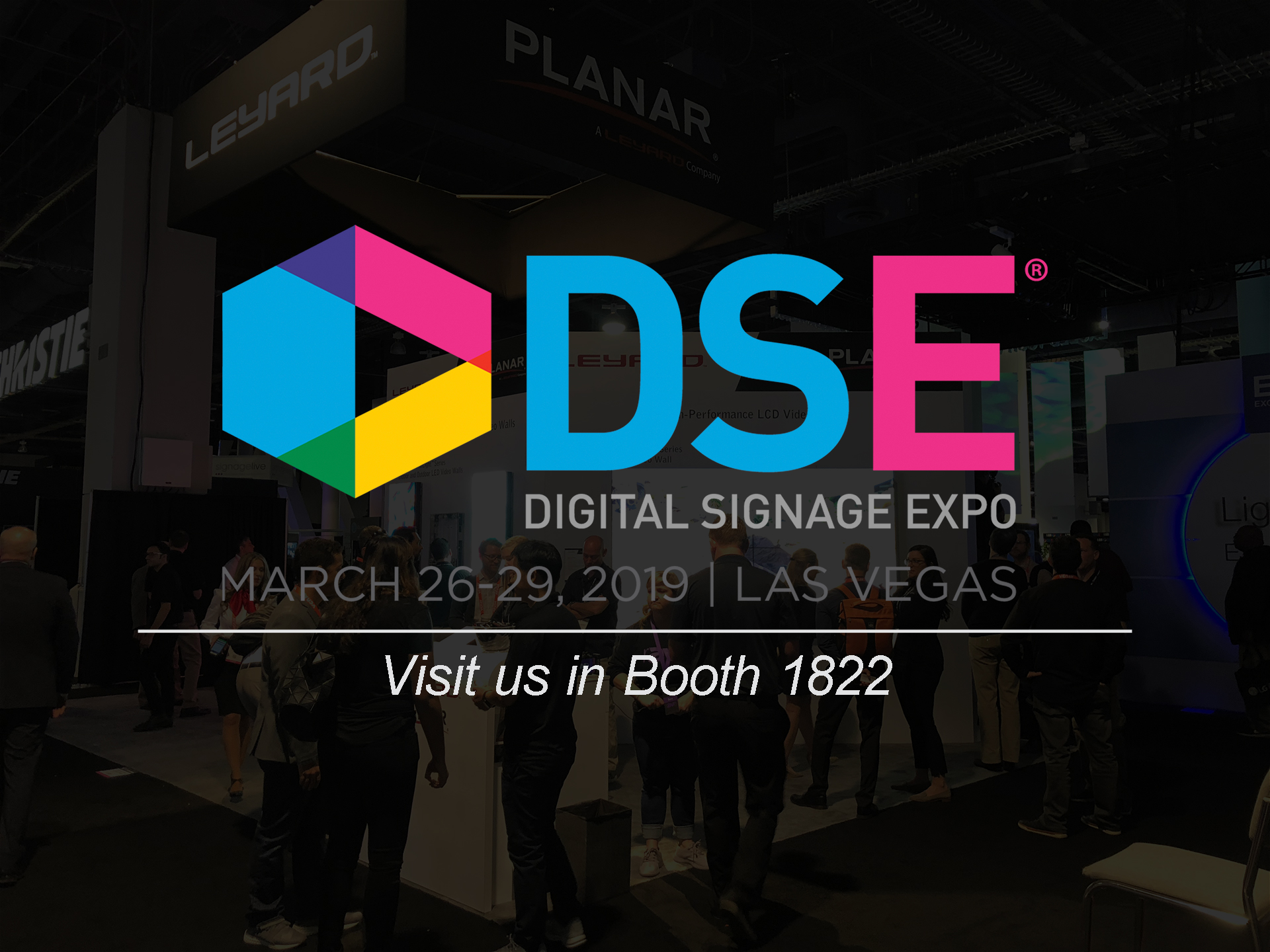 Planar to Showcase Latest Display Technologies at Digital Signage Expo 2019
The companies will display their industry-leading LED solutions and best-in-class LCD solutions for digital signage applications
Las Vegas, March 27, 2019 – Today, Planar, global leaders in visualization products, announced the industry-leading display technologies they will demonstrate at booth #1822 at the 2019 Digital Signage Expo (DSE), March 27-28. In addition, company Vice President of Research and Development, Samantha Phenix, will join a panel discussion focused on the future of display technologies at the event.
"We are delighted to demonstrate our latest fine pitch and standard pitch LED video walls, and best-in-class LCD solutions at DSE 2019," said Steve Seminario, vice president of product marketing, Planar. "Planar has a long history of innovating to meet the unique customer demands of myriad market segments, and we'll bring our newest display technologies to DSE."
Industry-Leading Fine-Pitch and Standard Pitch LED Solutions
Featured at the DSE 2019, the Planar® TVF Series is a family of fine pitch LED video wall displays available in 1.5, 1.8 and 2.5 millimeter pixel pitches, with a 27-inch, slim profile display cabinet. The Planar TVF Series offers front serviceability and a creative stackable design that eliminates cabinet-to-cabinet cabling and reduces the complexity of installation and vertical alignment, making it an ideal solution for digital signage.
Planar will also demonstrate their robust standard pitch LED product lines including the new Planar® VVR Series, a family of indoor and outdoor LED video wall displays designed to meet the fast-paced needs of the rental and staging industry. Launched in fall 2018, the Planar VVR Series features magnetically-attachable cabinets for fast assembly, easy access to electronics for simple maintenance and a quick-lock system to support single-person installation and handling. The companies will also show Planar® VersaLight™ Series, a highly versatile family of LED video wall displays for even the most challenging indoor or outdoor environments.
Planar Best-in-Class LCD Solutions
Planar's comprehensive portfolio of Planar® LCD video wall and 4K LCD displays encompass a wide range of sizes and resolutions. At DSE 2019, Planar will demonstrate the new Planar® EPX Series and Planar® VM Series, driven by Hypersign's content management solution. Hypersign is an innovative software company with an intuitive, easy-touse online platform used to showcase content on digital signage displays, video walls, interactive kiosks and more.
Launched in early 2019, the Planar EPX Series is a 100-inch 4K LCD display with Ultra HD resolution (3840 x 2160) that offers high brightness of 700 nits and a wide color gamut for stunning image quality and deep, rich color reproduction. Designed with commercial-grade features, the Planar EPX Series meets the demanding requirements of retail and corporate digital signage applications. The Planar EPX Series is also available in a precise and responsive multi-touch version.
The Planar VM Series is line of extreme and ultra-narrow bezel LCD video wall solutions that are ideal for 24x7 mission-critical application requirements and high ambient light environments, such as retail, hospitality, universities, sports bars, corporate lobbies, casinos and museums. Featuring 55" Full HD LCD displays with tiled bezel widths of 1.8mm (700 or 500-nit brightness) or 3.5mm (500-nit brightness), the Planar VM Series delivers high reliability in demanding scenarios.
The Future of Display Technologies
Planar's Vice President of Research and Development, Samantha Phenix, will join a panel discussion at DSE 2019 titled, "S21 - What's Next in Displays?" Phenix and fellow panelists will share thoughts on future developments in display technologies, including new designs, hardware and materials for displays, 3D displays, connectivity, configurations, alternative power sources, LEDs, interactivity and more. The panel discussion takes place Wednesday, March 27 from 4:00 – 4:50 p.m.
Visitors to DSE 2019 can view all of Planar's digital signage display innovations at Booth #1822. The display solutions shown at DSE 2019 are available now through Planar's worldwide network of authorized resellers. For more information, www.planar.com.