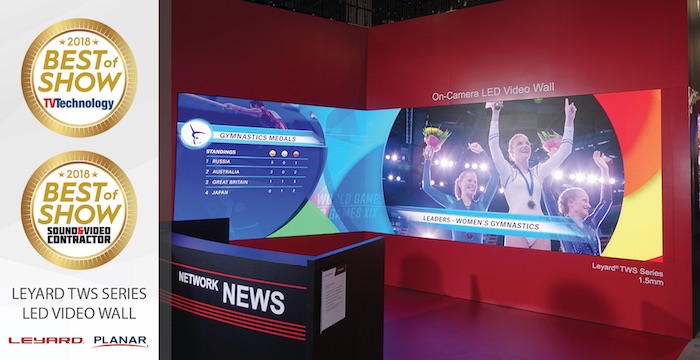 Planar TWS Series Video Wall Wins Two NAB Best of Show Awards
The global leader of fine pitch LED video walls won two NewBay Media Best of Show Awards, presented by TV Technology and Sound & Video Contractor
Planar, global leaders in visualization products, received two of the broadcast industry's most prestigious technology honors at the 2018 National Association of Broadcasters Show (NAB) in Las Vegas. The Planar TWS Series LED video wall received the NewBay Media Best of Show Award from Sound & Video Contractor and TV Technology.
"We are delighted to be recognized for our outstanding ultra-fine pitch LED advancements. The Planar TWS Series is an eye-catching LED video wall solution for a broad range of on-camera applications with stunning image quality, unsurpassed reliability and flexibility," said Kathy Skinski, General Manager of Broadcast and Media at Planar. "We are committed to driving the highest caliber innovations for the broadcast and media industries."
The awards honored the Planar® TWS Series, a family of versatile ultra-fine pitch LED video wall displays available in 0.9, 1.2, 1.5 and 1.8 millimeter pixel pitches. The Planar TWS Series features a convenient 27-inch diagonal size with an all-in-one design to fit a broad range of broadcast environments. The Planar TWS Series is lightweight and easy to handle, making it an attractive solution for applications where traditional, hanging or curved video walls are required.
A panel of industry experts evaluated and selected the winners of NewBay Media's Best of Show Awards at NAB Show 2018 based on design, features, cost efficiency and performance in serving professional users.
NAB is the world's largest annual conference and expo for professionals who create, manage and distribute entertainment across all platforms, covering an array of advances in advertising, virtual reality, and content creation. Planar showcased their latest innovations last week at NAB 2018.