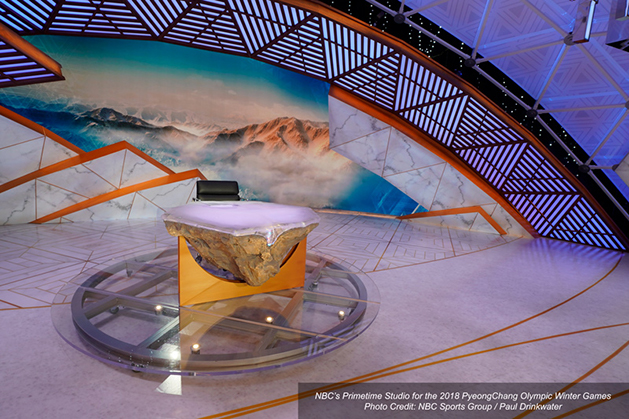 NBC Olympics Selects Leyard for its Production of the 2018 Olympic Winter Games in PyeongChang
Leyard to Provide LED Video Walls During Its Coverage of 2018 PyeongChang Olympics
NBC Olympics, a division of the NBC Sports Group, has selected Leyard to provide fine pitch LED video walls for its production of the XXIII Olympic Winter Games, which take place in PyeongChang, South Korea, from February 8 - February 25. The announcement was made today by Michael Sheehan, Coordinating Director, NBC Olympics, and Adam Schmidt, Executive Vice President of Sales and Marketing for Leyard International.
Leyard will provide three Leyard® TWS Series LED video walls for the set within the International Broadcast Center. The Leyard video walls include a 43-foot wide by 13-foot tall video wall comprised of 196 displays, a 16-foot wide by 8-foot tall video wall comprised of 36 displays, and three 4-foot wide by 7-foot tall video walls in an athlete interview area.
"We're thrilled to be able to showcase the latest Leyard LED displays within our PyeongChang studio," said Sheehan. "The seamless integration of the Leyard technology within our scenic design, will enhance the way we cover and present stories within our studio programming."
"The Leyard video walls will provide a stunning backdrop to NBC's broadcast coverage of the Games, helping to enhance the visual impact of the world's largest sporting event," said Schmidt
About NBC Olympics
A division of the NBC Sports Group, NBC Olympics is responsible for producing, programming and promoting NBC Universal's Olympic coverage. It is renowned for its unsurpassed Olympic heritage, award-winning production, and ability to aggregate the largest audiences in U.S. television history.
For more information on NBC Olympics' coverage of the PyeongChang Olympics, please visit: http://nbcsportsgrouppressbox.com/