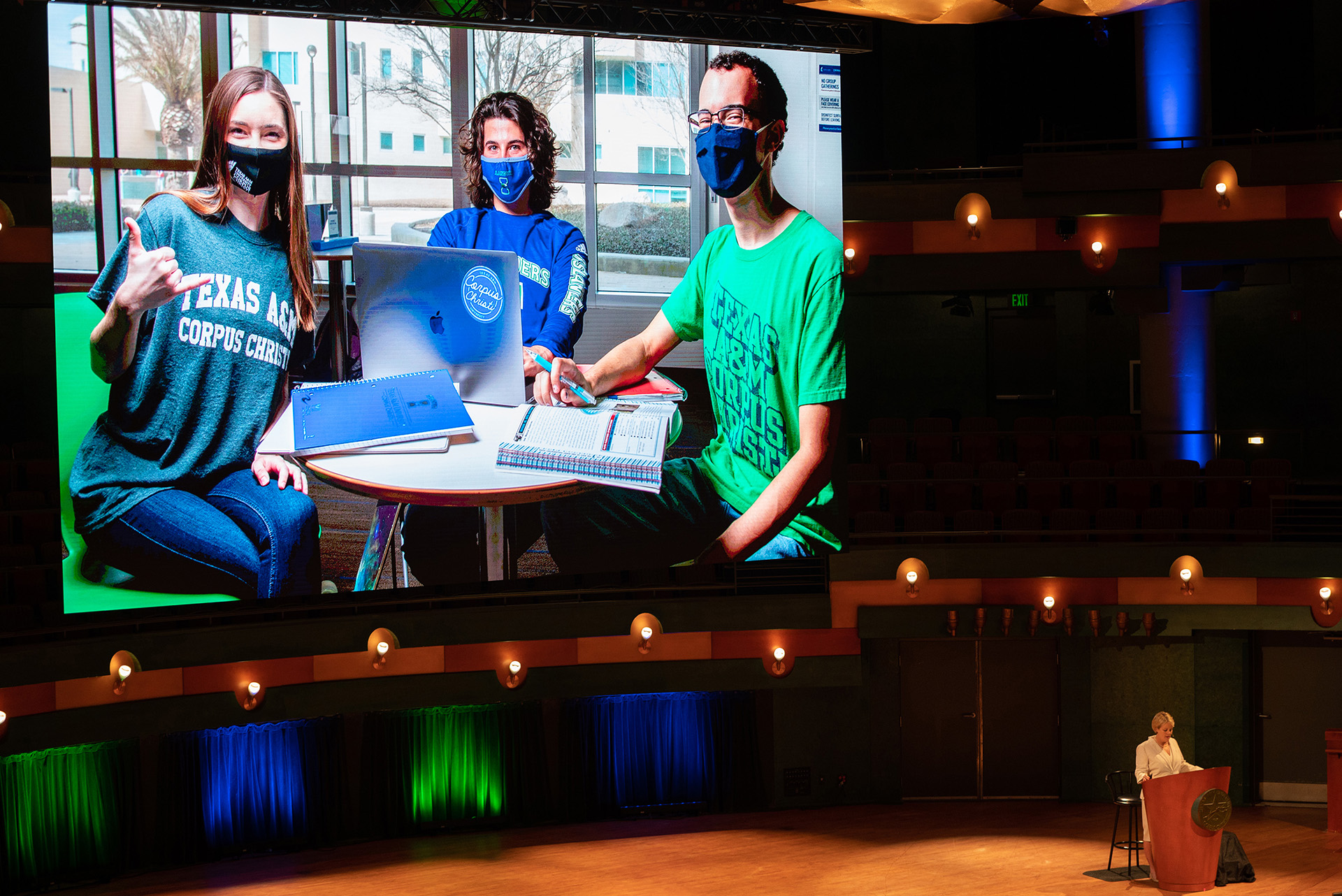 Forty Years of Powering Diverse, Next-Level Education Experiences
Whether delivering lecture hall presentations in bright, crisp detail to connect with remote or in-person students, deploying interactive displays to engage visitors in student centers or adorning athletic facilities with uniquely-shaped video wall installations to recruit athletes and excite fans, schools and universities continue to raise the bar on display technology-powered experiences. In addition to delivering experiences today's tech savvy students expect, institutions are embracing the innovation and flexibility today's products offer to revolutionize the way teachers instruct. These tools are expected to continue to change learning, teaching and assessment. Three learning institutions recently upgraded their on-campus visualization
Leading the Way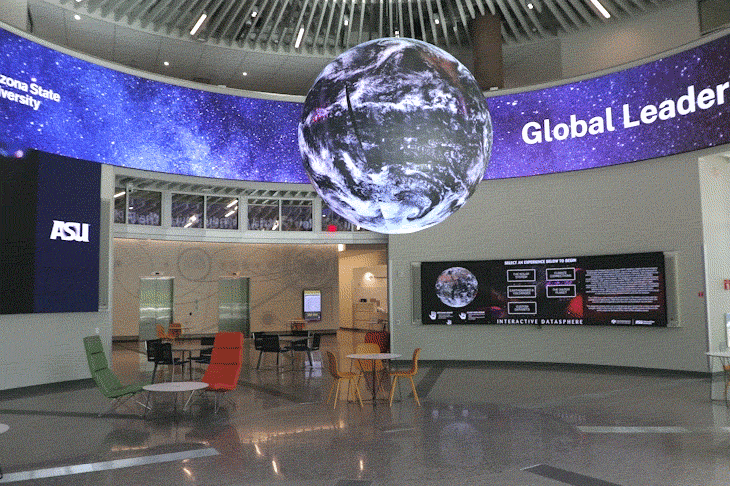 To ensure its new global headquarters were outfitted with best-in-class display solutions, Thunderbird School of Global Management at Arizona State University (Thunderbird) selected Planar as its display technology partner. It started display enhancements with a nearly 9-foot diameter Planar® CarbonLight™ CLI Series LED ring display with a 1.9mm pixel pitch at the front entrance of the building, which is integrated with a steel Thunderbird logo sculpture featuring the names of Thunderbird's new founders.
Near the building's ground-floor entrance, the Digital Global Forum is a dynamic round rotunda built to host a variety of events and presentations like roundtable discussions and TED-style talks. Visitors are surrounded by smoothly curved LED displays. From video walls with motion-responsive technology to continuous LED video ribbons, Planar's solutions allow users to make gestures in front of the LED video wall to control content or participate in presentations and live camera feeds during events or high-profile meetings.
In addition, a curved, 30-foot-wide Planar® CarbonLight™ CLI Flex™ Series LED video wall powers the third floor Global Decision Theater, providing a spectacular presentation and broadcast background for the room as well as offering flexibility to support an extended reality surround stage to engage any person or class around the world.
The entire Thunderbird building also contains hundreds of Planar monitors and LCD displays for digital signage, wayfinding, presentations and support for instruction and collaboration in nearly every classroom and meeting space. Collectively, Planar's spectacular array of display solutions gives Thunderbird new ways to instruct, collaborate and visualize data.
Engaging with History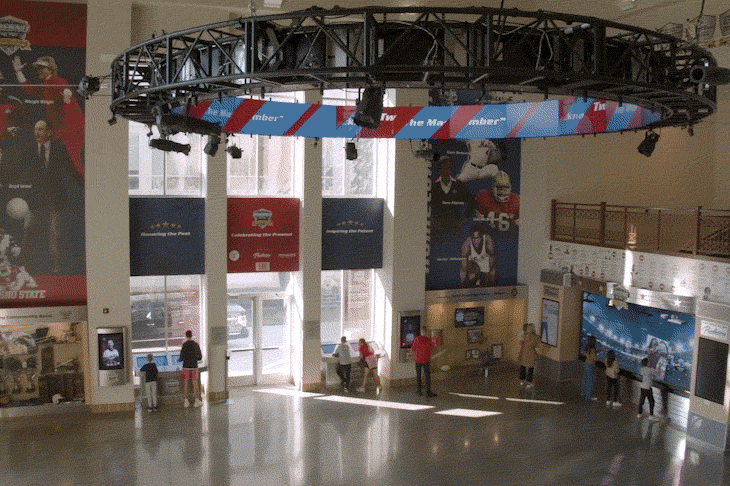 Planar visualization solutions also appear in Fresno State University's Save Mart Center, where the men's and women's basketball teams play their home games. Interactive and digital display technologies, along with sports banners and memorabilia cases, decorate a 5,000-square-foot wing of the arena designed to inspire youth and honor past accomplishments of great Fresno County athletes. A handful of Planar display solutions highlight the array of digital technologies in the facility. Serving as the key focal point of the space, an overhead, 33-foot-diameter Clarity® Matrix® G3 LCD Video Wall System halo comprised of 18 side-by-side displays l streams action graphics, photos and statistics of athletes and coaches enshrined into the Fresno County Athletic Hall of Fame.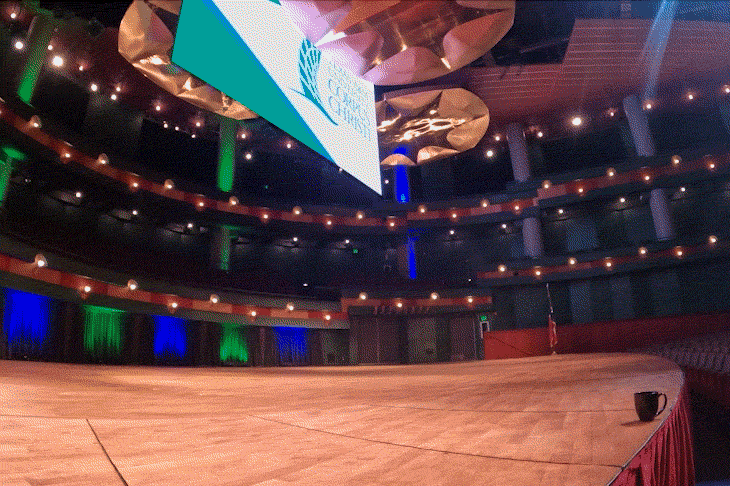 Heightening Performance Beyond classrooms and athletic facilities, college performance venues are turning to video wall technology to add visual enhancement and engage students, employees and members of the community. For the Texas A&M University-Corpus Christi Performing Arts Center, a retractable, hanging, 28-foot-wide by 16-foot-high Planar® CarbonLight™ CLI Series LED video wall provided the best balance in terms of ease of installation, weight and versatility for video-enhanced orchestra performances and film screenings, as well as academic lectures and presentations.
Educational Incentives
If it's time to tackle your learning institution's overdue display technology upgrade or challenge, explore the new Planar® EduCare™ Program. Registered education customers receive exclusive pricing, technical pre-sales support, priority post-sales technical support and access to private training courses via Planar Academy. Backed by Planar's decades of experience deploying remarkable display technology installations for education facilities worldwide, this program is designed to bolster customers' display technology investment and address challenges learning institutions face most frequently.
Are you ready to learn more? Visit www.planar.com/education. With decades of experience powering next-level teaching, learning and recruitment experiences for academic environments, we promise you're in good hands.