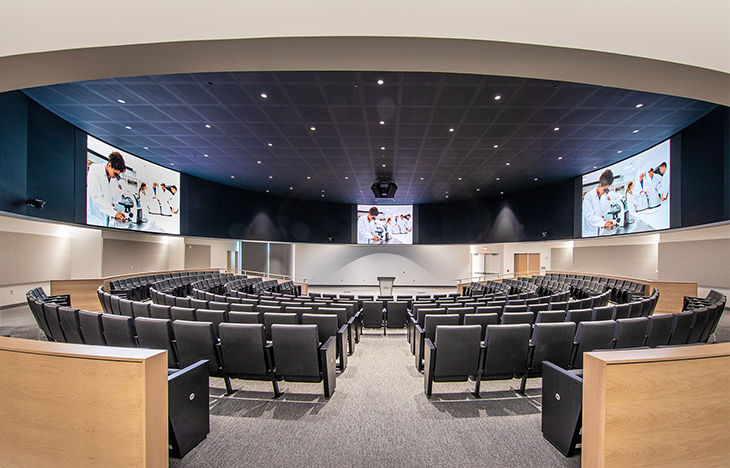 Advancing Auditorium Research and Presentations with Planar TVF Series
Delivering the brightest, most vivid colors and highest resolutions, today's LED video wall technology has a lot to offer world-class research labs, facilities and universities who are looking to present the latest discoveries in sharp, crystal-clear visual performance. Plus, when no two auditoriums share the same needs, LED video walls offer the flexibility to adapt to unique surroundings and challenges. Delivering visual excellence for every application and a front service, cableless, stackable design that gives new meaning to multi-functionality, the award-winning Planar® TVF Series fine pitch LED video walls proved to be the perfect solution for Arizona State University (ASU)'s Health Futures Center, North Carolina Biotechnology Center and University of Montana.
Delivering fine pixel pitches ranging from 0.9 to 1.8 millimeters and superior visual performance for every application, Planar TVF Series remains a popular choice for customers in corporate, healthcare, broadcast, higher education and beyond.
When ASU's state-of-the-art facility for interdepartmental research and collaborative programs was looking to create a flexible, comfortable setting for presentations in its 300-person, theater-of-the-round designed auditorium, they turned to four Planar TVF Series LED video walls. Measuring nearly 16-feet-wide by 9-feet-high, the video walls were designed in concave shapes to conform with the auditorium's curved walls. The video walls not only bring presentations on the latest developments in healthcare, medical education and public programs to life, but also help ensure that data and scientific details are sharp, clearly visible and can be comfortably viewed from any perspective in the room. This is true for both in-the-round or wedge seating formations the auditorium offers.
Visitors to University of Montana's main campus will also find Planar TVF Series video walls included in the school's renovated underground lectures halls. An upgrade from the rooms' previous projection equipment, the Planar TVF Series video walls bring a wow factor to the North Underground Lecture Hall and Urey Lecture Hall – the university's largest with 400 seats. Measuring nearly 18-feet-wide by 10-feet-high with a 1.8 millimeter pixel pitch, the video walls provide abundant and clear visibility for all auditorium visitors from all vantage points in the lecture halls. This includes presentations, recruiting efforts and class lectures, along with other academic activities and events. Plus, when combined with the university's recently-added control equipment and cameras, the Planar TVF Series LED video walls allow the university to embrace a more hybrid type of learning environment.
A study by enterprise level workspace solutions leader Condeco reported that 85 percent of U.S. employees polled expressed interest in a hybrid work model. With today's hybrid work and learning comes increased demand for web conferencing and live streaming. For North Carolina Biotechnology Center (NCBC), Planar TVF Series presents a stunning canvas for such events, in addition to supporting corporate meetings, educational symposiums, seminars, sales kickoffs and product announcements in the life science economic development organization's 170-seat auditorium. Now, Planar TVF Series establishes a whole new level of quality for the organization, helping NCBC accelerate life science technology-based economic development.
Plus, with Planar TVF Series video walls customers benefit from the unprecedented Planar® EverCare™ Lifetime Limited Warranty. This offers comprehensive product coverage from controller to sub-pixel and every component in between. For added support, Planar TVF Series also includes Planar® TVF Complete™ Video Wall displays, packaging everything customers need into one complete solution to reduce the time, complexity and cost of designing and installing LED video walls. And, for customers who are looking for video walls outside of the 109 to 219-inch size range offered, custom models are available. This means customers who are looking to add an industry-leading LED video wall product to their auditorium, another environment or possibly even both, can find the perfect solution that addresses their exact needs.