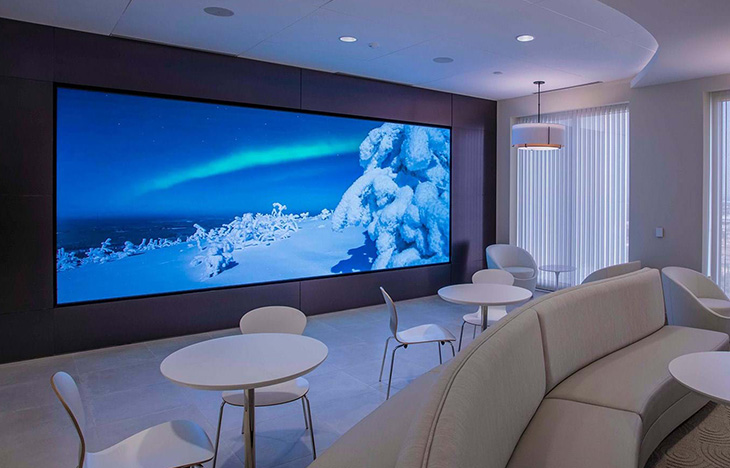 Upgrading Display Technology to Create Modern, Seamless Viewing Experiences at an Attractive Price Point
It's fair to say that price point remains a key concern for anyone who is in the market for implementing or upgrading video display technology. While an investment, demand for LED video walls continues to climb and with this comes more affordable solutions with enhanced capabilities. As the global market leader for LED video displays and narrow pixel pitch LED, Planar recognizes that not every customer has an uncapped budget and remains committed to helping them find the perfect solution based on their individual needs. This includes fine pitch LED video wall solutions that elevate viewing experiences without breaking the bank.
Cue the Planar® MGP Series. Available in 1.2, 1.5, 1.8 and 2.5 millimeter pixel pitches, Planar MGP Series indoor fine pitch LED video wall displays offer seamless, front-service, high resolution visual experiences at a value similar to tiled LCD video walls. Planar MGP Series is also ideal for traditionally budget-conscious markets and customers who are new to seamless LED technology. The attractive price point allows customers to upgrade from legacy tiled LCD technology to large, seamless LED canvases offering similar resolution and brighter images, without the bezels.
A 2021 Omdia report discussing rising demand for all-in-one LED video displays notes the rising demand for all-in-one LED video displays eliminates the cost and complexity that surrounds a custom installation typically associated with this type of solution. The Planar MGP Series family continues Planar's history of reducing the complexity and expense of video wall customization. With Planar® MGP Complete™ LED Video Wall solutions, customers receive a package complete with everything they need for successful video wall deployment. This includes LED display cabinets, cables, spare modules, wall mounts and a video controller.
Moving from LCD to LED
Based in Irvine, California, Century Business Solutions is an integrated payments company that specializes in developing custom payment solutions for a range of industries. Century Business Solutions wanted to create a more comfortable, appealing lounge for their employees to use at work. When they began their search for video wall solutions, they were initially set on a standard LCD installation until coming across the Planar MGP Series. After comparing an LCD video wall option with the Planar MGP Series, the award-winning LED solution checked all of the boxes and hit the mark perfectly for Century Business Solutions. The move from a standard LCD option to Planar's LED video wall not only fulfills the company's goal of providing good viewing experiences in the employee lounge, but also offers them a new platform to support employee training and partner visits.
In the case of the Monticello Motor Club (MMC), the Planar MGP Series proved to be the perfect solution for replacing four 75-inch consumer televisions included in the private country club's large meeting space for member events and conferences. The MMC had a problem with the way the sunlight directly hit the conference room, making it very disruptive during their meetings. With the addition of a nearly 12-foot-wide by 7-foot-high Planar MGP Series LED video wall with a 1.2 millimeter pixel pitch, MMC and its visitors no longer battle bright sunlight, benefitting from ultra-sharp content any time of day as a result of the solution's clarity and brightness. In addition to dramatically enhancing the presentation value of the space and offering MMC the flexibility to split the screen into multiple sections, the Planar MGP Series made the advantages of LED technology a reality for MMC's available budget – something which was not previously accessible.
Fine pixel pitch LED video walls are demonstrating their value in markets spanning corporate, higher education, government, healthcare, hospitality and more. What once seemed out of reach for companies with limited budgets looking to make a significant upgrade is becoming more realistic. Add breathtaking, uninterrupted seamless viewing experiences today with the affordable Planar MGP Series. We're ready to help bring your vision to life and excited to work with you every step of the way.