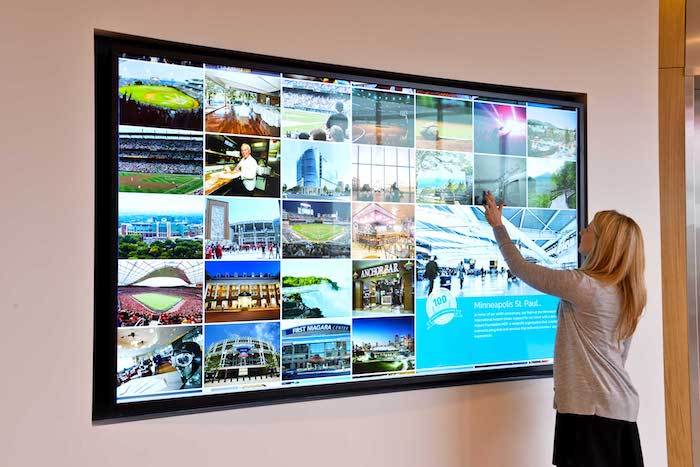 Top 4 Digital Signage Display Trends
The digital signage displays market is rapidly growing, as they continue to deliver the promise of higher engagement in various industries from advertising, transportation, entertainment, education, healthcare, and more.
Digital signage displays are delivering the promise of higher engagement in various industries from advertising, transportation, entertainment, education, healthcare, and more. The industry's growth is rapidly evolving due to technological advanced in displays and declining hardware costs. According to ReportBuyer, Asia is expected to have the highest growth rate from 2017 to 2022, partly due to increasing incomes, internet penetration, and urbanization.
With the digital signage global market set for continued growth, here are some insights and analysis of current top digital signage trends.
Interactive Multi-touch
Simply defined, interactive multi-touch displays allow multiple users to simultaneously interact with the video wall without affecting others. Interactive multi-touch displays can help deliver immersive physical environments with digital signage for several users at the same time -- either interacting with content individually or in collaboration.
An examples of use cases include business presentations and educational environments such as classrooms and museums. Planar has recently installed an interactive multi-touch display at Seattle's Space Needle to augment user engagement.
Considerations for interactive multi-touch:
Look for a display with up to 32 simultaneous touch points. Currently, this is the trending industry maximum.
Select a solution with innovative response time and optical recognition system, which can tell how many people (users) and guess how many are male or female.
Consider a vendor who can scale to support the specific display wall size you need.
Durable Digital Displays
Another trend worth noting is the increase of durable digital displays, which are displays that were created to withstand environmental elements (i.e. outdoors) or have a tough impact screen.
Durable digital displays have been recently deployed as outdoor displays in airport, bus and train terminals. Use cases include informational displays as well as advertising, but overall, these displays were designed to be more rugged. A recent design trend is that these durable digital displays may also feature technology to be bright enough to stand out among bright environments.
When considering durable digital displays, ask the vendor about:
IP rating
Weather protection
Temperature ranges
Level of ruggedness for impact resistance
Optical characteristics of the ruggedized material
Creative Installation
Display ubiquity is the industry trend of finding creative ways to install digital signage displays; for example, some displays have been installed on ceilings, floors, hanging and outside of windows.
A possible driver of this trend -- besides creative thinking of where to install the display -- is that the technology is making displays more moveable and lightweight, which is ideal for hanging and placement in unique areas. Display manufacturers are also creating displays that curve, can wrap around columns or come in vertical or horizontal "ribbon" shapes.
Larger Wall Display Sizes
Today, we are seeing the trend of large seamless video walls. What's driving this trend? We see that LED is one of the main reasons for powering this technology and advancing this trend. Overall, large wall display sizes are augmenting the "Wow!" factor.
Considerations when selecting a vendor:
Look for a provider that has the experience and expertise with seamless, ultra-fine pitch direct view LED video walls
Select a solution with the narrowest LCD bezels with the slimmest installation depths
Ask the provider about image quality
Ask the vendor if the display is energy/power efficient
Conclusion
These are just a few of the digital signage trends we see making an impact on the market. Our industry is at an exciting time and Planar is looking forward to innovating not only for our customers and partners, but to push the industry forward. Looking for more information and examples on the trends covered? Be sure to contact Planar today for more insights!