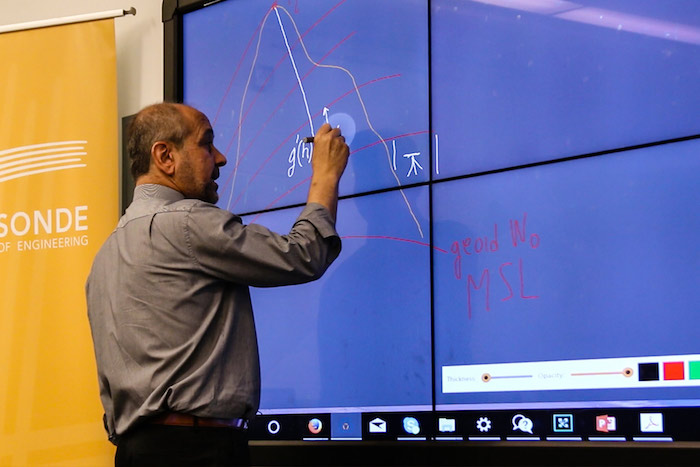 Interactive Whiteboards for the Classroom
Technological advancements have revolutionized how students learn in the classroom. With interactive whiteboards in the classroom, students can enjoy new ways to learn and collaborate with others.
An interactive whiteboard is a powerful instructional tool, allowing content to be displayed and manipulated on a touch screen. Virtually any form of media can be incorporated into presentations to create a collaborative space for presenters and the audience. As a teaching instrument, an interactive whiteboard allows for visual, auditory and tactile learning. Presentations featuring interactive whiteboards are thus compelling ways to facilitate knowledge absorption and skills application for all types of learners. Interactive whiteboards can be used in any instructional setting, such classrooms, boardrooms, work groups, training sessions or coaching presentations.
How An Interactive Whiteboard Facilitates Learning
An interactive whiteboard is an extremely flexible tool that allows multiple users to interact with different types of media at once. Practically limitless in instruction opportunities, some of the key innovative elements of an interactive whiteboard include:
Drawing over particular elements in a presentation
Adding notations or labels to visuals
Taking notes during brainstorming sessions
Swiping through, zooming in on or moving images
Demonstrating software
Using applications or browsing the web
Playing or recording video and audio
Saving work for dispersal
In practice, a presenter illustrating software, for example, can run the program and interact with it by touching the board to highlight and annotate its features. Or during a medical lecture, the instructor can display anatomical photographs and add in labels and other notes to emphasize certain body parts. The images and notes from the presentations can then be saved and uploaded to a virtual classroom or printed out in hard copy.
Campus and Business Applications
Large format LCD touch screens are essentially large interactive whiteboards, and are part and parcel to a technology-centric, forward-looking campus. Featured in classrooms, auditoriums or collaborative learning spaces, LCD touch screens transform how information and ideas are presented to students and shared between faculty members. Interactive touch screens can also serve public interface purposes, highlighting important information about the university or college to visitors. As a tool that promotes dynamic research and learning on campus, a large format LCD touch screen helps attract talented students and faculty.
Similarly, LCD touch screens in business applications enhance and ease the way groups communicate. This technology can be harnessed to clarify a company's message, motivate the audience, and improve brand image. Whether the setting is an internal company meeting or a presentation to investors or other collaborators, a large format touch screen encourages participation, information-retention, and quite simply, has a certain wow factor.
Innovative Large Format LCD Touch Screens
Touch screens vary considerably in the marketplace, particularly in their resolution and touch capabilities. Planar, an industry leader in touch screen technology, offers cutting-edge large format LCD touch screens with exceptional image quality and multi-touch capabilities for multi-user applications.
Planar's commercial large format LCD displays include UltraRes Touch 4K Series, QE-Series, EP-Series, and PS-Series. The models range in size, price, functionality, and features; yet, each are designed with thin mounting depths to complement spatial requirements, and built to meet demanding applications and performance needs. Additionally, the stunning visual quality of the displays make an incomparable visual experience.
Some key features available on all or some of these models include:
Ultra HD resolution
Superior 4K video performance and compatibility
Landscape and portrait flexibility 24/7 continuous operation design
Fanless, whisper-quiet power source with back-up power redundancy
Planar MediaPlex™ Plus processing for simultaneous multi-source viewing in various layouts, including saved configurations for quick recall
Extended Ruggedness and Optics™ (ERO) featuring an optically-bonded glass front for added protection and enhanced image clarity
Case Studies of Planar Whiteboard Technology
To give you a sense of how Planar whiteboard technology can be applied to your university or business environment, below are recent case studies.
Mentor Automotive – four 84" Planar UltraRes Touch 4K LCD displays are featured in a demonstration room where employees can give presentations and visitors can engage with educational and marketing content.
University of Oregon - more than 60 Planar displays and monitors are used in various athletic spaces, including athlete's lounges, locker rooms, and coaching classrooms. Planar EP-Series, Planar PS-Series and 70-inch and 80-inch Planar UltraLux LCD displays, many with touch and multi-touch capability, are implemented throughout the area.
Clemson University – in the four-story Watt Family Innovation Center, Planar displays can be found on nearly every level of the building, including the main lobby, the building's command and control center, the brand center, an emergency response room, classrooms, the main auditorium, breakout rooms and collaboration spaces, and the facility's board room. Nearly 200 Planar displays are featured, including the Clarity® Matrix™ MultiTouch LCD Video Wall, the Clarity® Matrix 3D LCD Video Wall, Planar UltraRes Series 4K LCD displays and Planar PS Series HD LCD displays.
Speak to an Interactive Whiteboard Specialist Today
Is your organization ready for state-of-the-art interactive whiteboard technology? If so, contact us to receive a quote or have your questions answered by our team of interactive video wall specialists.