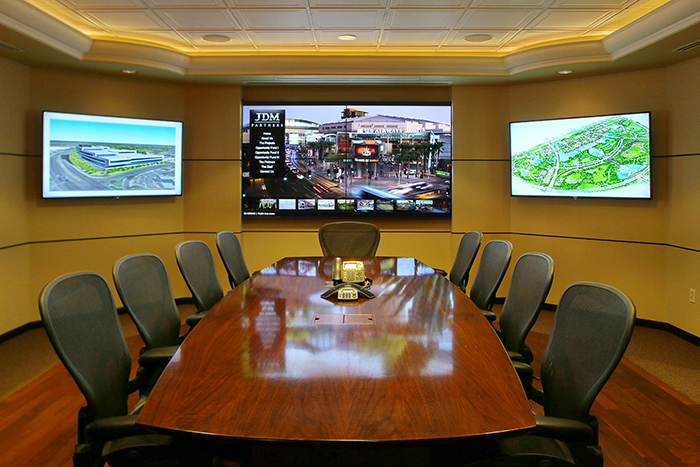 Create The Ideal Conference Room Setup
A conference room is where innovations are developed, ideas are shared, and deals are brokered. With a well-designed layout, a meeting room optimizes learning among participants, makes them comfortable, and sparks collaboration. Most importantly, the right conference room setup supports the purpose of a meeting.
When determining your conference room setup style, a first concern is the meeting's objectives. For example, brainstorming sessions will benefit from a different layout than a presentation with limited attendee participation.
Some basics common to all conference room layouts regardless of meeting purpose include:
Seating arrangements
Video displays
Power supply
Lighting
Acoustics
Furniture, such as storage space or lecterns
Art and decor
Branding objectives
The first three in this list - seating arrangements, video screens and power supply - are the key facilitators of meeting room communications, and are arguably the most important. We'll take a closer look at these below.
Seating Arrangements
Seating configurations help direct audience attention to certain focal points, and encourage or discourage audience interaction. Your conference room setup style will depend on audience size and their relationship to each other and the presentation. Five popular seating configurations are:
Boardroom style – This formation puts a single table in the middle of the room with attendees seated at all sides. This setting is suited for interactive sessions that require workspace for participants and a clear visual line between participants to encourage communication. It is also frequently used as a video conference room layout.
U-Shape – Placing tables in a U formation with chairs placed on the outside of the table is ideally suited for for smaller audiences of 25 or less. This setup style is ideal for discussion groups with a presenter and video presentation.
Classroom style – When attendees will be working on laptops or taking notes, a classroom configuration is usually preferred. Rows of tables and chairs are lined up facing the front of the room. A classroom configuration also facilitates dialogue between the presenter and audience.
Theatre style – Usually reserved for larger groups listening to a presenter, this configuration involves simply lining up chairs in rows facing the front of the room without tables. Attendees typically do not need to interact or take notes.
Banquet style – Events with seated dining can benefit from a banquet setup that allows participants to divide their attention between each other and a presentation. This configuration has rows of tables running parallel with each other and perpendicular to the front of the room. In this way, attendees are mostly focused on each other, but can easily see and hear the information being presented.
Video Displays
Given its essential uses for information-sharing, collaboration, and integration with teleconferencing systems, a video display is a requirement in most meeting spaces. Screen size is one of the first decisions to make when determining your display needs and will largely be based on the dimensions of the room. A large format LCD display can effectively communicate information and enhance the ambience of a smaller conference room. Alternatively, LED or LCD video walls can fill a large conference space, delivering seamless, high-quality images that look great from any seat.
Video displays and walls are available in a range of functionality and features. Consider the following when selecting your video display or video wall:
Enhanced image clarity that provides an exceptional visual experience for the audience
Touch models that support audience interactions
Thin installation and flexible mounting depths that make the most of spatial requirements
Demanding application designs to support virtually any presentation need
Lasting durability for years of reliable use
Smart power management that ensures continuous operation
Designs that make installation, servicing and monitoring simple
Video walls with embedded video processing for scaling across part or all of the wall
Leyard and Planar, industry innovators in video display and walls, offer a series of models that incorporate these and other characteristics to facilitate conference room communication in way that is streamlined, dependable, impressive, and stylish.
Power Supply
Power supply is a crucial but sometimes overlooked part of the conference room setup puzzle. Fewer things are more frustrating during a meeting than when it is held up due to an avoidable power supply oversight. To be prepared, ensure that the power supply to your video display is as close to fail proof as possible. Leyard and Planar video display and wall models are available with power redundancies to help ensure continual operation. Additionally, many models are designed with superior thermal control, allowing for ultra-quiet operation without fans and reduced points of failure. For mission-critical uses, other Leyard and Planar models, such as Clarity Matrix G3, rely on Remote Power Supply (RPS). RPS features n+1 hot-swappable redundant power supplies, redundant AC input circuitry, minimized thermal stress, and status monitoring capabilities.
Besides the video display power supply, there should be enough electrical outlets available for the presenter and attendees. Multiple outlets may need to be added for appropriate power distribution in the form of desktop outlets or surge protectors that are placed strategically in the room. Securing and hiding cables from foot traffic is a good idea too. Cable protectors and wire looms are two ways to bundle and protect cables and wiring, while creating a safer and neater environment for attendees.
Speak to a Video Conference Room Layout Specialist Today
If you are looking for more information on how a Planar or Leyard video display or video wall can take your meeting room to the next level, contact us today. A video conference room layout specialist can answer your questions or give you a quote on a model that works in your meeting space.