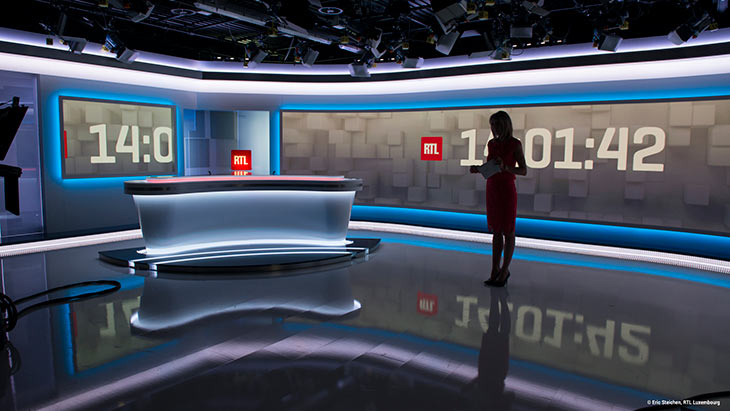 Featured Case Study: RTL Télé Letzebuerg
To coincide with our participation in NAB 2018, this week's featured case study is an excellent installation of fine pitch Leyard® TVH Series LED Video Walls at RTL Télé Letzebuerg's new broadcast facility in Luxembourg. The remarkable facility includes multiple soundproof radio and sound studios as well as new state-of-the-art television studios.
Along with other cutting-edge technical equipment, two video walls of fine pitch Leyard TVH 1.6mm pixel pitch LED, one 12.8 x 1.8 meters and one 2.0 x 1.8 meters, were integrated to be used as backdrops for multiple daily programmes. You can see for yourself, they look great and the whole studio has a very futuristic, technical aesthetic.

Leyard TVH is a perfect fit for broadcast studios due to its unique matte black mask, which prevents any reflections off of the video walls from studio lighting. Additionally, the 1.6mm pixel pitch was chosen to prevent the moiré effect you've probably seen when filming digital displays. If you don't know what I'm talking about, bust out your camera phone and point it at the monitor you're reading this on (unless you're reading this on your phone, in which case, bust out your second cell phone and point it at your first). See those odd sort of geometric patterns? That's the moiré effect, which is obviously not something any broadcast studio wants to see on their set.
You might also have noticed the LED walls curve relatively sharply in a couple places. The small 19" diagonal of the fine pitch Leyard TVH cabinets allowed integrator SIGHT to install the LED video walls seamlessly along those curves so they can be filmed from multiple angles.
See more pictures and read the full RTL Télé Letzebuerg profile.