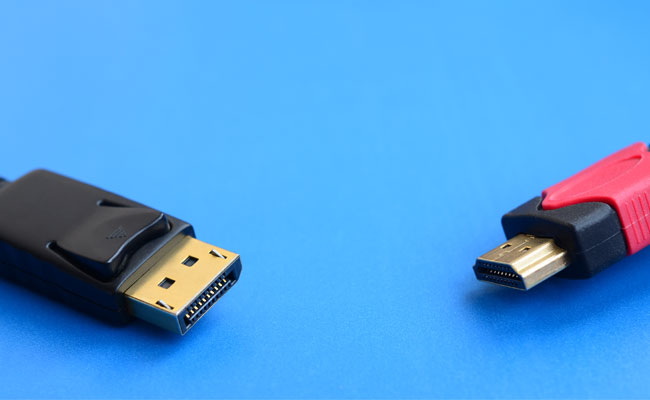 DisplayPort 1.4 vs HDMI 2.1
A closer look at both DisplayPort 1.4 spec, and the newly ratified HDMI 2.1 spec to see the difference between them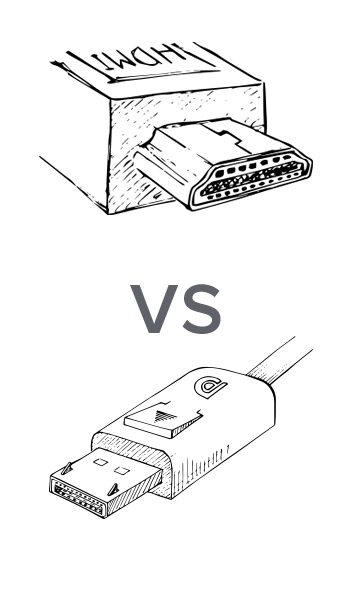 Both HDMI and DisplayPort can send high-definition digital video and audio from a source device to a display. Each format has had various updates and versions over time, but with the introduction of HDMI 2.1, it's a good time to provide an update on the current standards involved in both.   We will be taking a closer look at both DisplayPort 1.4 spec, and the newly ratified HDMI 2.1 spec to see the difference between them.
The HDMI (High Definition Multimedia Interface) specification was conceived over 10 years ago by a consortium of Hitachi, Panasonic, Philips, Silicon Image, Sony, and Toshiba. Any device manufacturers who include HDMI ports on their products must pay a royalty for each to HDMI Licensing, LLC.
The DisplayPort specification was developed in 2006 by the Video Electronics Standards Association (VESA), a large consortium of manufacturers to replace the much older VGA and DVI standards used primarily for computer displays. DisplayPort is a royalty-free product.
HDMI connectors have 19 pins and are most commonly seen in three sizes: Type A (standard HDMI), Type C (mini HDMI), and Type D (micro HDMI). Of these, Type A is by far the most common. Most HDMI connectors use friction to keep the plug inserted into the socket, but some vendors have developed proprietary locking mechanisms designed to prevent the cable from pulling loose.
DisplayPort connectors have 20 pins and are available in two sizes: DisplayPort and Mini DisplayPort. Though most full-size DisplayPort connectors have a locking mechanism that prevents them from being disconnected accidentally, the official spec does not require that feature.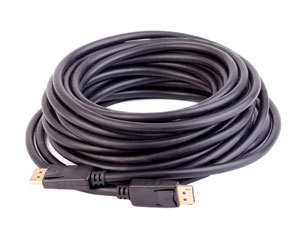 Turning our attention to cables, we see a distinct difference between HDMI and DisplayPort. HDMI has had 5 different standards for cables over the years it has been available. Today, the typical HDMI cable is manufactured under the "High Speed" HDMI certification, and then labeled with the HDMI spec the cable is capable of. Sadly, there are many issues with mislabeling, adherence to standards, and poor manufacturing quality. This can lead to problems including visual and audio glitches, artifacts, and audio/video synchronization problems. HDMI doesn't define a maximum cable length, rather a performance specification that de-facto defines a cable length to meet. HDMI signals can also be run over CAT 5 or CAT 6 cable (for distances of up to 164 feet), over coaxial cable (for up to 300 feet), or over fiber (for more than 328 feet), according to HDMI Licensing LLC. Using technologies like HDBase-T can enable extension of HDMI up to 100m using category cable.
DisplayPort simplifies it by having just two cable types, standard and mini. Like HDMI, DisplayPort can also carry multichannel digital audio. Unlike HDMI, DisplayPort can't carry Ethernet (for data networking), and the standard doesn't have an audio return channel (often abbreviated as ARC). With DisplayPort, adapters are your friends! You can connect a DisplayPort source to a VGA display with a simple adapter. You can also connect a DisplayPort source to a single-link DVI or HDMI display with adapters. A passive copper DisplayPort cable can support extremely high data rates (a video resolution of up to 3840x2160) over a length of 6.5 feet. If you need to run the cable up to 50 feet, the standard says you'll be limited to 1080p resolution—but the spec is conservative, and in practice that 50-foot cable can carry enough data to support resolutions as high as 2560x1600. Using an active copper DisplayPort cable, drawing power from the DisplayPort connector to operate a signal amplifier embedded in the connector, it can carry video with a resolution of 2560x1600 over a 65-foot cable. Of course, fiber DisplayPort cables can be hundreds of feet long.
Looking at video streams, HDMI can handle a single video and audio stream, so it can drive only one display at a time. For single display use that is fine, but many people use more than one display such as a videowall. On the other hand, a single DisplayPort interface can support up to four monitors at 1920x1200-pixel resolution each, or two monitors at 2560x1600-pixel resolution, with each display receiving independent audio and video streams. And since some GPUs can support multiple DisplayPort interfaces, you can daisy-chain compatible monitors to connect as many as six displays to one source.
HDMI was designed primarily for consumer-electronics applications: Despite the confusing cable specifications, it does things that DisplayPort can't. Meanwhile, VESA designed DisplayPort to be the ultimate display interface for computers, so it complements rather than replaces HDMI.
DisplayPort 1.4

The most recent version of the DisplayPort standard that has been published by VESA is 1.4. This is the first major update since version 1.3 was released back in 2014. This is the first version to take advantage of VESA's Display Stream Compression (DSC) technology. DSC version 1.2 transport enables up to 3:1 compression ratio and has been found to be visually lossless.
Being a packet-based extensible protocol for transporting video and audio data, DisplayPort's flexibility has enabled its adaptation into embedded displays, and incorporation into other connectors like the new reversible USB Type-C interface and Thunderbolt. Its Multi-Stream Transport (MST) capability enables high-resolution support of multiple monitors on a single display interface.
DP 1.3 increased the maximum link bandwidth to 32.4 Gbps, this was a 50-percent increase over the previous DP 1.2a specification. The new link rate increased the uncompressed display resolution support up to 5K x 3K (5120×2880), and upped the MST resolution, enabling simultaneous use of two 4K UHD monitors, each with a pixel resolution of 3840×2160, when using VESA Coordinated Video Timing.
In DP 1.4 the use of video transport compression enhances the ability to take advantage of the USB Type-C connector, enabling both high-definition video and SuperSpeed USB, while also facilitating High Dynamic Range (HDR) and 8K video across the DisplayPort or USB-C connector. Examples of increased display resolution with the new standard include 8Kp60Hz HDR deep color and 4Kp120Hz HDR deep color.
Other key new features include:
Forward Error Correction – FEC addresses the transport error resiliency needed for compressed video transport to external displays.
HDR metadata transport, inherent in the DisplayPort standard, provides support that is useful for DP to HDMI 2.0a protocol conversion. It also provides a flexible metadata packet transport for future dynamic HDR standards.
Expanded audio transport – This spec extension covers capabilities such as 32 audio channels, 1536kHz sample rate, and inclusion of all known audio formats.
According to VESA Board Chair Alan Kobayashi, "New applications are demanding displays with better resolution, wider color gamut, and increased dynamic range. Consumers and others are also recognizing the value and ease-of-use associated with running multiple displays on one interface, which is another area we addressed in this new release with MST improvements. We believe the tools provided in this new DP standard release will enable a quantum leap forward in display quality, which leverage DSC compression along with transport of high-quality audio and video content."
HDMI 2.1

The most recent update of the HDMI specification is version 2.1, and it has forward thinking implications beyond our common requirements today.  It supports a range of higher video resolutions and refresh rates including 8K60 and 4K120, and resolutions all the way up to 10K. Significantly, dynamic HDR formats are also supported, and bandwidth capability is increased up to 48Gbps.
To facilitate the 48Gbps bandwidth is the new Ultra-High-Speed HDMI Cable. This ensures high-bandwidth capability is delivered including uncompressed 8K video with HDR. The cable features low electro-magnetic interference (EMI) and reduces interference with nearby wireless devices. The cable is backwards compatible and can be used with the existing installed base of HDMI devices.
HDMI Specification 2.1 highlights include:
Support for higher video resolutions and faster refresh rates including 8K60Hz and 4K120Hz for "immersive viewing and smooth fast-action detail". There is also support for resolutions up to 10K for future use in commercial AV and specialty applications.

Supported resolutions and frame rates:

4K50/60
4K100/120
5K50/60
5K100/120
8K50/60
8K100/120
10K50/60
10K100/120

Dynamic HDR support ensures the transference of proper values on a scene-by-scene or even a frame-by-frame basis for depth, detail, brightness, contrast and wider color gamuts including BT.2020 with 10, 12, and 16 bits per color component.
The Ultra-High-Speed HDMI Cable supports 48G bandwidth for uncompressed video and features low EMI in the process. The cable is also backwards compatible and can be used with existing HDMI devices. Cable length depends on the cable manufacturer. It is likely the maximum lengths for passive cables will be approximately 2 to 3 meters.
Compression: The specification supports both uncompressed and compressed modes. Manufacturers can implement either or both modes. The specification incorporates VESA DSC 1.2a link compression, which is a visually lossless compression scheme. VESA DSC 1.2a also can be used to obtain higher resolutions than 8K60/4:2:0/10-bit color, such as 8K60 RGB, 8K120 and even 10K120. VESA DSC 1.2a also supports 4Kp50/60 with the benefit of enabling operation at much lower link rates.

The designations are:

4K120A – supports uncompressed mode
4K120B – supports compressed mode
4K120AB – supports both
8K60A – supports uncompressed mode
8K60B – supports compressed mode
8K60AB – supports both

Enhanced refresh rate support provides an added level of smooth/seamless motion and transitions for all types of video. They include:

Variable Refresh Rate (VRR) reduces or eliminates lag, stutter and frame tearing
Quick Media Switching (QMS) eliminates the delay that can result in blank screens before content is displayed.
Quick Frame Transport (QFT) reduces latency for smoother no-lag gaming, and real-time interactive virtual reality.
Auto Low Latency Mode (ALLM) allows the ideal latency setting to automatically be set allowing for smooth, lag-free and uninterrupted viewing and interactivity.

In terms of audio, eARC ensures full compatibility between audio devices and upcoming HDMI 2.1 products. It simplifies connectivity, ease of use, and supports the most advanced audio formats to provide the highest audio quality.
Version 2.1 of the HDMI Specification is backward compatible with earlier versions of the specification and is available to all HDMI 2.0 adopters.
One thing we must add, is that adherence to the HDMI specification does not necessarily imply that a given product supports all features of that spec. Manufacturers have the choice on whether to support each part of the standard. You could have an HDMI 2.1 compliant product, which would imply 4K support… but the actual device may not support 4K at all. This is true of many of the features within the HDMI spec. This means that you must be very cautious when selecting equipment using HDMI and verify that it has the support you need, from resolution, refresh, color, HDR, and audio.
Conclusion:
HDMI was primarily designed for consumer-electronics applications. For those applications it simply does some things that DisplayPort can't, notwithstanding the confusing cable specifications and options.
On the other hand, VESA designed DisplayPort to be the ultimate display interface for computers, so in some senses it complements rather than replaces HDMI. The fact that DisplayPort supports multiple displays and its ability to connect to nearly any other type of monitor with an inexpensive adapter give it greater flexibility than HDMI possesses especially for commercial applications. The locking feature on the full DP connector is also a big plus for some.
Begin by understanding both DisplayPort and HDMI and their differences and then look for better displays, desktop PCs, and all-in-one PCs that will support DisplayPort in addition to HDMI. This give you latitude and the best of both worlds.